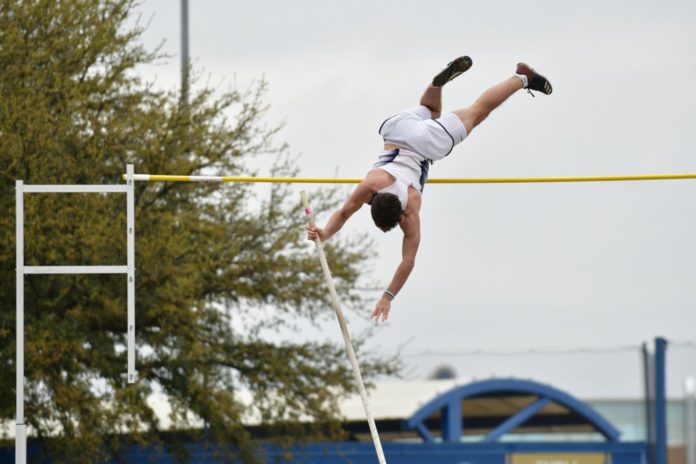 Despite the cold rain, the runners take off their jackets and approach the track. They all take their marks, placing their hands on the ground and positioning their feet on the angled blocks. Nervous, each runner shifts his body weight to the blocks, ready to torch the track. As soon as the sound of the gun shot penetrates their ears, they forcefully propel their feet off the block, hoping to be the first to finish.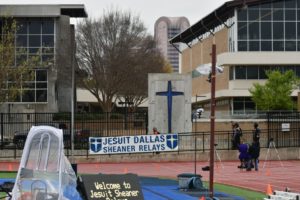 On March 22-23, Jesuit hosted the 55th annual Jesuit-Sheaner Relays, attracting talent from all over the metroplex. The field of participants included nationally-ranked runners, making it one of the most prestigious high school track and field meets in the nation. 
Jesuit had numerous placements in the event, ranging from the 100-meter dash to field events including shot put and discus. Here's a quick recap of how they did.
Track
100 m dash
In the event, Jesuit had two runners, Jhalen Spicer '20 and Tim Brown '19. Spicer, in heat five, ran the 100 meters in 11.09 seconds, placing 12th while Brown ran it in 11.56 seconds, placing 33rd.
Spicer said "the immense talent and competition at the event pushed all the Jesuit athletes to train even harder" and that he was proud of "how [Jesuit] did overall".
200 m
With three Jesuit sophomores running the 200 in a very talented field of runners, they were able to all place in the 40s, with David Benitez '21, Kyle Heckel '21, and Cooper Manning '21 all running under 25 seconds.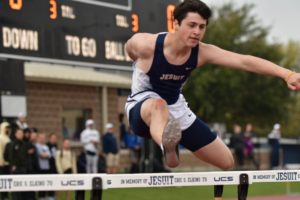 400 m
Travis Whisler '19 ran a time of 52.99 seconds, garnering 21st place while Marshal Mann '20 placed 39 while running the 400 in 57.11 seconds.
800 m
In the 800, Camden Roy '21 ran a time of 2:07.64, placing 30th and Nick Farrell '19 placed 38th, running a time of 2:09.90.
1600 m
Jesuit had three runners for this event, consisting of Kyle Kassen '21, Carter Williams '21, and Ethan O'Neill '20. Kassen posted the best time of the three, running the four laps in the time of 4:50.79, an impressive feat nonetheless.
3200 m
Consisting of Enrique Borrego '22, Kyle Kassen '21, and Ethan O'Neill, Jesuit placed 29th, 32nd, and 43rd, respectively. Borrego ran the fastest time of the three, an impressive accomplishment for the freshman who will be looking to improve annually at the Jesuit-Sheaner Relays.
110m Hurdles
Running the 110m hurdles, Jalen Leonce '20 placed 11th, running a time of 16.17 seconds and Ryan Schurr '21 placed 16th, running a time of 16.57 seconds.
300m hurdles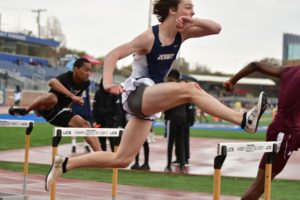 Jesuit had three runners for the event, all placing in the top 25, led once again by Jalen Leonce. Leonce ran a time of 41.61, getting 10th, while Patrick Bennett '22 posted a time of 41.96, garnering 13th place. Ryan Schurr rounded out the Jesuit runners, placing 23rd in a tough, competitive field, posting a time of 43.59 seconds.
Leonce credited "the great coaching" and the "impressive work ethic" for helping the team prepare for the rigor of the day.
4x100m, 4x200m, and 4x400m
Some of Jesuit's best placement in the relays came from the 4x100m and 4x200m teams, as the 4x100m ran a time of 43.13 seconds, placing respectively 9th overall, while the 4x200m team competed and ran a time of 1:30.44 seconds, placing 9th also. Jesuit's 4x400m team placed 11th overall, posting a time of 3:31.72, competing in possibly the most competitive field in all of Texas.
Moving onto the field events, Jesuit excelled, placing extremely well among all the schools who competed.
Field
High jump
In the high jump, Mac McCormick '19 placed 7th, jumping 5-08.00 ft, the only participant for Jesuit but placing very high overall.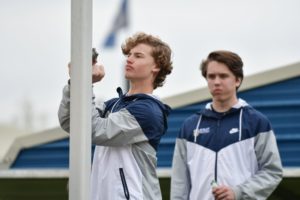 Long Jump
Jesuit's long jumping team was led by Patrick Bennett, who placed 16th while jumping 19-09.00 ft. Other participants included Jhalen Spicer, who contributed in a multitude of events for Jesuit, and Tim Brown, who placed 28th in the event. 
Triple Jump
In this event, Jesuit was represented by Rawley Schott '20, who placed 11th overall, jumping 40-09.00. Schott was the only participant for Jesuit in the event, but his high placement helped Jesuit in the overall rankings.
Schott claimed the highlight of the weekend "was the tremendous effort of the community, as [they] all came together, working the event to make sure it went smoothly."
Pole Vault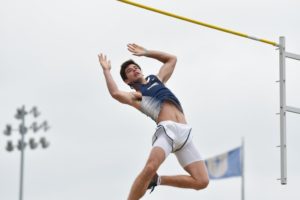 Georgia commit Collin Lark, per usual, dominated the event, placing 2nd overall with a jump of 15 feet. Collin has competed in the Sheaner Relays for the past few years and posted his best jump of all in his final relay, a fitting end to his impressive high school career.
Discus
Led by Villanova football commit Wyatt Hummel '19, Jesuit had three discus throwers at the meet. Hummel threw a distance of 166-06.00, landing him in first place overall. Austin Uke '21 and Nick Law '21 also participated, with Uke placing 4th with a throw of 133-08.00 and Law placing 6th overall with a throw of 121-05.00
Shot put
In this field event, Jesuit once again had Hummel competing along with another two-sport athlete in Tommy Roy '20. Roy took 3rd overall with a throw of 46-07.75 ft, while Hummel finished two spots behind him at 5th overall, throwing 45-09.50.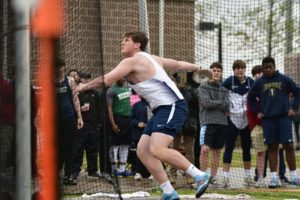 Overall, Jesuit had an impressive relay and even had a few athletes qualify for the Texas Relays, a very competitive field of Texas athletes that reflects the depth and talent statewide. Those who qualified include Jhlalen Spicer (100m), Collin Lark (pole vault), and Wyatt Hummel (Discus).
Stay tuned to The Roundup for more Jesuit sports news!