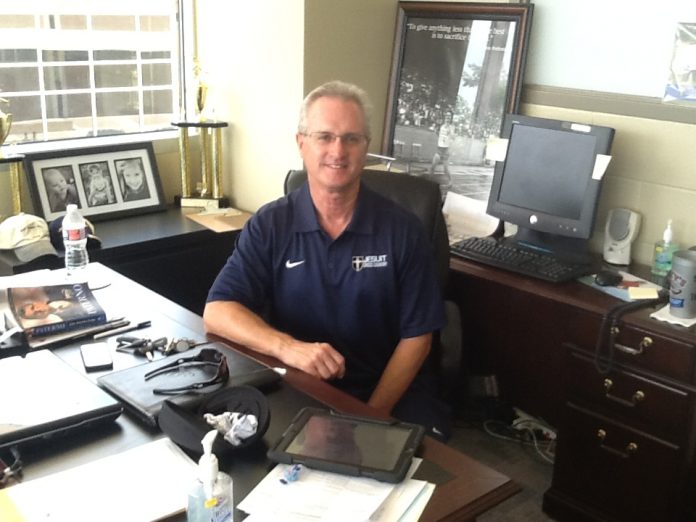 With the school year starting back up, fall sports are here and the Track and Cross Country Program experienced a big change with the departure of long time Coach, Bob Molyet. The departure of one coach means the arrival of another, and new coach Doug Robinson is ready to take on the roll.
Robinson is no stranger to Jesuit Cross Country, coaching in the Mesquite District for 39 years and consistently facing Jesuit in meets. Entering his 40th year of coaching, Coach Robinson is excited to receive the job and has high expectations for the Jesuit team.
Coach Robinson was motivated to get the job because of the storied program Jesuit Track offers. Robinson stated, "There a very few jobs in the state that I would even pursue and this is one of them." Track and Cross Country for Jesuit has a pattern of success and is consistently on the map as one of the top teams in the area.
The private education, as well, was another reason for his pursuit of the job, after being in the public school system his whole coaching career. Another convincing factor was that the type of athletes he likes to coach are highly motivated, which fits the Jesuit runners.
The players are looking forward to being coached under him and are excited for the season. Junior Michael Spamer '15 describes Coach Robinson as a great guy, saying "[Coach Robinson] helps me get better everyday and he really pushes us."
Coach Robinson, however, is not just a coach, but was a college and high school runner as well. He won a state championship his junior year of high school and was a nationally ranked runner all four years in college at McMurray State. In fact, he still holds the school record in an event.
Sophomore runner Connor "Lapras" Garvey is excited to have Coach Robinson, describing him as a coach who "[I] can relate to because he was a distance runner in college and won state in high school." Garvey went on to say that "[Coach Robinson] gets through to the runners and is able to motivate [us]."
Jesuit Cross Country dominated their first run and Coach Robinson, as well as the team, has high expectations for what is to come. Coach Robinson describes it as "setting the standards high at what [the athletes] can achieve." Robinson went on to say that "I tell the guys that I'll get you to the church, where you sit is up to you."
Thinks are looking up for the Cross Country team this year and the athletes are confident they can make a run for state. Be sure to check out the team this year and good luck to the runners.