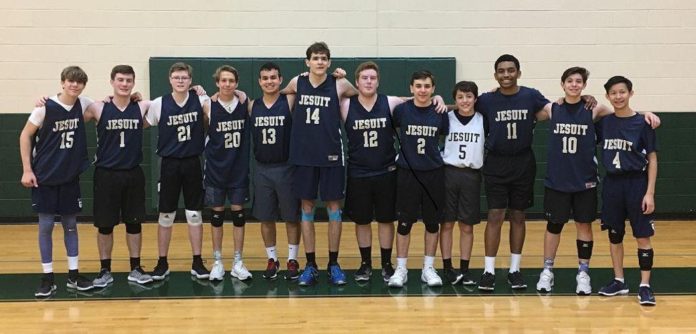 "Mine! Mine!" yells energetic Cameron Pham as the volleyball flies into Jesuit's side of the court.
The newly formed Jesuit Volleyball team has recently done very well against the local high school competition. They challenged Allen, Prosper and Coppell on April 14 to kick off their successful season.
Allen
The first match they battled in that day was against Allen High School in Allen. The Jesuit team lost the first game 17-25 but then bounced back to win the next one at 25-17. Jesuit rallied together to fight in the tie breaker game and they secured a win at 15-7 and earned themselves the Match win and a W for the season opener. Sophomore Copper Herndon stated, "the skill and athleticism of Allen was very similar to ours but ultimately our defense allowed us to come out victorious."
Prosper
After some time for rest, The rangers went on to play Prosper High School at the same place later that day. The Rangers fought hard and achieved back to back wins at 25-16 and 25-14.
Sophomore Cameron Pham described Prosper as having "bigger players and looking intimidating but we had better mechanics and overall we were better, more skillful players."
Coppell
The Rangers ended their matches on Saturday with a match against Coppell high school.
Jesuit, coming off of two wins, did not slow as they win 25-18 in the first game and then 25-21 in the second.
"Everyone was really proud with the result of the first three games and especially proud with beating Allen, since they are our rival and toughest opponent," stated Jesuit Sophomore Alejandro Cepeda.  
The Volleyball team started the season with these 3 back to back wins and then went on to be 12-2 on the season. The team has been expanding in the recent years and continues to show improvement. With the team receiving many new freshman this coming year, the Volleyball team will continue to excel.
Check back to The Roundup for more Jesuit Volleyball and other sports news! Go Rangers!