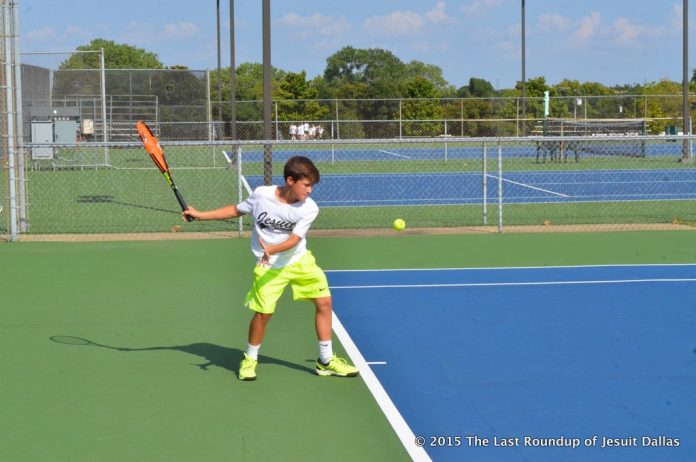 In case you've been wondering what all the racket was, the Jesuit tennis team kicked off the beginning of the fall season with a win against the Richardson Eagles in District 6-10A.
"We played five freshmen who were bouncing off the walls all day [because] they were so excited to play their first school match," said Coach Paul McDaniel.
Jesuit reigned over the Richardson Eagles with a 12-5 win. Junior Nico Elizondo won first place at singles over When Hur by a 6-2, 6-1 count, and Junior Alex Giebler defeated Jesse Dejong  6-2, 6-3, in second place. Freshmen Reid Staples and Diago Trejo won their doubles matches as well. Senior Ethan Kisse was granted an easy victory against Colton Vanderlanding at 6-0, 6-1.
Giebler '18 said that "it was a good start to the year with a very easy win for all."
Then for the second match of the year, Jesuit was able to bring back another win. With a lineup composed primarily of underclassmen, the Rangers tennis team did surprisingly well against district foe Skyline.
"Sometimes the newest members have to sit on the sideline and watch," said Coach McDaniel. This match, however, was not one of those times, with even freshman taking their places in the tournament. Coach McDaniel also noted that "this was a chance to get some much needed doubles and singles experience without any pressure." Sophomore Max Monduras was given two wins from singles and doubles, while classmate Cole Clement scored a 6-0, 6-1 victory against Daniel Gonzales. Freshman Stuart Buchanan joined Clement in doubles, winning with an 8-5 decision.
With the third match of the year, Jesuit improved their season-opening winning streak with a 17-4 win against the J.J. Pearce Mustangs. Juniors Alex Giebler and John Lindberg both scored a 6-1, 6-1 decision at top-flight singles, each one securing wins in their singles matches. Junior Nico Elizondo and Sophomore Kota Ueshima also earned some decisive singles wins to really boost the team's depth heading into the 2016-2017 campaign.
The Rangers will venture next to Lake Highlands on Tuesday, September 20th, at 4:15 pm to hopefully bring back a win for Jesuit.