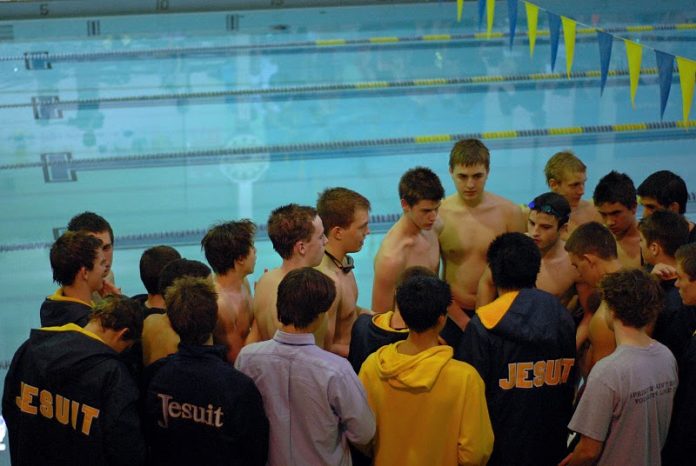 Coping with the delays caused by a weeklong, city-crippling ice storm, the Jesuit Ranger swim team competed last Monday and Tuesday against the strongest competition from Central Texas in the Region 3-5A Meet at the Mansfield ISD Natatorium.
The Rangers finished a close 4th place, narrowly losing out to Tyler–Lee, A&M Consolidated, and Mansfield. Jesuit swimmers swam extremely well, collecting plenty of medals and top 8 or top 16 finishes. When asked about not meeting the year's goal of winning the Region Championship, Coach BJ Antes commented, "No shame for sure to lose to stronger teams with the results our guys posted." Junior Jon Hoffman posted especially strong swims in the 100 Fly and 100 Back, earning silver medals in both events. Other medal winning swimmers included Eric Futscher in the 200 IM and Garrett Toledo in the 50 Free. Jesuit medaled in all three of its relays, finishing with two silvers and one bronze medal from relays. Jesuit was hurt by many 17th and 18th place finishes in the preliminary heats, as only the top 16 swimmers score points. With a few milliseconds of dropped time, Jesuit could well have gained a few more points and finished in the overall medal places. Added Junior Jonathan Bedar: "We were unlucky that a few swims didn't go our way," but such is the nature of swimming, where a few milliseconds can mean the difference between getting points and going home after day one.
 While Jesuit will not send any swimmers to the state meet, the swim team will return a very deep and talented line-up to the pool next year, returning more scoring swimmers than Mansfield and A&M. Coach BJ Antes also added, with respect to next year and further on: "Lots to look forward to in the coming years as we have many [swimmers] ready to step up," indicating that the future (Futscher) looks bright for Jesuit Swimming.
One week before the Region meet, in the district 9-5A competition, Jesuit easily dominated its district opponents, outscoring its nearest competition, Richardson Berkner, 247 – 84. The Rangers won first place in 10 out of the possible 12 events, many times sweeping the stand. All 18 participating swimmers moved on to the Region 3-5A meet the following week. Junior Garret Toledo was named MVP of the meet for his gold medals in the 50 and 100 Free.