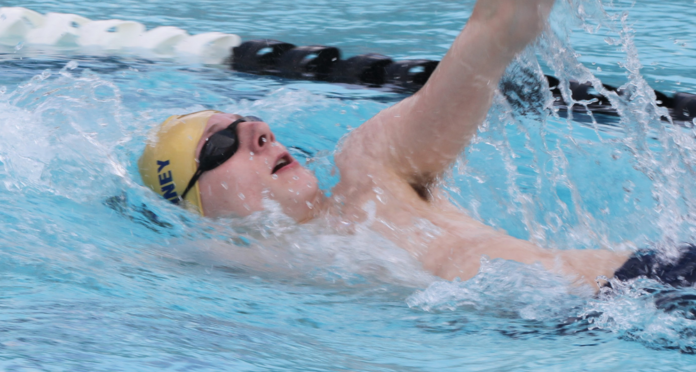 "If you want to be the best, you have to do things that other people aren't willing to do."
– Michael Phelps
The Jesuit Swimming team exemplified this quote, as throughout this whole season by hard work and a dedicated mentality, they have excelled in their early season meets.
Ranger Relays
Jesuit placed 5th in the Ranger Relays on September 29th, 2018. The 200 relay team of Ryan Brown '20, Ivan Lopez '20, Will McKinney '21, and James Savarese '22 scored the only first place finish of Jesuit's day at the relays with a time of 1:43:60. Additionally, in the free relay, the team of Jackson Summers '21, Sean Holden '19, Ryan Peckham '19, and Braden Barale '19 finished in 8th place with a respectable time of 1:36:85. The Rangers ended up scoring 184 points on the day to secure the fifth place spot in their first meet of the year.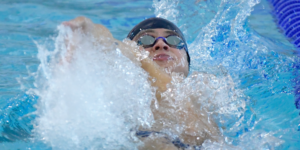 Plano East and Plano
In a tri-meet with two Plano schools, Jesuit defeated Plano East 59-41 while tying with Plano, 50-50. James Savarese '22 and Jackson Summers '22 both won their races, with respective times of 58:45 in the 100 back and 5:06:28 in the 500 free. The 400 relay team of Summers, Savarese, Ivan Lopez '20, and Will McKinney '21 won their race with a time of 3:26:87, securing needed points for the Jesuit team. Senior Sean Holden also finished in 3rd in his race, with a time of 24:24 in the 50 free.
Lovejoy and Allen
In another tri-meet, Jesuit defeated Lovejoy and Allen on October 30th, respectively with scores of 96-90 and 97-83. Jesuit won the 200 medley relay, with the team of Summers, Savarese, Lopez, and McKinney producing a time of 1:45:45. This relay team also placed 2nd in the 400 relay with a time of 3:28:71. Summers continued the Jesuit dominance with a 1st place finish in the 50 free with a 24:08, and was followed up by Holden with a time of 24:66.
Greenhill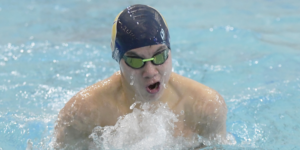 On November 28th, Jesuit defeated Greenhill 107-61, continuing their prevailing streak. Summers won the 50 free with a time of 23:08, with McKinney close behind him with a 23:24. Ryan Peckam '21 won the 100 free with a time of 54:71, while Ivan Lopez won the 200 free with a 2:00:84. In the 500 free, Ryan Brown '20 won with a time of 5:59:99. A relay team composed of McKinney, Holden, Peckham, and Alexander Hung '22 swept all 3 relay events. Blake Butz '22 placed 3rd in the 200 free with a time of 2:21:85 to finish the victory off for the Rangers.
Captain Braden Barale '19 said "The extensive training we complete through our workouts makes us an extremely competitive team [and] as such, the Greenhill meet presents swimmers with the opportunity to participate in events that they have been focusing on at practice but have yet to attempt them in a meet.
Continuing, he said, "Greenhill's pool deck provides a great platform for teammates to cheer each other on throughout their race, as during every event you would see at least five swimmers yelling at their brothers in the water."
Summarizing his points, Barale said "Our performance out of the water paralleled our success in the water, with Jesuit swimmers placing first in almost every event. Overall the team performed great and demonstrated excellent sportsmanship."
Dallas Cup and North Zone TISCA
During the Dallas Cup on November 9th, the Juniors performed well, as Jonathan Hageman '20 finished 3rd in the 50m back with a time of 31:37, while Aidan Hoofard finished in 7th with a time of 37:34 in the 50m breast. A relay team composed of Jake Norvell '20, Nathan Volle-Kobell '19, Charlie Adam '22, and Hoofard finished the event in 11th place in the 400 free relay, clocking a total relay time of 4:38.74.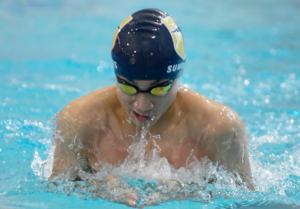 During the North Zone TISCA on November 15th, Will McKinney '21 highlighted Jesuit's performance with a strong seventh-place finish in the 500 free, with a time of 4:50:46. Sophomore McKinney scored a qualifying time in the 200 free, finishing 16th with a 1:48.81, while Summers made it into the B-Final of the 200 free, placing 16th with a 1:50.07 in the final. Sophomore Jack Young placed ninth in the one-meter diving event, scoring a 290.50. Ryan Brown '20 then finished the even with a 58:43 in the 100 back.
Reflections
One of the team captains, Sean Holden '19, talked about his final year on the team, saying "I've enjoyed welcoming the promising freshman swimmers to the team and…as captains we've had the privilege to lead the swim team and help the coaches in any way possible."
Continuing, he said, "I know I only have a few meets left in my Jesuit swimming career, so I look to give it my all and put up some of my best times."
Check back to The Roundup for more Swimming and Diving news!