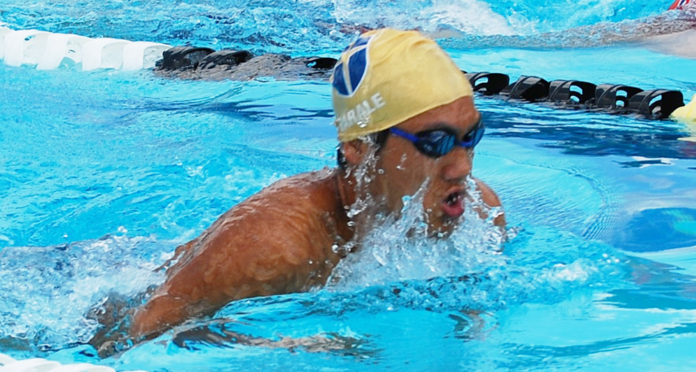 After nearly a full season of training, perseverance, and grit in the pool, the Jesuit Rangers battled their way to a 3rd place finish in the UIL 8-6A district championships this past Friday, January 26th in the Alfred J. Loos Aquatic Center in Addison, Texas.
The Rangers finished first in an electrifying 200m medley relay and secured spots on the podium in the majority of their races.
"Our goal was to swim our best at the end of the season and we achieved that goal," explained head coach Moyse.
Jesuit placed 1st in the 200-meter free relay, 2nd in the 50 meters free, 2nd in the 100-meter fly, and finally 4th in the 400 free relay to secure a third-place team finish overall.  The Rangers experienced success across the board.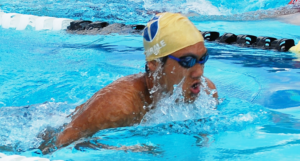 "Nearly everyone set best times in their events, achieving times much lower than the ones we had at the beginning of the season," remarked junior Sean Holden.  In fact, 83% of team relays set new team record times and 88% of individual events set new personal bests.
"A key aspect of making big drops in time is putting in a good hard workout two to three weeks before, and then the week of the meet you'll do a taper, where you do easy workouts to let the body loosen up and let your muscles relax," explained Josh Betanzos '18.
Training and recovery have played an important part in the Ranger's progress this season, planning their bodies to peak in efficiency and strength for their UIL competitions.  In the week before the district meet, this translated to cutting back on training volume, stretching, and mentally preparing themselves for the heat of competition.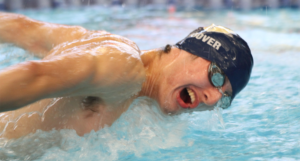 "The coaches did a good job of constructing the workouts so that the swimmers were polished in each of their strokes and well-rested," added Bentazos '18.
After tapering for a week in training, the Rangers set the tone from the first race: they meant business.
"Our 200 Medley Relay won first place, upsetting both JJ Pearce and Coppell, which really pumped up the guys and set the standard for our performance," continued Holden '19.
The Rangers filled the aquatic center with energy as they cheered on their teammates.
"In close races, a lot of energy came up and people were crowding the side of the pool," recalled Braden Baralie '19.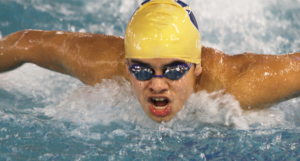 After a solid dive into the larger UIL competition season, the Rangers prepare themselves for the upcoming UIL 6A regional championship on Saturday, February 2nd.
"Our team goal always is to qualify both relays and individuals in the 6A meet held in Austin. Generally, that translates directly to success in terms of our team placing relatively high in the Region II 6A Champs Meet," explained Coach Moyse.
Cheer on your Rangers in the coming days as they aim to qualify swimmers for the state meet on February 18th and stay tuned to the Roundup for the latest Swimming and Diving news.