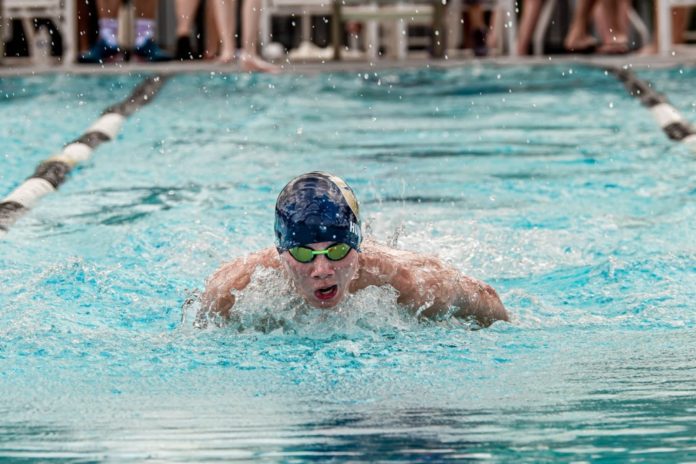 Standing behind the blocks, as his teammates have just swum their heart out for a lead, the entire natatorium is filled with electric eager parents screaming and yelling for the Jesuit Rangers to go home with a final victory. As his toes are curled over the edge of the starting block with his left leg ready to propel his body into the water like a torpedo. He can view the entire Jesuit Swimming and Diving team chanting "GO!" as his teammate in the water extends and reaches his arm into the touchpad.  
The Jesuit Swimming and Diving team has seen enormous success in the pool without much praise. Through the months of September and October, they've battled two swimming powerhouses that have made a consistent presence at the UIL 6A Swimming and diving state meet. They are also 6-0 for the first time in over five years to be on top in their district so far this year. 
RangerRelays
:
Kicking off to their exciting success early in the season, on September 28th, 2019, the Rangers held one of their biggest meets of the year, that being Ranger Relays. In the 200-yard breaststroke relay, the quad of William McKinney '21, Alexander Chong '21, Ryan Peckham '21, and Kevin Grant '21 splashed and dashed with a final time of 2:01.88, finishing second to swimming powerhouse Southlake Carroll. Jesuit bested several future district championship rivals in the race as the Rangers finished ahead of third-place Plano, fourth-place Plano West and seventh-place J.J. Pearce. Will Mckinney commented "Knowing that we swam well against a team that competes and wins at state every year is tremendously rewarding, as well as showing the teams in our district we are going to be on top this year." 
Will Mckinney and James Savarese '22 followed their captains Ivan Lopez '20, Ryan Brown '20 finishing an impressive second place in the 200 backstroke relays. Ivan Lopez had this to say after the race "It was an exciting close finish at the end, but myself and the boys came out strong and finished stronger." Another quad of James Savarese, Will McKinney, Alexander Chong, and freestyler Jackson Summers '22 kicked off the meet with the 200 medley relay. Jackson Summers'22 furiously commented, "The water was cold, but I was colder out-touching Coppell by 0.16 seconds". The Rangers would end up finishing third with a total relay time of 1:44.29.  
Pictures Taken By Don Chamblee
Coach Doug Moyse's comment on the meet:
"We were able to snag a top-three finish, finishing third in the guys was a big deal to me because we haven't done that in many years. To compete in the main 50 shootout, A team has to finish in the top eight. Some of the teams had the best 50 freestylers in the state but we were deep enough to score enough points to give us position amongst other teams. As we continue further through the season and develop our sprinters a bit more, hopefully in the next year we can reach 1st place and win that meet."
JJ Pearce and Flower Mound:
Jesuit faced off their rivals JJ Pearce and Flower Mound in a Tri-Meet on October 8th, 2019. The Rangers came out firing in all events, firstly captains set the tone with the 200 Medley Relay, having two relays place second and third allowing the team to score crucial points at the beginning of the meet. The two quads that led the team to early success were made of James Savarese, Will Mckinney, Ivan Lopez, and Jackson Summers chasing after was Ryan Brown, Kevin Grant, Alexander Chong, and Leonardo Pelaez '23. Will Mckinney came out on top with a first-place finish in the 500 freestyle following second was "Mighty Man" Ryan Peckman. In the 100 yard Backstroke, James Savarese added another first-place victory, edging out captain Ivan Lopez. The last event of the meet, secured the victory for the Rangers, as they again placed second and third in the 400 freestyle relay.
Coach Doug Moyse's comment on the meet:
"To start off, it was another fantastic meet for us! For those who aren't aware, Flower Mound is a top 10 team in the state. Regarding JJ Pearce, we've had some unfinished business with them beating us the past two years at the Varsity District Meet. They actually beat us on the last relay of the Varsity District Meet by 0.6 of second last season, so it was very rewarding to come back like that. In fact, we've never beaten Flower-Mound in a duel meet before in the last five years so it was special. By the way, they've sent three relays to state in the past two years, so they've got some competitive swimmers that we outswam."
Pictures Taken by Don Chamblee
Allen vs. Prosper:
Highlighting Jesuit's ability to be competitive off the diving blocks and diving boards, Jack Young '21 showed off his talents winning the diving portion of the meet over the course of six dives. Fellow teammate Blake Butz '22, being a dual-threat swimmer and diver added additional points to the teams lead and ended up finishing third overall. The Rangers Dominated the 200 freestyle relay, with the quad of Alex Hung '22, James Savarese, "Big Foot" Will Mckinney coined by Captains, and Jackson Summers taking a first-place victory. Will Mckinney took a first-place victory in the 200-yard Individual Medley. Continuing the Rangers sovereignty was the Jackson Summer winning the 100-yard Freestyle and James Savarese edging out a win in the 200-yard Freestyle. 
Coach Doug Moyse's comment on the meet:
"The Allen vs. Prosper meet was another great win for us, because Prosper is an up and coming team, they have many year-round swimmers that are talented and we matched up well against them. Personally, I think our depth overwhelmed them, but Allen also has a lot of depth for being one of the biggest High Schools in the country, and we matched up with their depth and were able to come out on top because of our swimmer's hard work and grit this season. That win was pretty rewarded do to the fact that we've lost to them the previous three years. Hopefully, its a trend that continues for the next couple of years."
Pictures by Don Chamblee
Sit down interview with Doug:
What are your favorite aspects of coaching the team this year?
"So far this season, I've witnessed a lot of our swimmers being actively engaged at meets and practices. Most importantly they've seemed to realize they all have one common goal, and everyone seems to be working diligently towards it." 
What are you most looking forward to this year?
"I think that the individual and team progression is something I want to see improve, I hope that everyone gets better by the time we each our champion meets as far as the season goes. Especially with our two checkpoint meets coming up, for the varsity swimmers competing for that will be TISCA, which will include some fast swims. Regarding our Junior Varsity swimmers, they have a meet against GreenHill on the horizon. Building on our Junior Varsity performances, we've consistently dominated the Junior Varsity District meet three years in a row, so we are looking forward to winning that one as well. As well as, a shot at snagging the win at the Varsity District championship, that will be very exciting to see how our boys swim."
Team goals
?
"This year we decided to expand upon our goals so far, we are striving so far for a top 5 spot in the region, which hasn't been done at least 4 years. "
Hows diving going?
"Fantastic!, This year in our arsenal we have four divers, all with at least six dives, and all are on pace to participate and be competitive in the district championship. For our team to have four divers on the team with the potential to shine at the district meet with eleven legitimate dives, that's never happened in my six years being a coach for Jesuit. "
Standout swimmers?
"For an obvious reason, our swimmer Will Mckinney was the closest to making it to state last year, he fell short by a tenth of a second to punching a ticket to state. Will Mckinney has dominated the Individual Medley (I.M.), Breastroke, and Freestyle events for us this year. We believe that he has the potential to make it to state in the 500 Freestyle, 200 I.M., or even the 100 Breastroke. Another stand out swimmer being James Savarese, he has come along really well in the backstroke and some freestyle events. Jackson Summers, another varsity swimmer to step up, so far Jackson Summers has been a very strong and dependable swimmer that has anchored most of our relays. He swims are fantastic in the 200 and 500 freestyle. Jackson has shown a lot of progress this year, he will be our 100 and 200 freestyler for the upcoming big meets. Alex Hung has come onto the scene well, usually swimming the sprint events for our team. Ivan Lopez, our senior captain has been rock solid since the beginning of his journey on the swim team, especially solid in the butterfly and backstroke events. Captain Ryan Brown aka "The Big Guy" has been performing lights out recently, and I can't forget about my Juniors Ryan Peckham, Alexander Chong, and Kevin Grant. They proved for us immense depth as far as A and B relays go for swim meets. I'm looking forward to us competing!"
Questions for Captains:
How do you guys try to set examples for the rest of the team?
Ryan Brown: "We work extremely hard in practice and try to show the "youngin's" aka freshman nickname coined by myself, to be apart of the team. 
Aidan Hoofard: "Off the top of my head, the first mass of the year, I made it a strong effort to get their 30 minutes ahead of time to introduce the new members of the team, to become a friendly face. I try my best every day to arrive early to practice and to be one of the first on the pool deck. Captains try to be one of the first swimmers in the pool, which if you aren't aware of is extremely cold. But nevertheless, we always try to be peppy and show a lot of energy, especially in races, we never leave a man behind and not cheer him on during a race."
Ivan Lopez: "I think it's showing up every day to practice with a "grind" and "get after it" mentality because it is tough to show up to practice 5 days a week and push yourself to its limit. But being able to show positivity and "good vibes" goes a long way when everyone is together."
How do you motivate swimmers grinding through mornings practices/ meets?
Ryan Brown: "Well, we like to incorporate positive and negative reinforcement, such as when we see swimmers doing a great in job practice we hype them up. Now if a swimmer does poorly we like to lovingly roast them. For example, every meet we go too when we see a swimmer in the lead, we are on the pool deck screaming our heads off for them.
Aidan Hoofard: "I have one answer for you, its all about the energy! The more hype, screaming, yelling, equals more energy that the team will be able to feed off of. At the beginning of the year, we started a different tradition of having all four of our team captions get the team as loud as possible during the Jesuit Yell, and the whole natatorium hears us every time we do it. Another example is when we are at meets, and our swimmers are up on the blocks, we show as much positive encouragement before the whistle blows. As well as in practice when we see a swimmer giving 110%, we hype them up and cheer them on."
Ivan Lopez: "It's really about acknowledging everyone on the team so that when we do see a person struggling, they have the whole team to support and encourage him through a rough set. It really goes a long way. But also, when everyone is going through hard practice, it reassures you that you're not the only one."
What responsibilities do captains carry as far as being a Captain on the swim team?
Ryan Brown: "We like to lead the team whenever permission is granted by our decorated Coach, Coach Doug Moyse. Every year before the season begins we lead in dry-lands, which is extreme physical conditioning so that we can be strong and lean in the water. We also organize team stretches before every practice and carry that routine over into our meets, so that we are loose in the water. As well as, putting together team bonding exercises." 
Aidan Hoofard: "At the beginning of the season, we do dry-lands, which is a privilege as a captain to lead because we do running, aerobics, and physically challenging games at the end. Its a lot of fun but we make it challenging at the same time."  
Ivan Lopez: "We basically try to get the team in the mindset of pushing further and harder when your body hurts, so that later into the season we can see the results we work hard to achieve."
How does being a leader carry over into your life on the pool deck and off of it?
Ryan Brown: "I feel that the leadership qualities and skills that we discover when we are captains carry over into our school life and community. When we see the opportunity to help people wherever necessary, I feel more inclined to take action." 
Aidan Hoofard: "I would have to say that, the attitude I have as a leader affects my life and relationship because I try to interact and set an example for people around me being a positive and happy person. I'm also a Big Brother, so I want to show freshman what Jesuit stands for by leading as an example in the classroom or in the stands a football game. Mainly leaving a positive mark behind."
Ivan Lopez: "Carrying that positive and good attitude, even if its something you don't want to do whether it being homework or studying for a test. Having that mentality and sharing it among others." 
Check back into The Roundup for more news on Jesuit Swimming and Diving!