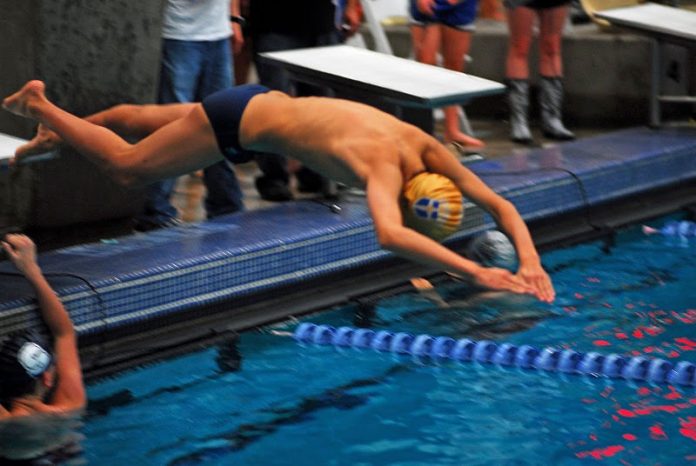 "Swimmers take your mark…"
GO!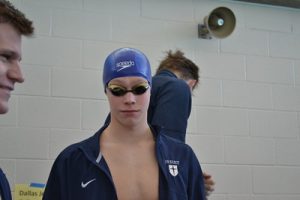 Anxious swimmers dive off the blocks, hoping for best times and fast swims. On Wednesday, October 28th, the Jesuit swim team faced off against Plano and Plano East's swim teams. Beating the other two teams, Jesuit came out on top and won. Swimming isn't easy, though, it requires a lot of dedication. Practicing from 6:00 to 7:30 each morning, Jesuit's swim team practices tenaciously, dedicating both time and effort to the sport. In the end, Jesuit's hardworking swim team brought home a clear win in both varsity and junior varsity in both Allen and Plano swim meets.
In the Plano Tri-Meet, many swimmers swam phenomenal times, including the 200 Medley Relay, swam by Brendan Feehery'16, Sam Betanzos'16, Jack Ayres'17, and Michael Lohr'16 at a blazing fast 1:45.68.  Jack Ayres'17 commented, "I really thought we did well as a team, we broke a few personal records and more importantly won the meet." Ayres specifically mentioned the brotherhood in the swim team, mentioning that "our tight knit team helps us stay focused, even when we are nervous." Junior Abbas Hussain also dropped time for his 50 yard freestyle, explaining "practice is tough, but putting in my maximum effort really helps me cut time from my swims," and stating how the whole swim team works hard to achieve fast times.
Coach Madeline Maggard, also a Spanish teacher, commented that she "liked the effort in the swims" and was "excited for the meets to come, especially TISCA." TISCA, a meet dedicated to the fastest of swimmers, approaches soon and many swimmers are trying to make the speedy time cuts. At the previous meet in Allen, Collin Feehery'19 barely made the extremely fast 500 Freestyle TISCA time by 1.5 seconds. While feeling some fatigue from the swim, Colin was extremely happy with his time: "I swam the fastest I possibly could and got a great reward." As TISCA approaches, many swimmers are putting in maximum effort to get the necessary times to compete.
With such achievements under their belts, or rather speedos, the Jesuit Swim team has a great future for this year and looks forward to what the rest of the 2015-2016 season holds in store. Building from multiple wins such as the Plano Tri-meet and the Allen meet, the swim team continues to practice morning after morning to reach goals for varsity and junior varsity districts. Overall, with three strong captains, Michael Boyson'16, Brendan Feehery'16, and Sam Betanzos'16, the swim team has a road of greatness ahead and swimmers are working hard to cut times.