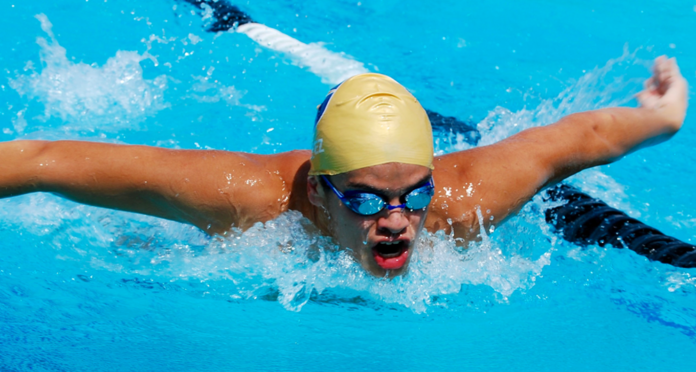 The entire Jesuit swim team was hard at work competing during the early month of October. Nearly every morning at 6:00 AM, the team ate breakfast together and practiced with tremendous dedication and effort in order to prepare for their competitive meets, all while trying to maintain their good grades. Head Coach Doug Moyse even commented that "the guys are not afraid of working hard." After all, such effort is required to go head to head against tough teams like Allen, Lovejoy, and Highland Park right at the beginning of the season.
That effort definitely carried on in the pool throughout the competition, Jesuit won against Lovejoy 82 – 32, but lost 45 – 72 to Allen. However, scores don't tell the whole picture. Freshman Jack Young '21 won in diving with a score of 141.38 and Senior Charlie Day '18, Junior Noah Nguyen '18, and Freshman Will McKinney '21 finished strongly in their respective categories. In addition, the team also produced many best times along with several second and third place finishes. Coach Moyse was "very happy with how the guys swam there," and observed how "We took our lumps from them, but we pushed … the tougher competition is great for us early in the season and I think it really benefits us later." Will McKinney '21 also mentioned that "We got destroyed, but it was fun."
Two weeks later, Jesuit Swimming and Diving endured another loss against Highland Park 78 – 107. The team held their own against the previous state champions. Jack Young '21 once again performed very well in diving, beating Highland Park by four points, and Jesuit also claimed many strong top-two finishes in nearly every event in which they participated.
Team spirit and morale was only increased by the losses in the month. They demonstrated openness to growth and a true desire to improve themselves over the course of the season. Coach Moyse noted that "Even though we lost against Highland Park, we learned a lot about what we can do better … Everyone's kind of all in on everything, [and] I love the total effort given from everyone involved." This "critical mass of people working hard" is a key to becoming successful.
The swim team's bonds aren't just limited to the pool. Will McKinney '21 added that the team was "Really inclusive, [and] we do everything together … The people in the team right now are probably going to be some of my best friends in high school [and] probably for the rest of my life."
The Jesuit Swim team continuously strives to get better and better each month with determination, drive, and a lot of fun along the way. Especially with the way things are going now with a strong Freshman class and consistently strong performances, expect great things from this group of guys in the near future.