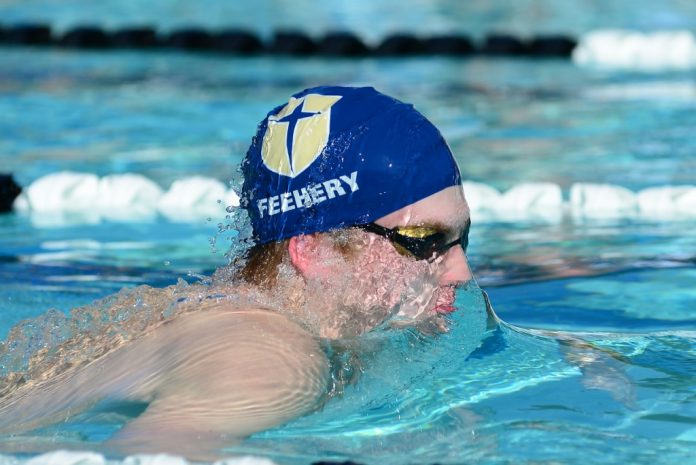 This past summer, the Jesuit swim team had quite exciting news at US Juniors National Swim Championship, especially for one swimmer, Brendan Feehery '16. Brendan qualified for US Juniors through his time standard from his club team, Lakeside Aquatic Club.
Brendan has been swimming at the semiannual US Juniors National Swimming Championship for three years, but this past summer was much different than any other competition he has been in.
Brendan was born into a family of swimmers, with both of his parents swimming competitively in college, and his uncle swimming in college and winning a gold medal in the 1996 US Olympics. Swimming has always been a passion of Brendan's ever since he began competitively swimming ten years ago. Brendan swims "mostly everything but long distance", and shines at the 100 meter backstroke.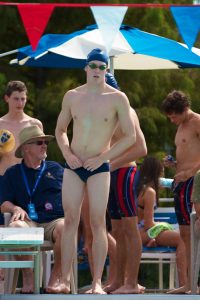 When asked to describe Brendan's work ethic and swim ability, Coach Douglas Moyse had this to say "Brendan is one of the better swimmers I have coached in my days, he's got the height, great stroke techniques, and great determination. He's your all around swimmer with a huge upside.". Brendan has a very rigorous schedule with practice twice a day, before and after school, totaling around 25-30 hours per week.
All of these hard hours he has put into the sport definitely paid off when it came to US Juniors this past summer. Brendan began the day with a strong time of 57.85 seconds in the LCM backstroke, breaking his personal record by 1 1/2 seconds and placing 20th out of 139 swimmers. After qualifying for finals later that night, Brendan ended up finishing 24th overall, with a time separation of about one second between 1st place and 30th place.
Jack Ayers '17 had this to say about what it's like swimming with Brendan, "It's cool that I get to swim with the fastest swimmer on the team and its fun to compete here and there but all in all, I just like to swim with people who I can keep up with or that go faster than me, so swimming with Brendan, though hard, is also pretty fun for me"
It's obvious to tell that with more hard work, Brendan could possibly end up breaking multiple records, qualifying for the National Junior team, and end up receiving scholarships from multiple colleges.