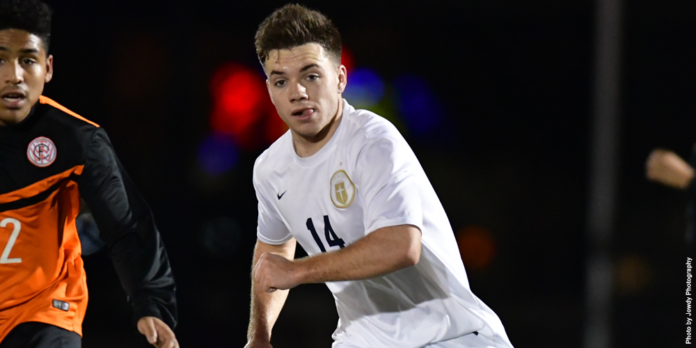 JJ Pearce Game:
The Jesuit soccer team played a though JJ Pearce team on Febuary 9th. The elements of nature came into the match affecting play. However, Jesuit started the first half strong.
They Scored
Jesuit varsity scored first against Pearce; with Andrew Gilchrist '18 receiving the ball from John Scott '19. Andrew crossed it to Rez '18 , who finished. Pearce answered Jesuit within 2 minutes with them making a long throw, and then uncontested header to score 1-1. With the game 1-1 and plenty of time anyone could have taken the victory.
The first half was approaching its end and Pearce scored with 5 seconds left in half, making the score 2-1. Although, the Rangers fought off several corner kicks and free kicks they couldn't get the last one after a melee in 6 yard box near the goal.
A suspenseful game
In the second half the downwind provided Jesuit many chances, that is because JJ Pearce had 7 players on the field taller than almost all of Jesuit's. Thus, the downwind supplied many chances as the ball flew towards the JJ Pearce's goal. Despite the advantage Pearce scored another goal making a 3-1 deficient for the Rangers.
Jesuit fights back.
Head coach for the Rangers Charlie Delong talked to his team, telling them to "not give in" and that "we can fight back like we've done many times before." Soon after with some of that Jesuit teamwork Andrew Gilchrist scored  a free kick around the wall from 24′ into the bottom left with 2 minutes remaining. Jesuit drove it back soon after almost scoring again, but time ran out.
a tough 3-2 loss for the Rangers.
Skyline Game:
On March 3rd Jesuit faced Skyline in district play. This game should've taken place on February  3rd, however, because of weather concerns it had been postponed. The game was slow the whole first half. Halfway through the first, the score remained Jesuit 0, Skyline 0. Skyline attacked Jesuit's goal, but Joe Banul '18 answered each time.
The second half began slowly as well, Jesuit still knotted at zero. But Banul still stood up against Skyline. The Rangers unfortunately missed the couple chances they had.
The Rangers Score
The Jesuit Rangers' John Scott '19 got free kick from midfield despite having a bloody nose. and showed some Ranger grit as he ran with the ball and passed it to Reznicek who scored. What a tough game, some true toughness was shown right there.
The Rangers victory appeared to be in sight, however, Skyline answered immediately in 1-1 on a box skirmish that fell into the shooter's lap. The shooter drove the ball and scored, tying up the game. Jesuit 1, Skyline 1 the Rangers have one more chance to take the lead but they miss.
A 1-1 Tie
Stay tuned to the Roundup for more of the latest Ranger soccer news!