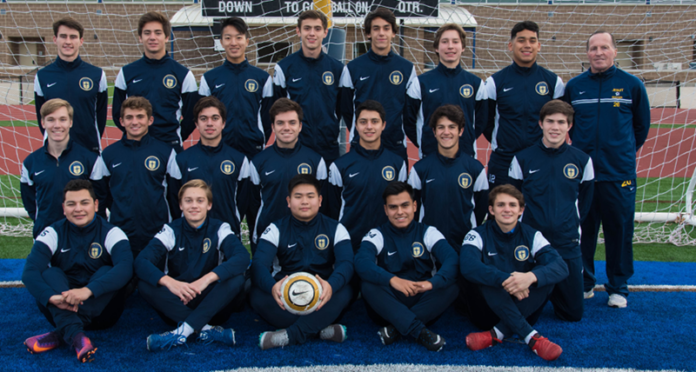 On Saturday, Jan. 13, the crowd cheered as Jesuit Soccer masterfully defeated Nolan Catholic at Postell Stadium, bringing an end to the 37th annual Meintser Invitational Soccer Tournament.
The Meintser, which usually serves as an early match in the Ranger's exciting season, took place January 11th-13th. Jesuit finished the tournament in 7th place with a final 1 -1 -1 record after facing Bishop Lynch, North Mesquite, and Nolan Catholic.
Bishop Lynch
The event started on Thursday with a 1 – 1 tie with Bishop Lynch. Despite Jesuit getting in several shots during the first half of the game, the score remained 0 – 0. With a few changes during the halftime break, the second period of the game began. Bishop Lynch made a goal at the 71st minute, and Jesuit's Christian Lerma '18 followed suit less than five minutes afterward assisted by Ryan Davis '18 . Two more shots were made by Jesuit, but they were saved by Bishop Lynch's goalie, ending the second half of the match with the 1 – 1 score. After the penalty kicks, Bishop Lynch advanced.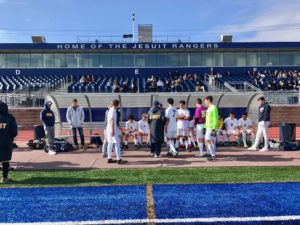 North Mesquite
Jesuit faced off against North Mesquite the next day, and in spite of the team's renewed determination and desire for a win, the game resulted in a 2 – 1 loss. Connor Tulis '19 demonstrated his ability as goalie with three saves, but North Mesquite was able to finish the first period with a 2 – 0 score. Diego Sierra '20 shortened the gap by scoring a goal in the second period.
Nolan Catholic
In the final match of the tournament against Nolan Catholic, Jesuit shined with a 4 – 0 victory. Jesuit filled the first period with pressure with six shots and a penalty kick goal by Andrew Gilchrist '18. The team maintained the momentum through the second period with goals by seniors JP Koshakji, Lorenzo Genera and Alex Reznicek.
"We definitely should've won our first two games, but I think we really came together and played how we wanted to in our final game," said JP Koshakji '18 while looking back on the team's performance.
Coach DeLong added optimistically: "The tournament didn't go exactly the way that we wanted, but it ended well. The team played together in the final game and we won 4-0. This shows me that if the boys play well as a team, they can go far this season."
While the final record for the tournament was not quite what Jesuit was hoping for, the team gained a lot from the experience and grew closer, which, in the end, is most important in the long run.
Ryan Davis '18 summed it up nicely: "We have seen what we need to work on and what we do well, so yes, I think the tournament went well and we got out of it what we needed."