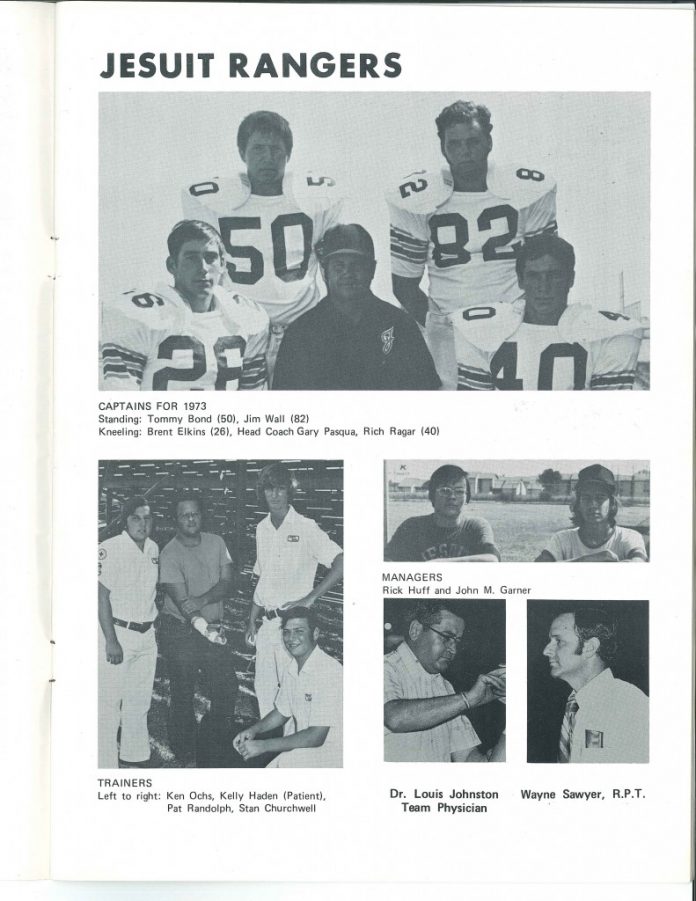 Every year, the Jesuit Blue and Gold Sports Hall of Fame selects four alumni to be inducted into a very selective group of men who excelled in athletics at their Alma Mater. Each member gives a heartwarming speech at the induction ceremony, thanking a long list of people who helped him obtain such an honor. He is then presented with a pristine navy blazer with a circular patch containing the Sports Hall of Fame logo. As the newest member of the Hall of Fame dons his well-earned blazer, the audience applauds and cheers in celebration of his achievements.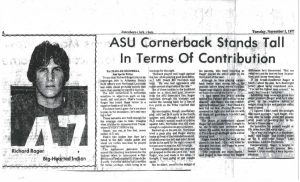 Rich Rager '75 was one of the four members inducted for this year's Jesuit Blue and Gold Sports Hall of Fame Banquet, which was held in a ceremony on Saturday, May 7th in the Terry Center. In fact, Rager is one of the many multi-sport athletes inducted, playing both baseball and football throughout his high school career, winning state championships with both teams.
As a football player, Rager tore up opponents' offenses with his defensive prowess, earning him the TCIL Defensive Player of the Year award as well as an honorable mention All-American, following his senior year. To cap off a rewarding senior year, Rager helped his team win the 1974 TCIL State Championship.
Although his strength may have lied on the gridiron, Rager also made a huge impact on the baseball team, starting for three years at third base. In fact, in his junior year, he carried the team to its first TCIL State Championship victory in 1973.
To celebrate his many achievements, The Roundup had the privilege to interview Rich Rager and talk about his many memories of Jesuit as well as some of his reflections on the meaning of the school:
The Roundup: What is your fondest memory of your Jesuit athletic career (baseball or football)?
Rich Rager: My fondest memory, actually, was in baseball. When I was a sophomore, our starting infield consisted of 3 sophomores, one of which was me. That year was the first time in the history of the school that Jesuit won a state championship in baseball, winning a thrilling semi-final game in the last inning.
TR: What does it feel like to be selected to an elite group of high school athletes?
RR: When you consider the steep tradition of Jesuit and the quality of athletes that have attended Jesuit, it's so humbling and such an honor to be included. From the 5 year period from 1972 to 1976, there were 16 Jesuit football players who signed scholarships to Division 1 schools like Notre Dame (one player each of the 5 years), TCU, Arkansas, Colorado, and LSU. This is a testament to the quality of players that played during my time at Jesuit, and to be included with these type players is quite an honor. It's made all the more meaningful to be selected at this stage of my life and caps a lifetime of sports achievements in my family.
TR: What did your sports career at Jesuit teach you about adult life?
RR: As I will say in my speech, it is impossible to enter Jesuit as a freshman and not come out a better version of yourself as a senior. The incredible academic curriculum, faith-based instruction from incredible teachers, and unique student body allow you to grow into the man God intended you to be. My favorite question to be asked is "Where did you go to high school?" I beam with pride because it seems everyone everywhere knows the value and prestige of a Jesuit education.
TR: Are there any people you would like to thank for helping you achieve this great honor?
RR: My Mother and Father, who are my biggest fans, as my Dad was my hero and role model, never missing a game and making a lot of sacrifices to send all 5 of his children to Catholic schools. I would also like to thank legendary coach Gary Pasqua who, next to my father, probably had more influence on me as a teenager than anyone. You don't achieve individual success in a sport like football without playing with quality players, and as I mentioned above, we were loaded and I want to thank them all. God Bless Jesuit Dallas.
Senior counselor Mr. Jack Fitzsimmons '76 was a student at Jesuit when Rager was at the apex of his high school career. Fitzsimmons remembers him fondly, saying, "Rich Rager was a year ahead of me at Jesuit, so I saw just about every single football game he played for our school. Many baseball games, too. It would be hard to remember a game when Rich didn't have some type of significant impact. On defense, he was always around the ball, and it seemed like he was in on every play." Mr. Fitzsimmon's recollection is a testament to Rich Rager's character and atheticism.
Overall, Rich Rager's leadership and talent on the athletic field mirrors his love and dedication to Jesuit. His echoing words demonstrate his appreciation for the four fantastic years of his life Jesuit Dallas has given him.