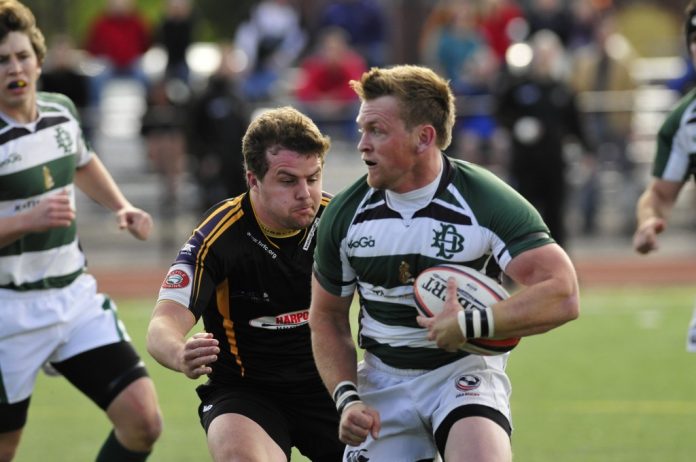 Invictus
"I am the master of my fate. I am the captain of my soul."
-Ernest Hemingway
The Latin word "Invictus," meaning unconquerable or invincible, doubles as the title for the 2009 movie that tells the story of how Nelson Mandela, the President of South Africa, united his racially and economically divided country in the wake of the apartheid through the help of the national rugby team. The above quote from Hemingway's poem, also titled Invictus, captures the unwavering determination Mandela possessed, a determination that is ultimately reflected in his national rugby team, striving and successfully winning the 1995 Rugby World Cup.
Moreover, this inspiring characteristic is not limited to the 1995 South African rugby team; in fact, a large community of rugby players throughout the world displays this willpower and fortitude. Recognizing one such player, Dallas Jesuit is honored to announce the induction of Mr. Phillip Bolton '01 into the Jesuit Sports Hall of Fame. (Click here if you want to watch the video of Phillip Bolton's Interview.)
Bolton's path to the upper echelon of the rugby world began at Jesuit. Bolton grew up playing "every sport under the sun," including baseball, basketball, soccer, football, ping pong, and swimming- everything except for rugby. But he decided to give rugby a shot while attending Jesuit, learning that it "wasn't as dangerous as it seemed."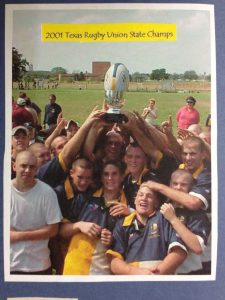 When asked what his favorite aspect of rugby is, Bolton enthusiastically responded how "rugby ties all sports together: balance and core strength from wrestling, hand-eye coordination of baseball, identifying space and the flow of basketball, foot skills and staying light on your feet from soccer, and the aggression of football. I felt like it was a well-rounded sport." Realizing its versatility and succumbing to the good-natured peer pressure from the seniors, Bolton decided to join the rugby team. The moment he stepped onto the rugby field, he never looked back.
Bolton was elected co-captain of the rugby team his senior year, and led the team to Jesuit's first state title. Reflecting back on the undefeated season, Bolton said it was the most memorable moment of his high school career, for "it was one of the first times that I experienced the fruits of hard work and discipline. It was one of the first mountains I climbed." Additionally, Bolton set two records that stood for roughly two decades: most conversions and most points earned in a season. With such an impressive résumé, it is no surprise that he was also honored as Jesuit's first player to receive an athletic college scholarship for rugby, but it was a circuitous route to the collegiate ranks.
Interestingly, Bolton decided against following the traditional route after his graduation at Jesuit. Instead of heading to college, Bolton chose to heed the advice of his mother, who had studied abroad after high school. According to Bolton, "She suggested I go learn another language and live abroad. I knew there was so much out there besides the life we know in Texas, and I was keen to go make some experiences." For Bolton, "It was one of the best decisions I have ever made. Immersing yourself in another culture for a long period of time is a type of education that can't be learned in a book. I believe everybody should experience living in a country where the history and culture are different from home."
While living in Europe, Bolton decided to combine his passion of adventure and rugby, forming a mixture that resulted in a very exciting year. He reflected, "Playing in Europe was incredible. I was fresh out of Jesuit, and went from high school rugby directly into Men's rugby. I wasn't big yet so I worked on my speed and skills to make up for my lack of size. My team was comprised of expats: players mainly from England, Scotland, South Africa, and New Zealand. Those guys took me under their wing as a little brother, and showed me how to play the game properly. That's a year I'll never forget." The camaraderie and the brotherhood that Bolton experienced on European rugby teams reflect one of the key pillars supporting the Jesuit community, and, of course, the rugby team as well. Bolton agreed that the sport of rugby "is a positive community that helps shape young men, basically through a mentor system. The older players lead from the front and show the younger ones how things are done… We had an incredible bond. One thing that rings true with every club I've seen around the world, is that rugby brings people together."
After playing for a year overseas, Bolton was called back to the United States, being offered a scholarship to play rugby at the University of New Mexico (UNM). For Bolton, "UNM was fantastic. It was probably the best place I could have attended for my degree." Recalling all the amenities the campus and surrounding area had to offer, Bolton explained, "It's not very far from Dallas, and it's right in the middle of the mountains. When we didn't have rugby, we would go ski up in Santa Fe, Taos, or Durango. It offered an outdoor life I had always wished for but was not accessible in Dallas. Rugby life was great because we had an incredibly athletic team, and we were very close. We joked that we were the United Nations of collegiate rugby because we had players from Japan, Argentina, Samoa, Tanzania, England, the Navajo Tribe, and all over the US." Bolton's success did not end in Europe, for he earned All-American honors two years in a row at UNM, was named Most Dominant Player his senior year, and the rugby team "finished top 5 in the country my senior year, which was another reward for years of hard work."
Looking back on his rugby career, Bolton realized that "rugby has created opportunities for me that I never imagined while I was attending Jesuit," and in addition to these opportunities, rugby has reinforced his belief that "if one pursues their God given talents, in whatever it may be, they are spiritually progressing. I was blessed with athletic talent to pursue a dream. I knew that I was doing exactly what I was supposed to be doing, and that allowed me to play better. It all positively feeds into itself, and progresses forward."
Bolton also explained how through rugby he "learned the self-discipline and sacrifice required to take something to a higher level, and those skills are transferrable to other sectors. Now I apply those same skills towards my business adventures and the pursuit of my professional career. Academically speaking, I was fortunate enough to have received a scholarship and earned my International Business degree because of rugby. Although it is an incredibly physical sport, what it comes down to at the top levels is your Rugby IQ and quick decision making abilities.It's a physical game of chess out there, and has definitely kept me sharp."
It is obvious that rugby is so much more than just a sport; it is also a brotherhood. The sport provides an opportunity to grow as both an individual and collectively as a team, developing mental toughness as well as physical toughness. It is through this growth, this fortitude and this discipline, necessary in order to develop a person's talents to the fullest and to maintain the integrity that is fostered at Jesuit, that seems to be an underlying theme in the sport.
In his parting words, Bolton exemplified this attitude, saying, "It doesn't matter if you're an athlete, if you want to be a teacher, a businessman, or a plumber. Do it well. There are common threads in any form of success: Set goals and work hard to achieve them, stop distracting yourself with things that take away from your focus, surround yourself with positive people, and don't complain when you face adversity. Nothing worth earning is easy to achieve. Take a break later on, when you can sit back with your old Jesuit buddies and laugh about problems you faced along your paths to success. Right now most of you are deciding what you want to do with your lives. Whatever it is, do it well. You never stop representing your family and you never stop representing Jesuit."