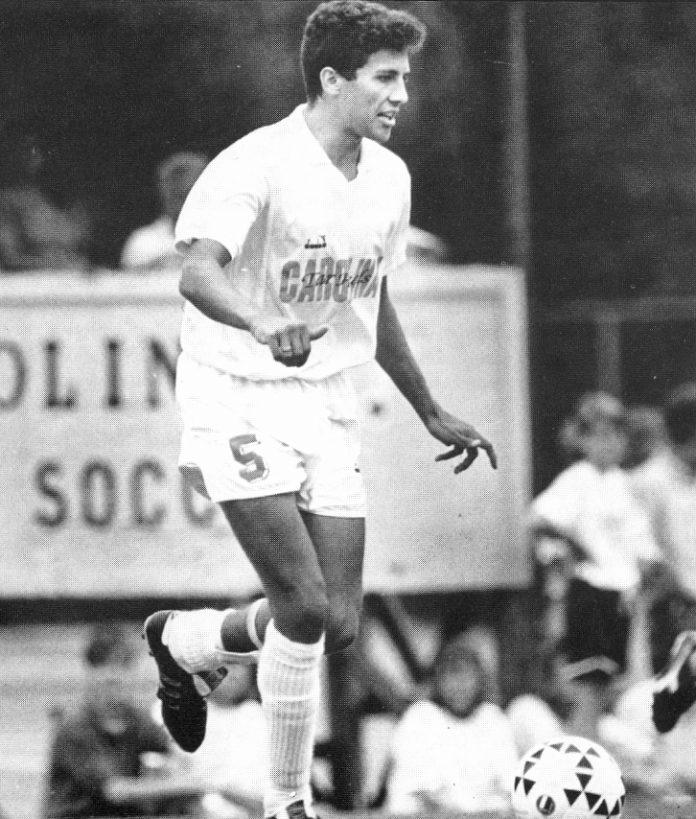 When it comes to notable athletes that have come out of Dallas Jesuit, the list is quite long, and every year Jesuit honors a few former Rangers by inducting them into the Jesuit Sports Hall of Fame. The induction is an honor that only a select few have experienced, and it is one that all Jesuit athletes aspire to achieve.
Few men have donned the Blue and Gold with as much skill and pride as stand out soccer player Rich Wachsman of the class of '88. Wachsman is one of those men blessed with the honor of receiving an induction to the Jesuit Sports Hall of Fame this past year. Wachsman described his emotions when he heard that he was scheduled to be recognized with the award recalling, "I had feelings that were on both ends of the spectrum.  I was obviously excited about being recognized for this prestigious award.  At the same time, I am humbled by the recognition.  I am sure there are many athletes that are just as deserving and the HOF committee must have a very difficult job selecting individuals each year.  I appreciate those folks that were part of the nomination process and part of the selection committee."
Wachsman was a focal point on a Ranger's team that rarely tasted defeat, punishing opponents with their strong play. Wachsman was a member of the Jesuit Ranger's varsity soccer team for an astounding three years in which the team posted an astounding 49 – 2 regular season record.  The Rangers' success at this time was much accredited to the outstanding play of Rich Wachsman who was selected to the all-area team. However, Wachsman humbly stated that the success was a result of the outstanding team chemistry. Recalling his favorite memories from his years on the team, Rich said, "On the field, my fondest memories were the practices that we had each day as a team.  The Jesuit soccer teams during my stint with the team were extremely good.  In fact, 5 out of the 10 soccer inductees in the Jesuit Sports HOF played at some point during the three years that I played.  Our practices were very intense and we forced each other to become better players.  We worked hard but also had a lot of fun. Whether it was seeing who could score the best goal at the end of practice or trying to 'chip the keeper', we always left each day with a smile on our face satisfied with the work that we put in."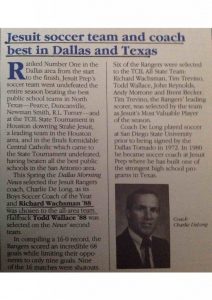 In all three of Wachsman's years as a Ranger between 1986 and 1988, the team reached the TCIL State Championship Game, and the Rangers lost in only one of these matches, falling one penalty kick short. One of Jesuit's all-time great dynasties, the soccer team held the title of the number one team in the area for two consecutive years via the Dallas Morning News. Wachsman cemented his place not only as one of Jesuit's best players but also as a leader with his selection to the All-State team in his senior season. In his final two years at Jesuit, Wachsman led a Ranger defense that posted an unheard of 18 shutout victories.
Wachsman's legacy lives on at Jesuit with his selection to the Hall of Fame, and it is an honor that he bears with great pride, stating, "It's an honor and privilege to be recognized within the Jesuit community as a member of the Sports Hall of Fame.  Knowing the number of elite athletes that come through this school year in and year out, I will always reflect on this award with great pride.  Being a part of the Jesuit Soccer program has had a significant influence on my life and has helped shape me into the person that I am today.  I will always cherish the memories and friends that I made during these years and want to thank everyone who has supported me and guided me during such an impressionable time."
Due to his terrific play at Jesuit, Wachsman was a highly sought after recruit, eventually choosing to further his athletic career and strengthen his education at the prestigious University of North Carolina at Chapel Hill. The only thing that changed from Wachsman's play at Jesuit at UNC was the shade of blue he wore. Wachsman started all four of his years at UNC, leading the team to an impressive 10-4-1 record as a freshman. Wachsman's outstanding play helped the Tar Heels enter the national rankings. Wachsman's accolades continued to pour in while at UNC as he was recognized as first team All-ACC, and he received the UNC Athletic Director's Scholar-Athlete Award, one of the universities highest honors.
Remembering how his time at Jesuit helped further his athletic career, Wachsman stated that "[his] time at Jesuit allowed me to get into a great school (University of North Carolina) to not only further my athletic career but also get a great education.  During the time that I played, there wasn't a professional league in the US and any dreams of playing after college would be going to Europe and trying to play.  My goal during my high school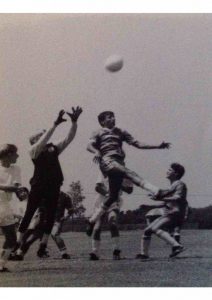 years with playing soccer was to leverage it as a way to pay for my education in college.  I went on to start all four years at North Carolina.  I was not always the biggest or fastest athlete on the field, but I always gave 110%.  This was part of the hard work and determination that Coach Charlie [DeLong] instilled in all his players to be your best at all times."
Rich Wachsman was blessed with an astonishing ability to play the game of Soccer, and this talent opened up many doors and accomplishments for him. He recalled a few of his greatest feats on the soccer field, saying, "Soccer has provided me the opportunity to have many great memories and accomplishments.  I've traveled to all parts of the world (Canada, England, Czechoslovakia, Germany, and Denmark) because of the sport.  Being part of two state championships at Jesuit was very memorable.  Our team that went undefeated my senior year while playing one of the toughest schedules in Dallas is also a highlight.  At North Carolina, I was a part of teams that made runs deep into the NCAA playoffs and consistently finished within the NCAA Soccer Top 8 teams.  Since my playing days in college, my greatest athletic accomplishment was completing the Madison Ironman Triathlon back in 2010."
Not only was Rich Wachsman an outstanding soccer player, but he also perfectly represented Jesuit through all his actions. One of his teammates at Jesuit, Todd Wallace '88, said "Richie was a leader in the classroom. Richie was a leader on the soccer field. Richie was a quiet guy, but he had a quiet confidence about him." Wallace went on to compare Wachsman to NBA legend Tim Duncan, known for both his outstanding play on the court and his quiet leadership, stating, "[Rich] never talked trash, but, boy, he was always there when you needed him. You knew exactly what you were going to get game in and game out. One of the most consistent players I have ever played with…. He always had our back." Another one of his teammates, Chris Hebert '91, described Wachsman as "really kind of embodying and encompassing what I always thought Jesuit should be – When their graduates move on and become good husbands and fathers, and have that kind of work ethic." Rich Wachsman is a perfect example of a Jesuit graduate, living out Christ's mission with his subtle acts of kindness and charity without ever placing himself above others.
After leaving North Carolina, Rich moved to Barrington, Illinois, with his wife Leslie, carrying the Jesuit message with him in all his endeavors. Rich was blessed with three children, Cecilia, Henry, and Claudia. When asked what being a Jesuit Ranger meant to him, Wachsman said, "Obviously 'Man for Others' quickly comes to mind.  Jesuit taught me the skills on how to love and support others.  These are the values that have carried me through my adult life.  As Jesuit Rangers, we are called on every day to use these skills in making those things around us better. I am so proud of being part of this community."
The Jesuit community is proud to have Rich Wachsman be a part of it, a man who truly embodies everything Jesuit stands for, displaying it in everything he does whether it's on the soccer field or at home. With his Hall of Fame induction, his legacy will continue to inspire many Jesuit athletes who should strive to achieve his model character.