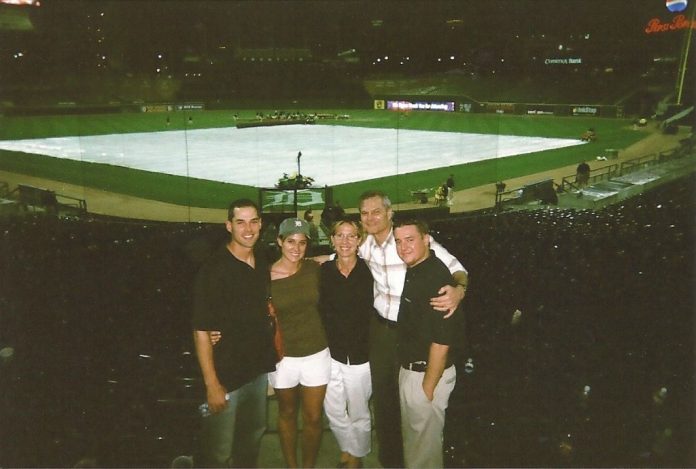 The best ever.  Three words, at the forefront of every's athletes theoretical goals sheet. The ultimate accomplishment for any athlete, to be included in the same sentence as those three magical words. For one former Jesuit athlete this dream became a reality in the Terry Center on Saturday May 11, as Michael Hollimon '01 was inducted into the Jesuit Sports Hall of Fame as possibly the greatest baseball player to ever put on the Jesuit Ranger uniform. Not only his accomplishments on the field will be recognized, but also his accomplishments off the field, as a mentor, a Christian leader and a true Man for Others.
Hollimon's whirl wind journey started on a warm, muggy June 14th night in 1982 in Dallas, TX , welcomied into the world by his father, Stuart, and mother, Jan. He was born into a family of athletes; his uncle played college football for the University of Minnesota. Hollimon attended Greenhill in Addison from 2nd-8th grades where his athletic and academic careers began. Throughout his middle school years he played football, basketball, and baseball, kept busy by the constant games and practices coupled with his school work.
Hollimon, at the end of his 8th grade year, decided to continue his schooling at Jesuit. He made his impact early in his career as a Ranger, playing on the JV basketball team, and then making the varsity baseball team as a freshman, a very rare feat. He instantly started at shortstop and gave the Rangers some needed pop from the top of their lineup. He played so well that as a freshman he was named TCIL first team All-State.
After another season on the hardwood, this time for the varsity squad, he returned to the ball field for his sophomore season with high expectations, so high that his teammates voted him a team captain. This season was also important as it was the first for newly hired Coach Kevin Williamson. Riding the hot bat of Hollimon and the powerful arm of Kevin Hart '01 at third base (who played professionally for the Chicago Cubs), the Rangers went all the way, winning the 1999 TCIL state championship, the program's first in over 12 years. After the championship, he was named to the TCIL first team All-State team for the second time. During the time in between his sophomore and junior years, he also played for the 16U United States National Team, traveling around the world competing against the world's best competition.
Entering his junior year following the state championship in baseball, Hollimon wanted to take his success from the diamond and duplicate it onto the hardwood. With Michael running the point, the Rangers made a run through the TCIL state tourney, finally reaching the state championship game against their cross-state rivals, the Crusaders of Strake Jesuit of Houston. In a game dubbed by longtime Jesuit sports enthusiast Tom Walsh '85 as "one of the best high school games he has seen," the Crusaders held a "8 or 9 point lead with about 55 seconds left," but the Rangers mounted a furious comeback and tied the game fueled by Hollimon's pure outside shot and lockdown defense.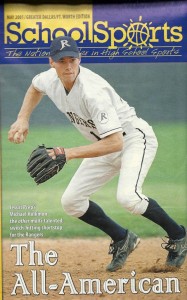 In overtime, they overwhelmed Strake and won the 2000 state basketball TCIL championship. After the season Hollimon was also named TCIL All-State and TCIL defensive player of the year. Returning to the baseball field after this exciting season, he was again named captain and put up huge numbers being named All- State for the third time, and a Baseball Collegiate High School All American for the first time.
As he entered his final year at Jesuit, he was again chosen to represent his country, this time as a member of the 18u National Team competing in the Pan- American games. He played well and led the US to a bronze medal finish at the tournament. Then it became time for his last year putting on the blue and gold, deciding not to play basketball but instead to focus solely on baseball, again being named captain and again being named All-State. He put in a huge year, hitting .446 with 12 doubles, 5 triples, 8 home runs, and 28 RBI's, and earning numerous accolades, including being named a Baseball Collegiate All- American, Baseball America third team All- American, and talked about by scouts as one of the top Prep school players in the 2001 major league draft, and the number one shortstop available.
These impressive numbers and numerous awards attracted the Cleveland Indians, who were supposedly going to take him in the first round to be their shortstop. However, it wasn't only major league scouts who had been keeping their eyes on him but also numerous college coaches who came knocking on his door. One of these was college baseball legend and Texas Longhorns head coach Augie Garrido, who convinced Hollimon to sign a scholarship to play baseball for the Longhorns. This commitment, and the fact that it would probably take a 7 digit signing bonus to convince him to dishonor his signing, discouraged most Major League teams, and so Hollimon fell all the way to the 36th round where the Los Angeles Dodgers decided to take a chance on him. Their fears turned into a reality, when Hollimon decided to honor his commitment and attend the University of Texas at Austin for his freshman year
While Hollimon certainly made his mark on the field, he also left his mark in the hearts and minds of his classmates and teammates in his time at Jesuit. Coach Michael Martinez '02, the current freshman baseball coach for the Jesuit Rangers, played with Hollimon for three years in the baseball program. He remarked how amazing it was "that along with his athletic accomplishments, Mike had straight A's," and a profound "humbleness and character." Chach Martinez, remarked that through his years with him, Hollimon became a "model" for him, "showing me how to successful yet remembering his roots at the same time."
After one of the best high school careers in Jesuit athletic history, it was time for Hollimon to take his skills to the next level, as a member of the Texas Longhorns. Hollimon was entering a 2002 team that contained 21 future MLB draft picks, 8 players who would eventually play in the Major Leagues, and a future 2005 AL Rookie of the year in Huston Street (now playing for the San Diego Padres).
Surrounded by such immense talent, some might have fallen into the shadows of their intimidating presence, but not Hollimon. Instead he rose to the occasion and played well enough to convince the coaching staff to start him at shortstop for opening day. He played well throughout the regular season, hitting  262 with a .375 OBP with 4 HR's and 37 RBI's, being named to the Big 12 second team, and the Big 12 All-Freshman team.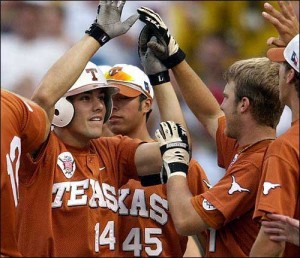 However at the end of the season he began to struggle, eventually losing his starting spot to Brandon Fahey (former member of the Baltimore Orioles). With all this talent on their roster, the Longhorns played well and reached the College World Series in Omaha, Nebraska. During the World Series, Hollimon only got one at-bat but provided moral support from the dugout. The Longhorns made it through the World Series and took on South Carolina in the national championship game, crushing them 12-6 to win the 2002 NCAA Division 1 National Championship.  Reminiscing on this incredible accomplishment, Hollimon said it is "something he will never forget," and commented that he "had never been on a team with so much chemistry.  We all just gelled."
Although his team achieved the ultimate goal of being named National Champions, Michael wasn't happy with his overall performance in his freshman year and spent the summer working hard getting stronger, both mentally and physically. To his dismay however, this constant wear and tear on his body got the best of him as he suffered a labrum injury in his right hip.
After surgery he returned to the ball field at UT but never could get back into the whole swing of things, hitting a .225 in his sophomore year. He entered the off season disappointed in his performance and determined to change things for the better in his upcoming junior year. However the lingering injury and a sour relationship with Coach Garrido prevented him from making many adjustments as he hit .236 in his junior year.
He realized that the game he once loved to play, was "no longer enjoyable to him . . . it just wasn't fun anymore," and he realized that maybe it was time for a change of scene. He made the difficult decision to transfer to Oral Roberts University in Tulsa, Oklahoma. Instantly comfortable in his new environment, he got back to his incredible work ethic that once made him so successful, prompting then Oral Roberts head coach Rob Walton to say that he was "one of the hardest workers I have ever seen."
The decision to transfer paid dividends with his senior year being his best year as he played shortstop, hit lead-off, and produced a season in which he hit .304 with 14 bombs, 55 RBI with 26 stolen bases. He was named the Mid-Continent Conference Player of the Year and the newcomer of the year.  The once- top prospect whose numbers had sat his way through two years on the bench in college had returned, putting himself on the map in the world of baseball.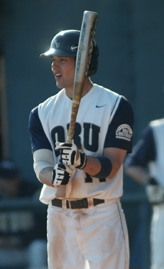 His fantastic final season caught the eye of Detroit Tigers regional scout, Steve Thomas, who convinced the Tigers to draft him in the 16th round of the 2005 MLB amateur draft. After signing the day after the draft, he was sent down to short season Oneaota, in the New York Penn League. In his first season in professional ball, he held his own, hitting an impressive .275 with 13 HR's and 56 RBI's against some of the best prospects in baseball. The struggles of college were behind him, as he was playing with confidence, heart, and maturity. He was named a Baseball America Short season All- Star for his performance.
The next year in 2006, he was assigned to the Western Michigan Whitecaps, the low A minor league affiliate for the Tigers. After a huge coming out party in short season, Hollimon was ready to take the next jump up the minor league ladder. Again he had a phenomenal season, almost matching his numbers from the previous year, finishing with a .278 avg, 15 homers and 57 runs batted in. He played well enough to be assigned to the Double A Lake Erie Mud Wolves at the beginning of the next season.
Everything really came together for him during this 2007 campaign as he hit .278 with 14 bombs, 34 doubles and 58 RBI's in double A until he got called up to the Triple A team, the Toledo Mud Hens, at the end of the year to reward him for his fantastic season. This was Hollimon's best year in professional baseball, as he was a Post- Season all star as well as a Baseball American Double A all star. His performance also caught the eye of the U.S. national team, who for the third time invited him to don the Stars and Stripes to represent the U.S. in the Baseball World Cup in China. He played shortstop for the U.S. as they proved victorious winning the gold medal.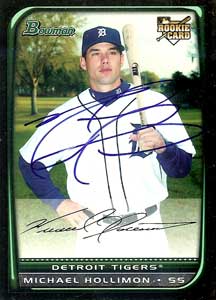 With huge expectations, Hollimon then entered the 2008 campaign.  He was assigned to the Mud Hens for the beginning of the season, one rung standing between him and the holy grail of baseball, the major leagues. However he struggled through the first half of the season, till he finally caught his big break, Tiger's utility infielder Ramon Santiago got injured and got placed on the 15 disabled list.
The Tigers officially called up Hollimon, at the tender age of 25, to their major league team on June 6, 2008, as he flew to Detroit for the start of a three game series vs. the Cleveland Indians. In his first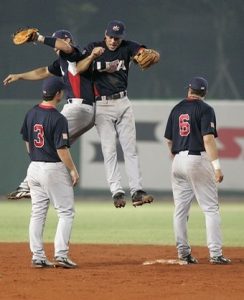 interview after being called up, he said this about the promotion: "This is something that you work for. And when you get the call, it's a special opportunity. And now that I've gotten that call, I want to perform." He didn't receive a start during that series however, though he got his big league debut in the 9th inning of an 8-2 loss to the Indians, the same team that had thought of drafting him 7 years earlier, playing an inning of shortstop and receiving an at-bat popping up to third base. Since he wasn't on the team as a starting role, he didn't receive a lot of playing time, but soaked "every single second of it, because you never know when it's going to be over." He had his first career RBI on June 13 and collected his first major league hit on June 26 against the St. Louis Cardinals. He also made a fantastic play at shortstop on June 27 that landed him a spot on ESPN's Sportscenter's Top Plays the next day.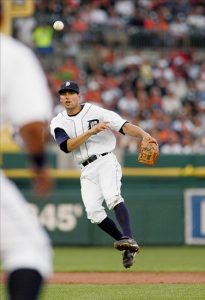 Then 6 days later, he hit his first career home run off the Seattle Mariner's Mark Lowe on July 3. Four days after his first home run, the Tigers brought Santiago off the DL and there was no longer a roster spot available for Hollimon on the big league club, so he was sent back down to Toledo to finish the year at Triple A. Hollimon's major league stat line looked like this: played in 10 games, starting 6 of those, 5 at shortstop and 1 at second base. He hit .261 in 25 appearances, with one walk, 2 singles, 2 doubles, a triple and a home run. Defensively he only made one error out of 14 chances sporting a fielding percentage of .950 for his short major league career. He had his made his mark on the biggest stage possible. When asked what he remembers most from his first days in the major leagues, he offers a short anecdote about his favorite memory: "We were playing in Detroit on my first game of the year, and we were all sitting in the dugout and Pudge Rodriquez [former Texas Ranger catcher then playing for the Tigers] comes up to me and goes 'hey you want to go throw in front of the  dugout,' so we are throwing in front, and I look up in the stands and I see my parents who had flown out for the game, and they just had the biggest smiles on their faces."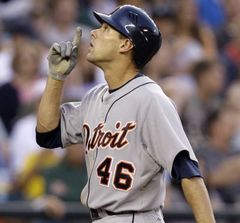 While his current stint in the big leagues was over, no one ever thought those games  would ever be his last in the majors. After his departure, legendary manager Jim Leyland was asked about Hollimon and his performance.  He responded, "We think he's eventually an everyday player.  He was doing really well in Triple A offensively, obviously, and has a ton of talent.  He will be back up here soon." A very promising blessing from the manager of the Tigers, it looked like even though he had been sent back down, things were still looking up for Hollimon. Then disaster struck.
Hollimon batted .183 in 22 games in July with two homers and seven RBIs. Then in August Hollimon hit .145 in 25 games with only one home run and five RBIs. Hollimon chose not to make an excuse for his struggles, but there was an explanation: He had a torn labrum in his left, or non-throwing, shoulder. "First it felt a little weak, then I felt a pinch," Hollimon said. "But two weeks before the end of the season, I felt as if I couldn't go. And that's not me, because I [always] feel I can go."
In September he had surgery to repair the labrum, having 10 pins stuck into a muscle that Hollimon said had a "270 degree" tear. The fear after the surgery was that he would not be able to make it back for the 2009 season, but in typical Hollimon fashion he worked and worked to get it ready for the next year.
Kindly spoken, 2009 and 2010 were forgettable years for Michael Holllimon, baseball wise.  After working so hard in the offseason to repair his arm, he was assigned to Triple A Toledo at the beginning of the year in '09. He struggled mightily and was eventually sent back down to the Double A squad, at Lake Erie where he sadly suffered another injury, this time to his right arm, his throwing shoulder.
He missed the rest of the season with this injury and at the end of the 2009 season, the Tigers released him. Hollimon had been on top of the world, hitting a home run in the big leagues, to all of a sudden finding himself without a job. 2010 didn't get much better for Hollimon, as in the spring no major league team picked him up.  So, he went around shopping for work. He found it here, back in Texas, where he was offered to play for the Grand Prairie Air Hogs of the independent leagues in June of 2010. He played well enough to, at the end of the year, receive a minor league contract from the Minnesota Twins in December of that year.
Back in Dallas, or at least close to it in Grand Prairie, for the first time since he was a senior in high school gave him a chance to return to Jesuit and the baseball program. In the fall of 2010, Hollimon would show up after practice and hit ground balls to students for hours, then stay and give them hitting tips in the cage. Then after all the players would leave, he would stay and hit in the cages by himself for an hour or two. While he got paid for some of the hitting lessons he was giving, the rest was completely voluntary, even coaching the freshman fall team for two games during their season.
When asked why he gave so much of his time back to Jesuit, he said, "This school has given me so much, I want to try to give it back tenfold." One of those kids who Hollimon really helped was Jordan Lee '14, then only a freshman. " I just thought it was so cool how a former major league player was coming and helping us every day to get better. For all of us Jesuit baseball players, he was our idol, the perfect example of what being a student athlete really means, it was like having your favorite player ever come and personally coach you every day. He showed me what perseverance really means."
He also got to spend a lot of time with some of his old classmates, Coach Sean Gavin '00, assistant head coach at Jesuit and Kevin Hart '01. Coach Gavin was the main reason Hollimon got so involved back in the Jesuit program. Hollimon refers to Coach Gavin as "one of his closest friends," and the respect is mutual as Coach Gavin has this to say about his friend and former teammate: "I count myself lucky to have him as a friend, one of my best.  You don't often find someone with that much talent that is so humble.  He always took the time to talk to everyone, in high school and in the pros.  His work ethic was a great example for all of those around him, and his talent was unmatched.  Michael is the rare type of player that steps on a high school campus and day 1 is one of if not the best player in the program. He was a special player, and is an even more special person!"
As his homecoming ended, it was time to go back to his real job, as a professional baseball player for the Minnesota Twins. He was assigned to the Double A New Britain Rockcats where he played well enough to be promoted to the Triple A squad for the Twins, the Rochester Red Wings. He played 126 games in the 2011 season, most of them at third base, because a lot of his injuries prevented him from being able to take on the physical demands of shortstop.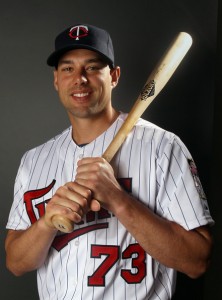 He hit only .231 but provided bursts of power, hitting 18 home runs and driving in 62 runs. But at the age of 29, he was much too old to be considered a true prospect, and after three different surgeries his body was wearing down. Therefore he was not given another contact by the Twins; they thought his career was pretty much over. Yet, they decided to give him one more shot, inviting him to the spring training in 2012 as a non-roster invitee, which means you have to play your way into a contract with the team. Hollimon thought this was his last shot to prove what he could do; it was now or never.  If he didn't make the majors this year, this might be his last year in baseball. He came out swinging in spring training going 9-18 in his first 18 at bats. He continued his torrid streak throughout the spring, finishing with a .340 average in Grapefruit League. The decision was left up to the Twins as to put him on the Major League roster or option him to Triple A; the decision was between him and top prospect Brian Dozier.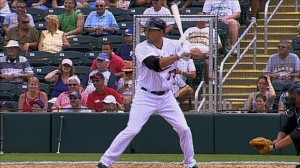 The front office decided to go with youth over experience as they choose Dozier for the spot. Hollimon was disappointed to say the least at this decision as he would again suffer another year at Triple A Rochester. He only played 29 games, before he sadly suffered another injury, this time to his knee, putting an end to his baseball career. For Hollimon this was such a hard decision, deciding to hang up his spikes after a life filled with baseball.
Though his career is over, the memories, friendships and experiences he gained will never be over. "Extremely blessed, not a day goes by that I am not appreciative of the opportunities I have been given" is how he feels about his life. One of the positives from retiring is returning to Jesuit and visiting and becoming involved again in the community. He couldn't be happier with this opportunity as he just loves "everything about it, the sense of community, the brotherhood.  It's the one school that I can attach my name to my school and feel confident about." Hollimon is currently finishing his degree and taking classes at University of Texas, but eventually he "wants to get back in the game somehow."
Overall Hollimon's story is one of perseverance, being knocked down by life and getting back up stronger than before. As his classmates, coaches, and friends have made clear, he exemplified this impressive character at every stop in his life:  Jesuit, Texas, Oral Roberts, in the minors, and in the majors. Michael Hollimon is truly deserving of being the newest member of the Jesuit Hall of Fame and of the title of the best baseball player in Jesuit history. The Roundup would like to congratulate Michael Hollimon on an amazing career.
"Being elected to the Jesuits Sports Hall of Fame is a true blessing and I'm definitely humbled by it.  I've been blessed enough to partake in events and play in games that had it not been for the coaches I grew up playing for and the teammates I played with I never would  have experienced them.  It's an incredible feeling to be recognized by the high school that I have the utmost respect for, as now one of their HOF members.  But in all honesty, I think more than being a HOF inductee, I'm even more proud to say I'm a Dallas Jesuit alum."
Michael Hollimon, Class of 2001