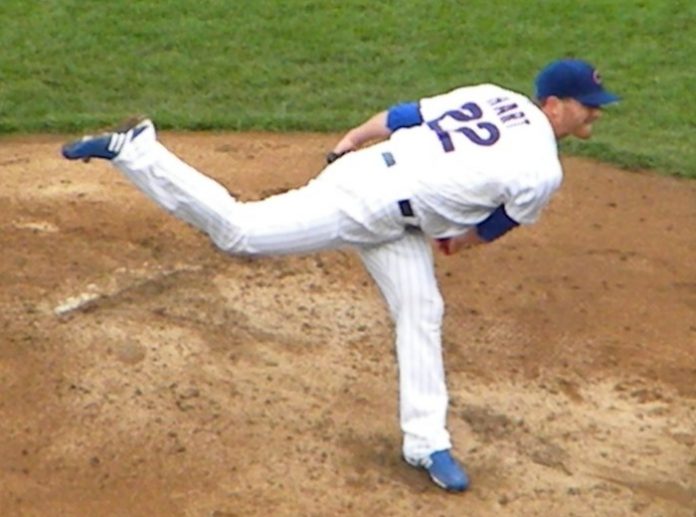 The pitcher stands tall on the mound, staring down the batter as his blue Jesuit jersey gleams in the sun. Slowly, he rocks back, breaking his hands at his waist before quickly releasing the fastball over his head. The batter swings and whiffs, looking down at the pitch, timidly wondering what is coming next.
Every year, the Jesuit Hall of Fame inducts four new members into its prestigious halls. This year, Kevin Hart '01 was one of the members of that honored group. Hart today stands as one of the most talented baseball players to ever play in the Jesuit system, making it all the way to the major leagues.
During his time at Jesuit, Hart absolutely tore up the competition pitching and playing third base. His talent was widely recognized among his teammates and competition, in fact, teammate Jason Saucedo '01 told The Roundup, "Kevin was always joking off the field, but between the lines was a great competitor always ready to take the mound." Hart's contributions to the Jesuit baseball program were immense, his powerful pitching and hitting combined with the team's extremely talented roster lead to them winning the 1999 TCIL state championship, the program's first in over 12 years. Named first team all-state in 2000 and 2001, he pitched for a 9-1 record with a 1.2 ERA in 61 innings while also hitting .487 with 10 home runs during his senior year.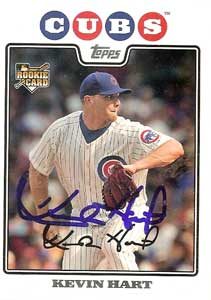 After a wildly successful Jesuit career, Hart took his talent to Navarro Junior college where he played absolutely phenomenally. Hart played two seasons where he was the 2003 Rawlings NJCAA Big Stick Award Winner, named first team all-region, all-conference in 2003, and 2003 AABA national tournament MVP. Hart helped the team both offensively and defensively as  hit .448 with 11 home runs and 42 runs batted in for 2003 while pitching his way to a 9-2 record with a 2.54 ERA and 81 strikeouts in 72 innings while issuing just 12 walks.To this day, Hart holds multiple records, being credited with having the 3rd highest batting average of all time (.448) and the 10th lowest earned run average of all time (2.54).
Wrapping up his amazing time at Navarro College, Hart took his talents to the University of Maryland where he had another standout year, recording almost 70 innings for the Terrapins, and averaging more than a strikeout per inning. His time there can be most accurately described by the University of Maryland athletics website which reports him as a "power-type pitcher with a very durable arm…has three outstanding pitches in his fastball, curveball, and split-finger."
His time at the University of Maryland did not go unnoticed as his talent caught the attention of the Baltimore Orioles who drafted him in the 11th round as the 319th overall pick in the draft. After rising to the High-A level, Hart was traded to the Chicago Cubs, and quickly made his way all the way to the majors within a year, receiving his major league debut on September 4, 2007. Hart's debut was stellar and lead to him being used extensively in the playoffs of his rookie season. Hart recorded 8 appearances during their playoff run, finishing with a 0.82 ERA over 11 innings pitched. Continuing with the Cubs through the 2008 and part of the 2009 season, again having fairly solid years, in fact having a record of 3-1 in the 2009 season until being traded to the Pittsburgh Pirates. After finishing out the 2009 season, Hart, unfortunately, hurt his shoulder, causing him to miss the 2010 and 2011 seasons on the MLB disabled list.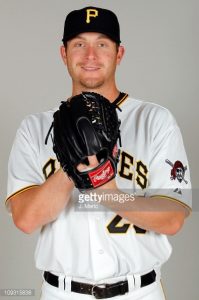 After a returning from surgery in 2012, Hart had a short stint South Maryland Blue Crabs, a member of the Atlantic League. Ultimately, Hart decided to hang up the cleats, retiring from playing baseball. Looking back on his successful career, Jesuit Athletic Director Steve Koch commented, "Kevin Hart was an outstanding high school player who had a great pro career and has kept his connections with Jesuit still. We are very proud to have him as a member of the Jesuit Sports Hall of Fame."
Luckily, The Roundup was able to speak with Hart on this honor of being inducted into the Jesuit Sports Hall of Fame and he was nice enough to answer a few questions during a Q and A.
The Roundup: How has baseball impacted your life, specifically playing for Jesuit?
Hart: It taught me that talent and skill only get you so far and that if you want to stand out at something that you really need to work at it. I spent most of my life getting by on natural smarts/abilities. However, at Jesuit, I found out freshmen year that my approach to school needed to change if I wanted to have success academically. I was surrounded by individuals that were willing to outwork the guy next to them for a good grade. This was eye opening for me at 14 years old and it definitely carried over to the baseball field. I was fortunate enough to be teammates with some really good players. Michael Hollimon, Matt Putman, Chris Bellinger, Ray Albers, Jason Saucedo, Shane Kelly, TJ Hansen. All of those guys had talent, but more than talent, they all had HOF work ethics on the field and in the classroom. I think that is where Jesuit really thrives. Every kid in that school is there because they possess a talent in one form or another. Jesuit really teaches young men that talent alone will not suffice and that in order to be successful they must be willing to do the work!
The Roundup: How does it feel to be inducted into the Jesuit Hall of Fame?
Hart: It feels amazing. It is a great honor and such a privilege to be able to share the stage with such phenomenal athletes and people, especially somebody like Coach Wunderlick. I never played football at Jesuit, but I had a great deal of friends that did and they all still rave about what type of coach, man, and Christian that Bob Wunderlick is.  It really makes me wish I had played football so that I could have spent some time learning from a true sensei like him.
The Roundup: What was your best moment playing for Jesuit?
Hart: My favorite moments at Jesuit were all from my senior year. We were no longer in TCIL, nor were we in UIL yet. We were kind of lost in the middle somewhere and had no state tournament to play for, which was extremely unfortunate considering the talent level that we had. However, we played a series at the end of the season against Strake and almost the entire student body was let out of class to come watch us play. It was a really neat experience being able to play baseball in front of all of my peers and the support we received that year from classmates is something that I will never forget. The class of 2001 was an extremely close-knit group. We supported each other in all of our endeavors and many of us still remain extremely close today.
The Roundup: Did you ever think you would take baseball as far as you did?
Hart: I honestly did. From the time I was a little kid I had a stubborn belief in myself and that I would play in the Major Leagues. Even when others did not see me as that type of caliber player, I just disregarded their opinions and continued down my own path. Jesuit prepared me as a man, an athlete, and a Christian for the road that was ahead of me when I graduated. Additionally, it also taught me to be a true man and stand firm in my convictions. My path to the Major Leagues was not easy and it certainly wasn't the most desirable, but I never wavered in my belief in myself as a player and I think that always helped to carry me through those tough seasons. Baseball is a game of failure and the good ones learn early how to deal with failure. Jesuit taught me as a Freshmen how to deal with failure and respond to adversity.