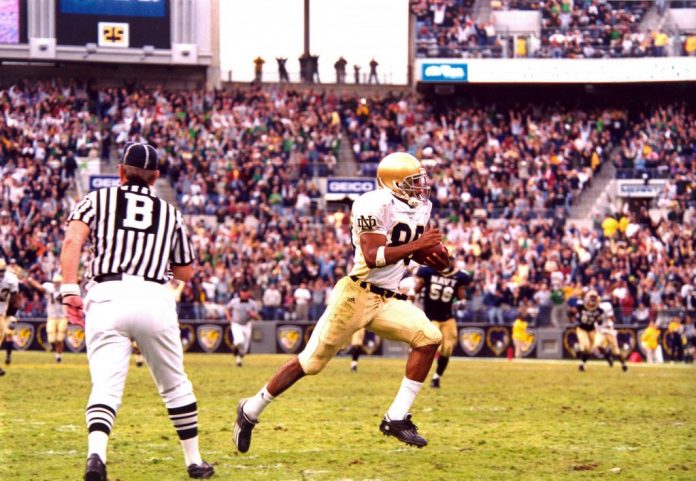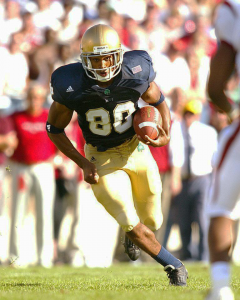 One of the 2015 Jesuit Sports Hall of Fame inductees is Omar Jenkins, a star wide receiver for the Rangers in 1998 and 1999. Omar's brilliant career at Jesuit allowed him to receive multiple Division 1 offers and even make his way to the NFL.
In addition to his exploits on the football field, Omar Jenkins, Class of 2000, also distinguished himself in track and baseball while at Jesuit; however, Ranger faithful remember him most for his performance in football.  And, football is what Omar Jenkins remembers most fondly from his four years at 12345 Inwood Road.
When asked about playing football at Jesuit, Omar summed up the experience in a very positive light: "In one word, amazing. Playing at Jesuit was a great experience, and I don't think it could have gone any better, unless, of course, I had the same facilities the students have today. The teams I was a part of, the memories we made, I'll never forget."
At Jesuit, Omar Jenkins played on the varsity team both his junior and senior seasons.  He helped lead the Rangers to the last two TCIL Championships, and was voted TCIL All-State both years.  For his career, Omar caught 78 passes for 1, 254 yards, and he scored 14 touchdowns. In his senior season, he was voted TCIL Offensive Player of the Year and Jesuit's Team MVP.  Bob Wunderlick, his head coach both years, said, "Omar was everything you wanted in a student-athlete.  He was an incredible athlete.  He was smart.  And, he was diligent at practice and in games.  Tall, fast, and strong, he stood out on the field each and every week.  And, he was also a fine student and a leader by example.  He was a team captain both at Jesuit and at Notre Dame, where he played in college."
When it was time to choose a college, Omar Jenkins chose Notre Dame over Stanford, Duke, and Baylor, the choice working out well for him.  When asked why he chose Notre Dame, Omar said, "I tell this story all the time. Notre Dame was my WORST visit. It was January and 16 degrees, dark at 5 pm, raining/sleeting, and nobody was on campus. I had just visited Stanford the week before, which was the BEST college visit I took. It was 70 degrees and sunny, and I met Condoleezza Rice and was at a frat party with Chelsea Clinton. I attended a  party in San Francisco and had the time of my life. But despite all that, when I looked in the mirror and asked myself where do I want to go school, my heart told me Notre Dame. It was nothing in particular that made me choose the school; it just felt like the right decision to make."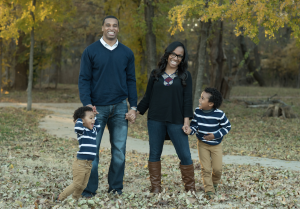 While at Notre Dame, Omar played all four seasons and graduated on time.  For his career, he recorded 80 receptions for 1,088 yards and 5 touchdowns.  He started his last two seasons in South Bend, and was voted team captain his senior season. He received his BA from Notre Dame and later returned to earn his MBA.  When asked how Jesuit prepared him for Notre Dame both on the field and in the classroom, Omar said, "The biggest thing Jesuit prepared me for was the time management skills necessary to be successful. Jesuit really helped me grow from a maturity standpoint…knowing how to navigate free periods within my daily schedule. With classes, practices, and weekend games at Notre Dame, it was necessary to stay on top of everything in order to be successful.  I learned those skills while a student-athlete at Jesuit."
After Notre Dame, Omar signed as a free agent with the Minnesota Vikings and played with the team for one season.  He also joined the Chicago Rush for one season in the Arena Football league before starting his professional career.  Today, Omar is married to his high school sweetheart Amber, and they have two young children. Omar is a Finance and Development VP for Cobalt Medical in Plano, Texas.
Omar's intelligence and superior athleticism are very deserving of the Hall of Fame induction, where he joins some of Jesuits most distinguished athletic alumni.