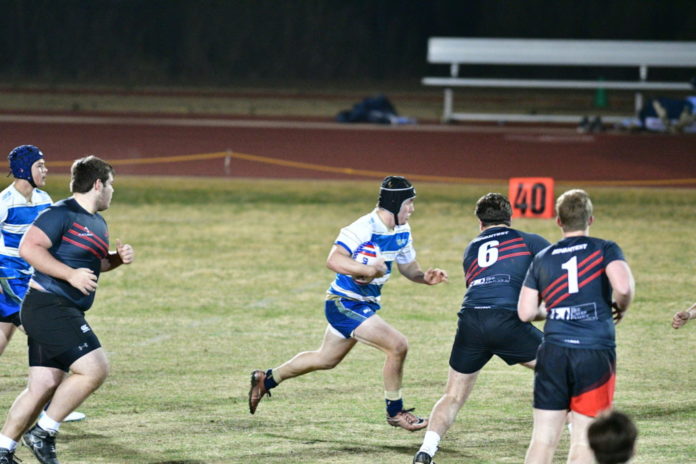 With a new coach and a loss of many key senior players from last year, the rugby team's dynamic has changed. The question is, is that good or bad?
The rugby team seems to be heading towards the good end, starting the season off with a 2-1 record against St. Thomas, Lake Travis, and Allen.
Allen
In Jesuit's first match of the season, they narrowly lost to Allen, 19-15. This was the first game under new Head Coach, Matthew Upton '02.
Max Telfer '19 finished with Man of the Match honors, scoring a crucial try.
"We lost due to easily fixable mistakes," explained senior Caleb Longwell. "We just learned a new offense."
Coach Upton felt that "our defense and tackling let us down at times," and Allen took advantage of these errors. He also added how "the boys played with heart…and were really putting together our offense."
Lake Travis
In Jesuit's second match of the 2018 season, Rangers won in a tightly contested 19-0 victory over Lake Travis.
"Everyone played an amazing game, especially defensively," commented Longwell.
Coach Upton commented, "We worked on team defense all week and it really paid off today." He continued, "The boys put forth a great 70 minutes of defensive effort." Even with a second half effort by Lake Travis to move the ball, Jesuit's defense stayed strong, leading them towards victory.
St. Thomas
Next, In Jesuit's third match of the season, they obliterated St. Thomas 67-7, on the Eagles home turf. Throughout the match the team totaled a marvelous ten tries, coming from upper and under class men alike.  A try in rugby is when an offensive player touches the ball to the ground behind the opposing team's goal line.
"It was a good example of implementing our training," said Longwell.
Coach Upton explained:
"The defensive pressure and team defense played a huge roll in the win. The pressure from defense carried over into the offense," leading to better ball movement. About the match, Upton said that "I think this will show the boys just what they are capable of when they play together within our system."
"Defense is crucial for success."
Senior Alec Hanson '18 said that "each game has been an opportunity to know each other's strengths and weaknesses as players, and build chemistry around a squad that really only has two returning starters." He also emphasized how "bringing home the Bishop's Cup from St. Thomas for the first time in a couple of years was a great moment for us."
In regards to team improvement, Longwell emphasized mental discipline "on not making small mistakes." They "will be cleaned up as the season progresses." The team has done well over this stretch, anchored by a strong defensive core. Longwell felt that "defense is our strongest point, so keeping it up is crucial for success."
The team worked hard in their boot camp after winter break, and as a result improved greatly.
Hanson thought that "our mentality when it comes to tackles in the defense improved, which we did especially well in the Lake Travis game, against a team we hadn't beaten in four years."
With the new playing style from Coach Upton, Hanson felt that the offense's speed improved:
"Coach Upton's system provides a flexible approach to Rugby rather than the rigid play system we had last year." Hanson then mentioned how "we're excited to see what we can do again our Jesuit brothers in New Orleans and the best teams in state."
With the team's strong start, possibilities for a playoff run have emerged, leaving the Rangers optimistic for their playoff hopes.
Check back with the Roundup for more Rugby and other news!