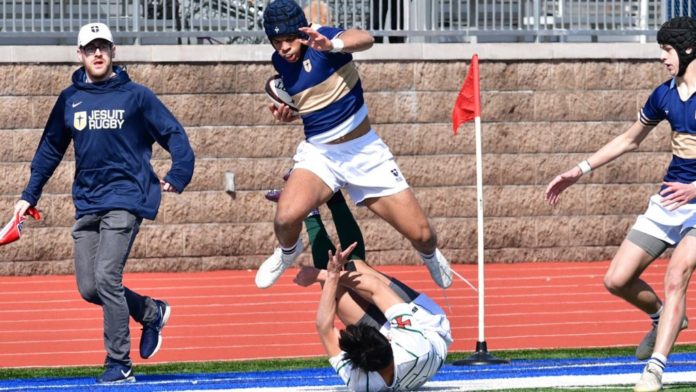 Last time I checked in with you all Jesuit Rugby started the season strong, winning 2 out of their first 3 games. A couple of weeks have gone by and they have played 3 more games against Rock Rugby, Allen, and Westlake. Let's see how they did.
Rock Rugby
The Rangers hosted Rock Rugby on February 22nd on a Saturday night looking for another win. The game started off slow against two pretty evenly matched teams as neither squads were able to put a point on the board in the first half. That was later to be changed as early in the second half Mitchell Campbell '20 scored on a penalty kick to put the Rangers up 3-0. Rock then answered with a try, but ended up missing the kick to make the score 5-3. Kamden Seely '21 was able to put Jesuit ahead with a try of their own to put the Rangers up 10-3. Rock Rugby was able to score two unanswered tries late in the second half and win the game 17-10.
Allen
On February 28th the Rangers went up to Allen and clashed against their rivals. It was a tough game for Jesuit going against 3 All-American Rugby players from Allen, but Sy Mendenhall '21 and Peter Melle '21 were both able to score tries for Jesuit, but were the only points that the Rangers could score as they suffered a 60-12 loss.
Westlake
Looking to bounce back from back-to-back losses, the Rangers traveled down to Austin to face the Westlake Chaparrals. Starting the game off strong, Sy Mendenhall '21 was able to score a quick try and a conversion by Mitchell Campbell '20 put the rangers up 7-0. Westlake came back with a try of their own to tie the game. The game went back and forth with Mendenhall and Campbell both scoring, but the Chaparrals were able to match those tries, and the game was tied at 21. Westlake was able to score more points and go up 31-21, so the Rangers fell 31-28 with Mendenhall scoring his third try late in the game, not enough to secure a victory.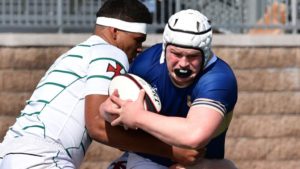 The Rangers faced three tough losses, but they have a long season to play and look to bounce back with the Jesuit Dallas Rugby Showdown coming up over Spring Break. Commenting on the team's recent performance, Mendenhall explained, "these are tough losses, but we need to learn from our mistakes in these games and prepare and finish this season strong." The Rangers are still optimistic about their season and a couple more wins will put them back in the race for the playoffs.
Check back with the Roundup for more Rugby and sports coverage!