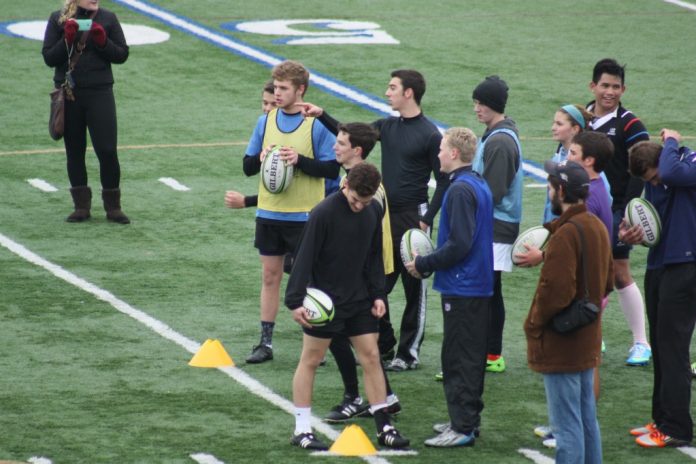 Fresh off a dominant defensive performance versus district rival Richardson, the Jesuit Ranger Rugby squad matched up with a different type of rival, a Jesuit opponent.  Strake Jesuit squared off against the Rangers in a battle for Texas glory. The varsity football team beat Strake a few months back, but could the rugby team succeed?
Indeed they could, and indeed they did. The varsity squad defeated Strake this past Friday, January 31, crushing the Crusaders 41-0.
One of the match's standouts was Christian Schoeberl '16. He was solid on defense, preventing any type of scoring attempt by Strake.
Other defensemen who made a particularly powerful impact were Joey Nuchereno '15 and Mark Vache '15. The two "executed our philosophy to near perfection," as Coach Austin Ryan described.
The philosophy Coach Ryan was referring to is actually pretty simple. It centers around the idea that defense creates offense. In other words, if the Rangers would play solid on defense and thwart any tries the opponents had, that would open up opportunities for Jesuit to score.
Considering Jesuit held Strake to zero and scored a season high 41 points, the philosophy proved  perfect.
The tail end of this system was led by Cole Wilson '15. He scored three tries, lifting Jesuit to victory. Cole said of his scoring effort, "It was my other teammates who helped me to play well. The forwards did an awesome job getting the ball for the backs and then I got some great passes from Max Hiemburger '14 and Cody Gee '14."
Cole explained his love for the game as, "The reason I play rugby is because of the sense of brotherhood you get when you play as well as it being very fun. There's nothing better than when you get on the field and know that your team members have your back and are there to support you."
Coach Ryan explained the Jesuit-Strake rivalry as, "In my experience, the Strake rugby program has had more success against us than the football team has, so the competition level is much higher. While a Strake competes in TAPS and we compete in 6A for football, both schools compete in the highest division in rugby in Texas."
The junior varsity squad also found success against Strake, defeating the JV Crusaders 15-0. The philosophy trickled down to the younger bunch as they, too, shut out Strake.
Jimmy Ackles '15 and Taegoon Smith '15 were the junior varsity standouts, along with freshman Eric Miller.
Jesuit will travel to Panther City in Fort Worth this upcoming Saturday, so go out and support your Rangers!