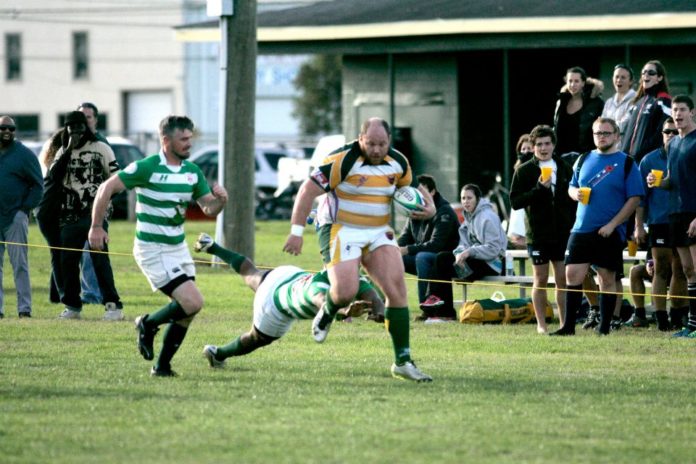 Once upon a time, Matthew Upton was graduating from Jesuit as a member of the class of '02. Now, fifteen years later, he has returned as the head coach of the rugby team. Coach Upton was recently appointed to the new head coaching position and is excited to go to work.
Coach Upton grew up in Dallas and attended St. Monica for grade school, then he attended Jesuit, where he had his first experience with rugby.
Before coaching rugby, Coach Upton had a very decorated rugby career. His first experience with the sport was during his sophomore year at Jesuit when he joined the rugby team to get out of P.E., which he stated he "hated going to because it was first period" and because he "had to get to school early." The current rugby coach at the time, Coach Mattacchione acknowledged his dislike for P.E. and told him that he should come play rugby, and with that, his rugby career began.
Coach Upton was already a two sport athlete before playing rugby, a football player, and a wrestler.  In the beginning, the reason he liked rugby so much was because "in football [he] was a lineman, and never got to carry the ball, but in rugby everyone gets to carry the ball."
The team had success in his first two years, winning the state championship during Coach Upton's junior year. Coach Upton even had individual success as he was nominated for two all-star teams during those years. Coach Upton's success during the beginning of his career is what kept him playing, watching, and "really just "falling in love with [the sport]."
In college, Coach Upton took a year off of rugby to play football and wrestle, but "realized [he] missed [it]," so he transferred, and started to play his beloved sport again. After that he "never stopped." After college, Coach Upton played for the New Orleans Rugby Football Club of the Deep South Rugby Football Union for eight years (2007-2014). During those eight years, his team won the USA Rugby DII National Championship, with Coach Upton being named The Man of the Match. He then moved back to Dallas, joining the Dallas Rugby Football Club, where he was named the team's newcomer of the year.
Before coaching here at Jesuit, Coach Upton was an assistant coach with the University of Dallas, Brother Martins in New Orleans (another Jesuit school), and the Louisiana Exiles All-Star team. Coach Upton said that one of the reasons he came back to Jesuit, aside from "the glory of coaching" was that he would be able to have "more than four years at Jesuit" where he could make an impact and leave a legacy, because "as a student you only get those four years."
Coach Upton is also a member of the Jesuit Hall of Fame and has learned several things which he hopes to instill in the athletes her coaches here at Jesuit. He wants to instill in his players a unselfish mentality that he shares with his teammates and many members of the Sports Hall of Fame, that "it's not about us" but for the school, "for something bigger." Coach Upton exemplified this mentality when the rugby team won state in '01, he said that "I wanted to win state, but not for me, for Jesuit." Like so, he believes in "doing right by your school."
Additionally, faith played a large part in Coach Upton's career, and he wants to continue the legacy left by Coach Ortiz last year by continuing to stress the importance of faith and prayer. Coach Upton "wants [his athletes] to be elite in the four aspects of their lives, which include: academic[s], athletic[s], social[ization], and spiritually," which he believes "[are] a big part in who we are." The religious side of Jesuit is a major reason why Coach Upton decided to come back, because after teaching in public schools "where you have to walk on eggshells about your religion," Coach Upton wanted to be able to teach and advance his player's knowledge in faith openly through rugby.
Presently, Coach Upton said "it's too early to tell" how well the rugby team will do this year, but he always "sets high goals" and incrementally "sets many smaller goals to reach that higher goal,"  with the highest goal winning a state championship.
The future of the Jesuit rugby program looks bright with Coach Upton taking the reins this year and the rest of the Jesuit community is eager to see how well the team will perform.