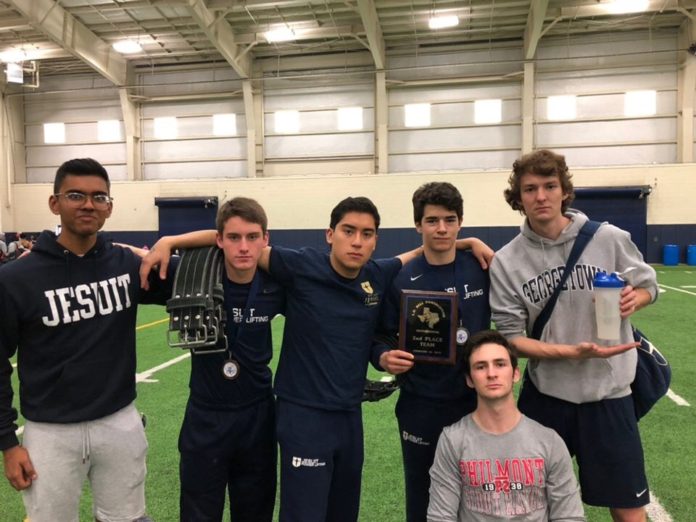 Ahhhhh, there's no better feeling than waking up at 4 am on a Saturday to lift big weight, right? No? Well, the Jesuit Powerlifting Team thinks so, competing at two consecutive meets both on Saturday mornings.
On February 9th, the Jesuit Powerlifting Team woke up early in the morning to go to their first Saturday morning meet. The bus left from Jesuit at 5:30 a.m. sharp, so everyone had to get there at least 5 minutes before to grab all their equipment. After grabbing their squat and bench suits, singlets, and a belt, the team was ready to leave to compete at Cedar Hill. Most people slept during the bus ride, getting as much rest as possible before lifting big weight.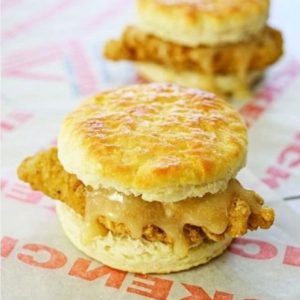 The team arrived at around 6:15, and then proceeded to weigh themselves in at one of the locker rooms. After weighing in, the team waited a few minutes until their Whataburger™ breakfast meal arrived, eating about 2 hours prior to the actual meet so they could digest their food. Some people foolishly ordered the honey butter chicken biscuit. Now, don't be deceived by its appetizing appearance, as the chicken biscuit has some unpleasant side effects which do not make the lifter feel good. However, Will Nickols '20 was ahead of the game and brought his own sandwich to eat for breakfast before the meet, a wise move, as at the end of the meet he said that "[he attributes his] success today to [his] spicy mustard… and turkey", a simple yet energetic meal which helped boost his overall performance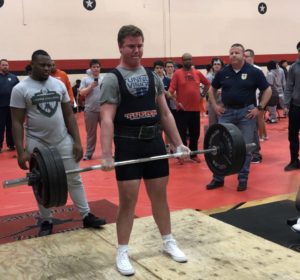 After digesting all the food, the lifters began to do their daily warm-up sequence. The meet had two flights, meaning that the lifters in flight two had some extra time to warm up, as they competed after flight one, but this meant that they would finish up their lifts after them. This meant that the meet took a little longer than usual since the time for each lift basically doubled, but the judges kept the meet moving which shortened the time a little. As usual, the lift's order was squat, bench, and deadlift, having time between each lift to warm up for them.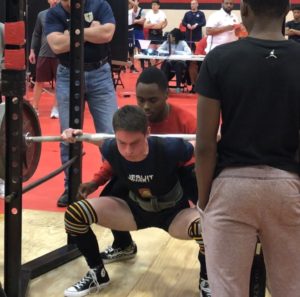 The team was very supportive of each other as usual, cheering every time someone went out to perform their lift, especially when they were about to set a new PR. The team also helped each other out throughout the meet, from helping spot someone in the warm-up area all the way to wrapping someone right before a squat. As Nic Schnitzius '19 passionately said after the meet, "I'm so proud to be lifting with such a great team, and such strong men," really emphasizing his gratefulness for having such an encouraging team. Nic was also very grateful for everyone that came out to support him early in the morning, including his parents and coaches.
The team performed well, earning themselves s second place finish at the Cedar Hill Meet. There were some outstanding lifters who beat their previous PR, but here are lifters who ranked high in their weight category: Nic Schnitzius '19, Emmet Halm '19, and Branson Hickman '20 all placed second, Will Nickols '20, and David Morales '20 placed third, and Cole Lenzen '20, Will Courtney '19, and Gabe Morales '20 all placed fourth. Emmet Halm '19 said that "coming into this meet, as a team, we had one objective: to lift freaking big weight, and that goal was realized today," concluding the team's overall successful day.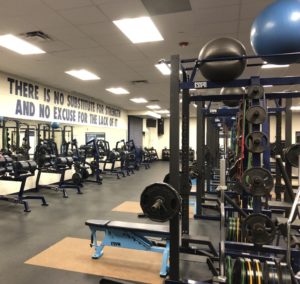 After a week of rest and low-intensity practices, the Jesuit Powerlifting Team went on to what was for some lifters their last meet of the season (only people who made regionals move on to the other meet). Again, the team woke up early on Saturday, arrived at Jesuit, grabbed their suits and belt, and left on the bus at 5:30 am to L.D. Bell. The meet was held inside their very nice looking practice field, and their warm uplifting area was much more spacious compared to the one at Cedar Hill. Shortly after the team arrived, they went to weigh themselves in so they could start eating their Whataburger breakfast. Again, there were some foolish people who ordered the Honey Butter Chicken Biscuit, not learning from the previous week about its unique side effects on the lifters stomach. Luckily, the people organizing the meet found a way to have one flight instead of two, which immensely reduced the total time of the meet, and since their warm-up area was very big and spacious, every team had no problem in warming up before the lifts.
Since there was only one flight and a lot of lifters performing at the same time, the team had to use their accessories (knee wraps, wrist wraps, belts, etc.) wisely, as some lifters had to perform right after each other. There were times between each rep where the team could rest a little, conserving their energy, however other times teams were rushing to help each lifter get ready for their lift. Whether rapidly handing off the belt someone just used to someone else right before they went up to lift, quickly wrapping someone's knees before their lift, or cheering on someone during their lift, the team had to use their time efficiently when helping each other out. Squat was the busiest lift, as people had to be wrapping each other's knees before their lift, which took some time, but after that, the lifters did not need that much help for bench and deadlift. After the meet, Collin Kittleson '21 said that "[he feels] great about my personal performance, but [he] couldn't have done it without [his] awesome teammates support," proving the team's vital role on the lifters performance. As a new lifter, Collin Kittleson quickly caught up with all the lifters in his weight category, earning himself a 1st place medal on his first powerlifting season.
The team performance was excellent, tying for 1st on total points but getting 2nd due to the other team having more first-place finishes. Most lifters had an outstanding performance at this meet, setting a new PR for themselves in either squat, bench, or deadlift. However, there we were some lifters who ranked high in their weight categories: Collin Kittleson '21 placed first, Will Nickols '20, Emmet Halm '19, Branson Hickman '20, and David Morales '20 all placed second, Nic Schnitzius '19, David Ritter '20, and Gabe Morales '20 all placed third, and Patricio Chapa '20, Cole Lenzen '20, and Jackson Daniel '20 all placed fifth.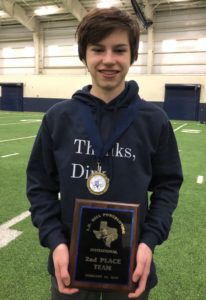 For many, the powerlifting season has ended, but for several lifters, the real competition is just about, to begin with regional and potentially state meets on the horizon, so check back with the Roundup soon for more powerlifting and other sports news.