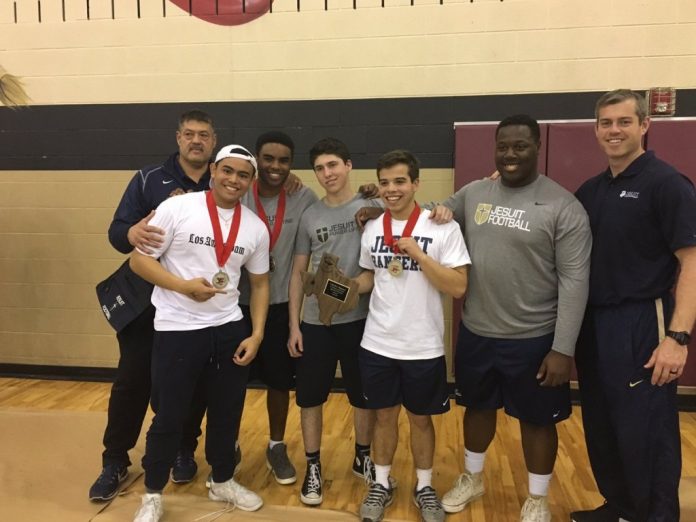 Powerlifting, a sport misunderstood by many. Most people believe that success in powerlifting is a direct effect of reckless brute used to simply yank around heavy weights, but despite common belief, powerlifting requires an incredible amount of control and skill which four Jesuit lifters used to qualify for the regional competition.
On March 4th a small group of Jesuit lifters participated in the North Texas powerlifting regionals in order to qualify themselves for the later state competition which took place March 25.
Before worrying about qualifying for the state competition, these guys needed to first qualify for regionals which required each of them to become a top 12 lifter in the North Texas region, in order to do this, each one of them needed to excel in each of their weight classes by achieving highly during the regular season meets that took place at Oakridge, Cedar Hill or Jesuit. The same selection process is then repeated across all six of the regions around the state to determine the participants in the separate regional competitions. Jesuit lifters, Dalton Allen, Steven Mancillas, Evan Jackson and Jordan (Brown, Odulio, Rice) all managed to achieve highly enough to represent our school at regionals. A few of them even managed to advanced to the state lifting competition.
At the regional competition, there were 3 lifting events, the squat, bench press, and deadlift, which each competitor is allowed 3 separate attempts at. All competitors lift the weight and the amount of weight each person lifts gives them points which are added to get the total score that is then compared to the total scores of all of the other competitors.
Steven Mancillas was one of the few guys selected to participate in the regional competition and he did excel. Steven originally joined lifting because he tore both of his ACLs and could not continue playing football with the injuries that he endured, but powerlifting, which is part of rehab appealed to Mancillas, because "[he] really liked the sport's focus on technique – it's not so much about brute strength, but skill under control, which was unlike anything [he'd] ever heard of." But at the competition, Mancillas placed 2nd overall with a total score of 1330 lbs combined from a bench press score of 305 lbs deadlift score of 505 lbs and a squat score of 520 lbs.
Evan Jackson, another lifter who participated in the regional competition joined powerlifting because he was not interested in running track and his friend, Steven Mancillas suggested that he tried the sport. Jackson made it to regionals as the 4th top lifter in the North Texas region, and he even believed that he did well during the competition. He hit his opener, which is good, because according to him, "The key is to have the right opener because if you can't lift your opener, you are disqualified from the whole meet." While he did hit his opener, he did not hit his second weight, so he had to make it up in both the deadlift and bench press exercises. In the end, he did power through and on his deadlift, he managed to lift the most he has ever lifted for that event, he could even argue that his successful deadlift is what allowed him to finish 3rd place in the competition.
A total of 3 guys qualified for state, Steven Mancillas, Evan Jackson and Jordan Odulio and they hope to achieve just as much or even more in future meets.
In summation, Coach Leal thinks that all of the guys did well and that as a group they succeeded. They went in hoping to hit their powerlifting goals and marks and knew that if they successfully accomplished them then they would place. And they did. While Coach says that "[he doesn't] know much for next year, [the team] will be young." their success from this season could merit even greater accomplishments for later powerlifting seasons.