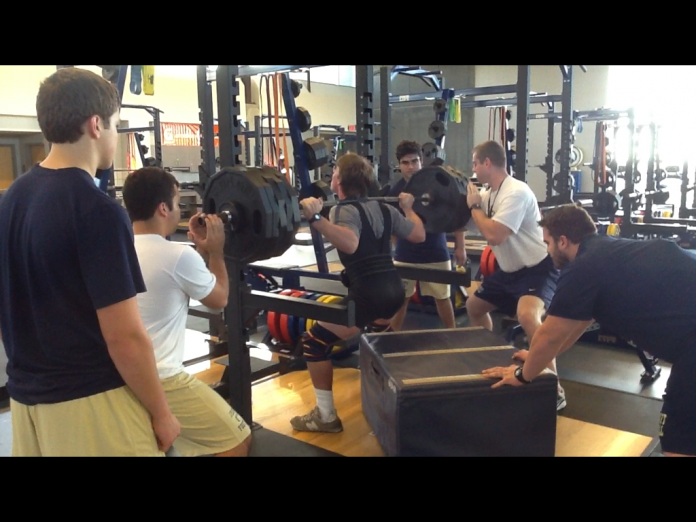 On February 16th, Jesuit powerlifting participated in a meet at Highland Park High School and after a long day of "pumping iron," two Jesuit powerlifters distinguished themselves from the pack and qualified for the regional powerlifting tournament in Everman, Texas the next weekend.
Athletes from all sports are encouraged to participate in this unique opportunity to do organized powerlifting, and they practice one day a week (on top of their other sport's lifting regimen).  So far three meets have been held- one at The Colony High School on February 9th, one at Highland Park on February 16th, and the most recent meet at Everman High School on March 2nd.
Led by coaches Logan Lacy and Rick Leal, the team of eight sophomores, juniors, and seniors went out to Highland Park to display their weeks of hard work and dedication.  "It's about competing and challenging yourself" explained coach Jeremy Weeks, "at the end of the day as long as you've pushed yourself, you've been successful."  And push themselves they did.
After a long day of work, Preston Young '13 finished first in his weight division of 165 lbs, Matt Cortez '13 won his weight division at 132 lbs, and Nico Rodriguez '15 finished fourth in his weight division of 220 lbs.  Both Young and Cortez qualified for the regional meet with their first place finishes, and they both looked to advance to the state meet in Abilene, Texas on March 23rd.
These meets start out with a squat, then lifters move into a bench press, then to a deadlift, and then the combined weights of the three lifts are added up to give the total.  Young did remarkably well, totaling 1220 lbs- 500 on squat, 290 on bench, and 430 on deadlift.  Likewise, Cortez pulled off a 955 total, squatting 365, benching 205, and deadlifting 385.
"I was happy with my performance," said Young, "and I think I'll be able to qualify for state if I can get my deadlift up some."  Jesuit's own Akuda Esin '12 won the state tournament in his weight class of 220 lbs and became the first Ranger to accomplish this feat, with a staggering 1670 lb total.
"[Preston] Young probably has the best shot of the two," commented Leal, "but Cortez is an amazing kid, he could sneak up and win also."  As these two Rangers moved on to regionals, they kept their eyes on the prize, wanting to keep Jesuit's name in the state tournament for two consecutive years, however things do not always go as planned.
In his first lift, the squat, Preston Young was disqualified for not squatting down low enough and was not able to complete the other two lifts, thus ending a short and frustrating day. "I was so angry," remarked Young, "to work so hard and have it all come down to a stupid technicality was super frustrating, but I'll move on."
Cortez fared better than Young, finishing fifth overall, but failing to qualify for state.  Racking up a total weight of 1045 lbs (50 lbs up from the previous meet), Cortez was "pleased that [he] could get stronger," but he wished he "could have done better and qualified [for state]."
In order to qualify for the state meet, Young had to either finish in the top two or total 1300 lbs for an automatic qualifying spot, and Cortez had to either finish top two or total 1200 lbs.  However, the sport is not all about winning and losing, simply challenging oneself determines the success of an athlete, and with a fairly young powerlifting program, Jesuit looks to come back stronger than ever next year and make history.