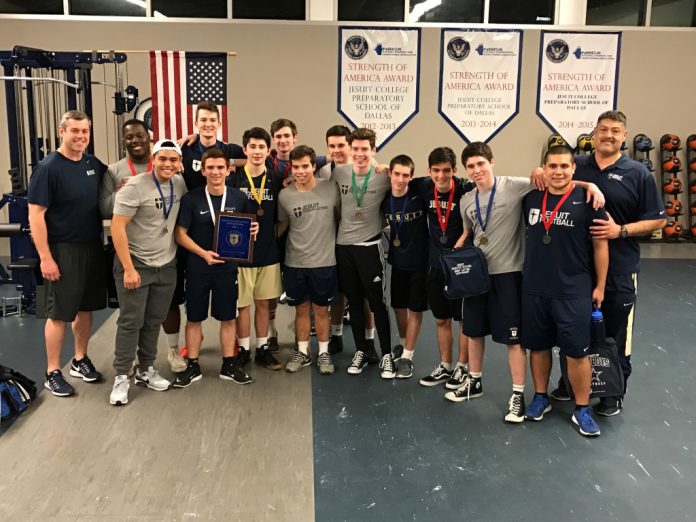 Jesuit adds another successful powerlifting meet to its seasonal record, making a very good showing at home. In this event, Jesuit invited lifters from Cedar Hill, John Paul II, and Oakridge. With some lifters unable to participate and the stress of hosting a meet, the team still preformed very well finishing second overall, just 5 points below the first place Cedar Hill.
In a powerlifting meet, the team scores points for the place each lifter gets within their weight class. First place earns 7 points, second place earn 5 points, third earns 3 points, fourth and firth earn 2 and 1 points respectively. With a team total of 53 points, Jesuit was very successful with first place finishes by Nick Schnitzius in the 114 weight class, Daniel VanAmerongen in the 148 weight class, Grant Delanoy in the 165 weight class, and Jordan Odulio in the 198 weight class. Next, Luke Theivagt in the 132 weight class, William Courtney in the 165 weight class, Evan Jackson in the 198 weight class, Phillip Villallba in the 220 weight class, and Dalton Allen in the SHW all took second place for Jesuit. Placing third in the 132 weight class, the Peruvian exchange student who participated in the meet, Alvaro Rodriguez, was able to take a bronze medal back home. Both Joseph Buskmiller in the 148 weight class and Kevin Tabet in the 165 weight class took fourth place and Chandler Pollet in the 148 weight class was Jesuit's only fifth place finish. Daniel VanAmerongen also received the best lightweight lifter award for weight classes 114-165.
Having the meet at Jesuit was both challenging and comforting for the lifters. A first year power lifter who really enjoyed the home advantage was William Courtney '19 because he "was completely comfortable in the environment," due to the fact that this is where the team regularly trains so there were no issues with not knowing where equipment is or how the bar feels. Something different about this meet was that it was in a weight room, as opposed to the traditional meet that is hosted in a gymnasium, this was especially beneficial to the lifters because there were no issues finding a rack to warm up and there was plenty of room to move around in. Having the meet at Jesuit was especially challenging though because it was in the afternoon after a long school day, and all the lifters had to fight their fatigue in order to make their lifts.
With this incredible meet for the team as well as Jesuit in the past, the team must look foreword to the rest of the upcoming season. Grant Delanoy '19 stated that he wants to continue to "constantly push [him]self in practice, and to prepare [him]self physically for the upcoming meets." The whole team shares this mindset and hopes to grow stronger and dominate their next meet.
Results from the Jesuit Invitational can be found at: http://thspa.us/meetdetail.aspx?&passedDivisionID=3614