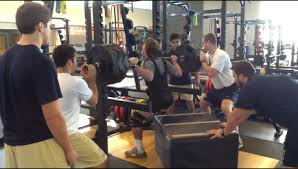 Have you ever gone to the gym to train for a sport? Lifted weights to get the starting spot on the team? Can you imagine if lifting weights WAS the sport? That's what the Jesuit power-lifting team does, and their outing to the Highland Park Scot Classic on February 15th proved to be a resounding success.
Although it might seem simple on the surface, power-lifting involves knowing your own abilities very well. As Nico Rodriguez'15 explains, "There are three lifts: Squat, Bench Press, and Deadlift. For each of the three, every lifter is allowed three attempts. In order to move on in the competition at least one rep of each lift must be successfully completed, so it's crucial to pick light weights for the first set. " After completing the first, lighter set, choosing the next two weights demands prudent decision. The limitation on lift attempts means that you have to be able to accurately assess your abilities so that you can pick the heaviest weight possible that you know that you can successfully lift.
The Jesuit squad employed these strategies pretty well at the Highland Park Scot Classic, with two members placing in the top five of their respective weight classes. Ryan Brooks '16 lifted 525 pounds on squat, 295 pounds on bench press, and 440 pounds on deadlift, which earned him 5th place in the 242 pound weight class. The highest placer, Nico Rodriguez, won 1st place in the 220 pound weight class and qualified for regionals with an impressive 500 pounds on squat, 330 pounds on bench press, and 510 pounds on deadlift.
According to team member Michael Fonseca '15, the meet "was an improvement for all of the lifters, and it was just a fun time with my teammates." Adding to that sentiment, Rodriguez says, "All my teammates did a great job, many of them first time competitors. We all had a great time and it was a success all the way around." Despite the good times and victories, all that heavy lifting is still hard work. By the time the competition was over and he had won 1st in his weight class, Rodriguez was too tired to really celebrate. "I just felt tired and hungry and ready to go home and finish my homework," he said, but after a night of rest it was all smiles.
Even though it was satisfying to win, he couldn't rest on his laurels for long with Regionals around the corner, heading back into the weightroom for his regular training. Nico says that on the Tuesday of the week of Regionals he "went in and hit all [his] openers, which are the weights that [he] will start off with at the competition, explaining the slight difference between a regular workout week and competition time.
Power-lifting Coach Jeremy Weeks is proud of Nico's work ethic and responsibility. "He did a great job of taking ownership of his training," he says. "Powerlifting is not a glamour sport and requires a lot of self discipline to be successful." Training isn't done all by yourself, though, and Coach Weeks thinks that "things are much easier when you have someone grinding with you." Working together, they were able to hold each other accountable and maintain consistency during training.
Unfortunately, on March 1 at regionals, all of the hard work didn't quite pay off with Nico placing 4th with 465 pounds on squat, 340 pounds on bench press, and 540 pounds on deadlift, failing to qualify for State and ending his season. Although he had a solid season, Coach Weeks says that "Nico is not satisfied, nor should he be." He has high hopes for Nico and the rest of the team, saying, "We have several guys with realistic chances of qualifying for regional or state competition. It comes down to being consistent. If we can establish consistency with our training then we have the potential to experience great success next year." Nico reflects those sentiments in his own goals: "Obviously we would like to make it to Regionals and then State. Personally, I would like to improve my lifts as well." With the improvement they've shown this year, these goals look to be all but guaranteed.