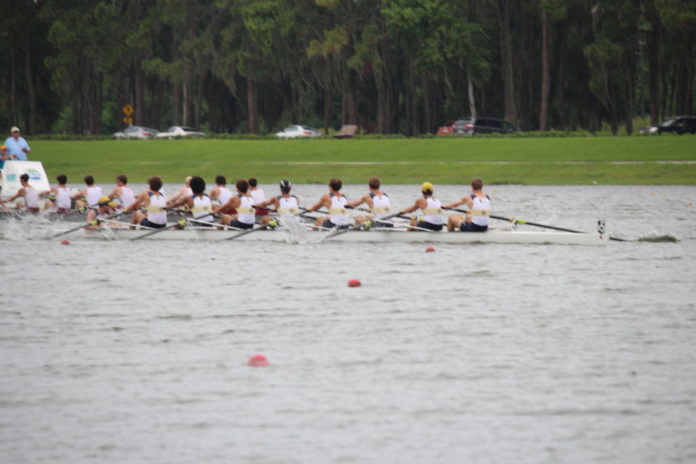 "If you have a coach helping you, developing your skills alongside you, that's when you're on your way to becoming not just a participant, but achieving." – Lynn Davies
Coach Randy Dam was recently appointed as the new head coach for the Jesuit Crew team. He is replacing the previous head coach, Coach Fife.
Coach Dam explained his experience of coming to Jesuit and taking the job as the head Crew coach. "Being the new coach is a really big honor. The team is a very well set-up team. The previous coach, John Fife, did an amazing job of building the program to what it is today and to be able to step into a program that has such an amazing infrastructure and to have such a strong team depth and awesome culture is a really big joy."
Dam also mentioned some of his goals for the team this year, saying that he and the team want to "have a more successful year than we've had in the past. We're going to try to win most of our spring races…the goal is to try to go to Youth Nationals, the national championship for the country and to try to make the Grand Final…We'd love to go back to England and compete at the Henley Road Regata during the summertime, that is the ultimate goal of the team."
Some of the Crew team members commented on Coach Dam and in what ways he is different than other coaches.
"Coach Dam is making great changes to the team. I think we're making very fast progress in the right direction, and I have high hopes for the rest of the year," remarked Collin Landry '20.
Colton Sochia '20 praised Dam.  "He's a great coach."
Penn McCormack '20 noticed how Coach Dam "brings a more personable and close relationship with the rowers."
Coach Koch recalled how he found Coach Dam and chose him as the head Crew coach. "He had helped us through the years and when we went to Henley a couple years ago, he helped us out during that trip. I had known him and he had worked with our crew team, and he was really involved with a lot of our crew members in the summer rowing camp. So I had kind of known him and was really impressed with what I had seen."
Koch also acknowledged the differences between Coach Dam and past coaches. "As a person, he is a fine individual and really hardworking. I think he will be a great step forward for the crew program…Coach Fife was pretty intense and pretty focused on Crew. I think Coach Dam is going to be just as intense and just as focused, but he has a more approachable personality and is easier to talk to. I think the Crew kids are going to enjoy that closer personal relationship…but I guess time will tell."
Coach Dam has had the chance to evaluate the rowers on the water and how their individual strengths help the team improve as a whole. He observed some of these strengths. "We have an amazing senior class right now and they're very fired up and motivated to try and accomplish [their] goals before they graduate…The overall culture of the team right now is phenomenal. We have a great group of varsity guys that are really hard-driving…I believe that the team has the ability to achieve a very high level this year."
"I believe that we have an amazing team culture… There are a lot of very smart, hard-working young men that are on the team that I think really raise the caliber of expectation and achievement not only at practice but academically…Not only are the guys coming in and practicing hard, they're also pushing each other to do very well academically in the classroom," noted Coach Dam.
As the newly appointed head coach, Coach Dam has high hopes for the coming Crew season and for his future as a member of the Jesuit community.
He mentioned that he is "just kind of settling in to the new position and figuring out all of the details of being the head coach here and also working with the school. I'm really happy to actually be working full time… I really appreciate being [here] and I want to be on school campus every day, being able to actually see what daily life is like for a Jesuit student." He understands that Jesuit "is really rigorous and hard and there a lot of high standards here at the school for everybody" but that "just to be able to see that on a daily basis, I think that helps me be a better coach…  I'm just really excited to get to know the Jesuit community."