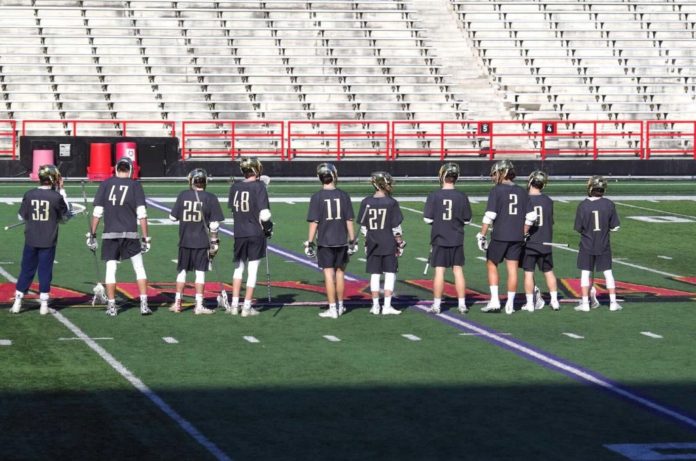 The Varsity Ranger's Lacrosse season came to a close Sunday with an 11-4 loss to the number one seeded Woodlands out of Houston, ending a historic run for the program that saw its first two state championships in history.
Regular Season
Closing out the regular season, the Rangers traveled down the Tollway to play Highland Park at Highlander stadium. The Rangers went down 3-0, early in the first and couldn't make up for that deficit, falling 8-5 in a rematch of last year's Semifinal matchup. Defenseman Owen Spencer '19 commented, "that while we got down early, we aren't going to allow this loss to define us and we were gonna go come back strong."
Jesuit did indeed come back out guns a blazing, and just three days after their loss at Highlander played their final district game at home against Coppell. Peppering Coppell goalie Hayden MacArthur early, the Rangers notched 16 goals on a Senior Night to remember in a storm that proved too much for the Cowboys. A strong defensive effort by Grayson Makarov '18 and Aidan Johnston '18 helped goalie Will Moran '19 who only allow 4 goals in.
Post Season
Looking to start out the playoffs strong, the team's mission was simple for the next two weeks, win the day or go home. In a game that featured the Allen Eagles traveling South to Postell on a cloudy Monday night, the Rangers went down 1-0 early at the end of the first quarter. Things quickly turned around, as more than five shooters found the back of the net by the end of a game that saw the Ranger's win 16-4 and advance to the Super Regionals in Kingwood, Texas. Freshmen FOGO Henry Suarez '21 commented "While we started off slow, that won't happen again. We saw what we could do, we took care of business, and were going to focus on the next one."
The Rangers traveled down to Houston this weekend to fight for a spot on Championship weekend, having to play Austin High out of the Central District to play in the final against the number one seeded Woodlands out of the South. Decimating Austin High early, the Rangers reached an 8-1 lead at half. The heat wasn't a factor for the battle hardened Rangers, who proved too much for Austin High.
The Regional final saw two state powers face off on a brutally hot Sunday afternoon. The Rangers fell 11-4, unable to get anything going on offense and spending too much time on the defensive. Will Moran '19 commented "It's a shame the season's over. We knew they could score, and the zone defense definitely confused them for a little bit but we just let this one slip past us. We're not going to less this one get us down though, next year we are going to be back better than ever."
Thanks to everyone who helped and followed the Rangers through a memorable season!