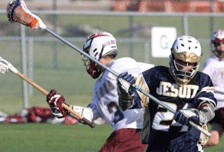 The Varsity lacrosse team opened its quest for a TSHLL championship on Monday. They beat division II Hillcrest High school 13-7.
The team played without one of their key players from last year, sophomore goalie Dan Morris '13. Morris was battling flu- like symptoms, but is now feeling better and will probably face Kingwood on Saturday.  Starting in goal instead of Morris was sophomore Christian Banister '13. The varsity squad started off fast. They went up 4-1 at the end of the first quarter due to the dynamic duo of senior attack men Richie Sapp '11 and Buck McClure '11. The defense played well in the first only allowing one goal, sophomore defensemen Hunter Hill '13 had the opportunity to go head to head with one of Texas's top attackmen, Trevor Adkins, who only put up one goal in the first quarter. The second and third quarter was a different story.  Although Jesuit never trailed in the game, they lost on the stat sheet in the middle quarters, barely having the lead at one point. Their fast break offense was again at full strength in the 4th scoring 4 straight goals and closing the door on Hillcrest.
On the stat sheet, Jesuit played a much better game than they really did.  Richie Sapp had 4 goals and 2 assists, while all-American Buck McClure had 4 goals and 4 assists.  Senior middie Nick McVay '11 was the only other multiple scorer in the game, scoring 2 goals and adding in 2 assists. Garrett Van de Van '13, Jimmy Nawalaniec '11, and junior Mac Maguire '12 all scored a goal apiece to round out the scoring for Jesuit. The goalie play was also fantastic. Christian Banister made his first varsity start of his Jesuit career and played an exceptional game, letting in 4 goals on 19 shots on goal. Freshman goalie Drew Goethals '14 served backup duty. He let in 3 goals in the fourth quarter, but stopped a Hillcrest comeback in the middle of the fourth quarter. The defense played an overall solid game. They played very physically and dictated the tempo of the game.  One of the more physical players Hayden Clouse '14 set the tone with some big hits in the 3rd quarter, hyping Jesuit's fourth quarter run and ultimate win.