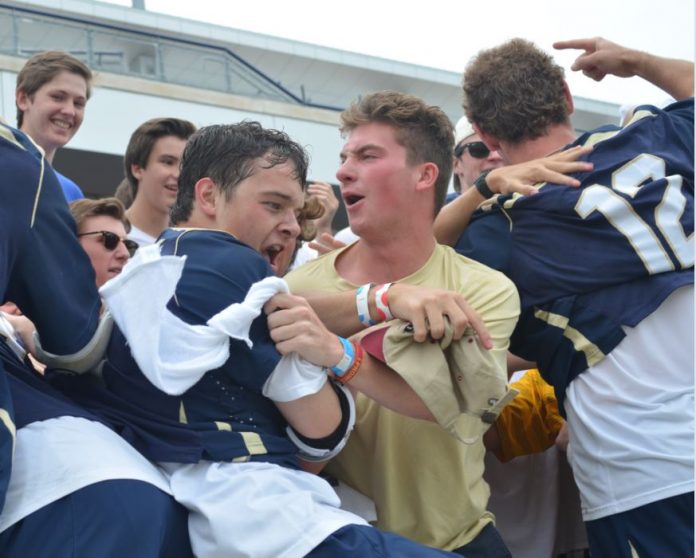 Five semifinal berths in six years, three title game appearances, and now one state championship. Jesuit claimed its first Texas High School Lacrosse League (THSLL) State Title on Sunday, May 15, beating rival Highland Park 9-4 at Eagle Stadium in Allen, Texas.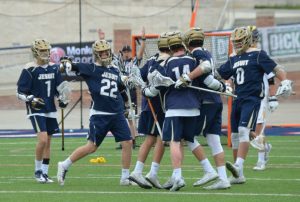 The championship game victory was the emotional culmination of a 17-2 2016 campaign that saw the Rangers go undefeated (9-0) at home and win their last six games straight. Senior midfielder Mac Elliott described the extra significance of the victory: "I was so happy we pulled off the win. After getting so close to winning each of the past 3 years, this win felt extra sweet." John Michael Priddy '16 added, "Going into the game, we were not supposed to win. We had lost state with stronger classes before so everyone counted us out. Once the final buzzer rang, it was surreal."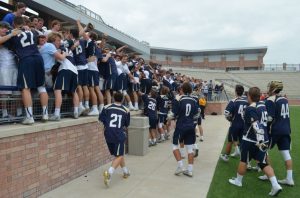 Priddy, a senior defender who signed to play at the University of Michigan in the Fall, was awarded Defensive MVP, as he led the Rangers defensive effort that outperformed the Scots in crucial defensive statistic categories such as ground balls and converted clear chances. On the championship game rematch, he said, "Heading into the game, facing such a daunting opponent like HP was going to be tough. As a team, we established an underdog role and I think that helped us to be honest. It made us play loose, carefree, and faster I think." Priddy continued, "I think the most key factor this year was our junior goalkeeper Luke Millican ['17]. He was huge for us all year and stood on his head during our playoff run. We were able to lean on him and the defense to take us all the way this year."
In the final, Millican anchored the team as he had all season, earning the honor of tournament MVP. He saved 14 of the 18 shots he faced in the final, continuing his consistent performance that led to a minuscule 4.39 goals against average during the regular season.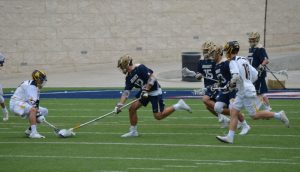 The team's strong overall defensive play allowed the offense to shine, as four consecutive goals in the second half gave them a five-goal lead in the fourth quarter, which would prove insurmountable for Highland Park. Leading the charge, sophomore attacker David Sprock (3 G, 1 A) collected a hat trick (including the game-sealing 9th goal) en route to winning Offensive MVP of the tournament. Garrett Munck '16 also had a hat trick, and Zachary Kissick '16 (1 G, 1 A), Jack Freeman '16, and Grayson Hassell '18 each contributed a goal to the scoring effort.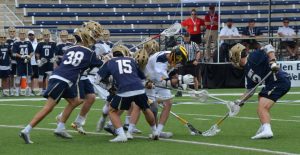 "The game was intense, we wanted to win it more than anything, not just for ourselves, but also for the fans and our coach," said attacker Trey Wiederecht '17.
Wiederecht added, "All year long, we battled through adversity and in everything we played as a team, we did well. Coach always tells us, the score doesn't matter, the guys on this team and the friendships mean more than winning or losing."
From the perspective of midfielder Michael Kelley '17, "The State Championship win demonstrated our team's resilience. The journey to the State Championship proved to us that we would never get down on ourselves or each other if things took a turn for the worse."
Priddy exemplified the strength of the team's leadership, saying, "After our spring break trip to Arizona, we held a players-only meeting after a rough game against Gonzaga, an amazing team out of DC. In the meeting, we talked mostly about how if we wanted to be good, we were going to have to put in the work and be coachable. From then on out, we were able to keep improving every day."
Matthew Favre '16 reinforced the strong work ethic of the team, remarking that "Anyone who is familiar with the program knows how hard we work — lots of late, long practices every day for a huge chunk of the year. Being able to see all of the work we put in over four years finally come to fruition was incredible. Having it be the first one in Jesuit lacrosse history made it even more special."
On the team's outlook for next year, Kelley said, "The [Class of 2016] seniors kept us hungry and never complacent with our position. In order to have the same success for the coming year, we will have to embody the same ideals… Even though we are losing many solid senior contributors, we have a great core coming back. The rising seniors have some great leaders to help guide the team in the direction we want to go."
"I think part of the reason we were able to finally win a state championship this year was because we had so much depth, especially with the younger guys," Favre said, looking ahead to the future of the program. "There were a bunch of great juniors and sophomores who stepped up big time, and I know they'll do great next year… Over the course of the next few years, Jesuit will definitely be a player in the postseason and try to win more championships."
The team's spectacular coaching was also a pivotal factor in developing and guiding the players on their road to the title. As Kelley remarked, "Without a doubt, the season's outcome would not have been possible without the entire coaching staff giving their all every single game. Whether it was Coach Sherman managing the substitution box to Coach Bannister managing our morale on the sideline, every coach had a role and it was equally important to our success." Kelley continued, praising Head Coach Chris Surran: "His ability to create an effective game plan in less than 24 hours against Texas' undefeated lacrosse team speaks to the caliber of coaching we receive on a daily basis."
Favre added that "At Jesuit, we are really lucky to have an incredible coaching staff. Coach Surran was awesome during the final four weekend in Allen. He came up with some great ideas to change things up defensively that really set us up well to win. We all respect him so much because we know he puts in tons and tons of hours watching film, scouting teams, and drawing up plays, so we all want to reciprocate that and work hard on the field. We also have a lot of great assistant coaches who support us and teach us all year. All of them have been around the program for a while as long time coaches or even players, so they are good to look up to."
Finally, The Roundup asked Head Coach Chris Surran to reflect on this past season.
The Roundup: Regarding the state title win this year, were there specific variables about the team this spring that converged—perhaps unlike previous years—to create this outcome?  
Coach Surran: At the end of the day, it was player leadership. I emphasized with the Seniors the first time we met in June of last year that this was their team and that they had to hold each other accountable on the field and off to make good decisions. We talked a lot as a team about the legacy we wanted to leave at Jesuit. Whether they like it or not every single student at Jesuit leaves a legacy at the school and it can be both good and bad. This team wanted to leave a legacy of excellence. Mission accomplished. 
TR: Did anything change in your coaching strategy this spring that assisted in the victory?
CS: The lacrosse IQ of our players this year and their willingness and ability to adjust quickly to varying schemes allowed me to continually modify our systems throughout the year. In many of the big games, our offense or defense would change from what our opponents had seen in the past which required them to adjust mid game.  We had done some of that in past years but I have never had a team at Jesuit that was so willing to adjust and so committed to practicing and executing a game plan. This team knew that its execution level had to be very high for them to be successful and they were hyper focused on that in practice. 
TR: How does the team talent look for next year as compared to this year?  
CS: Will the departing seniors leave a particularly noticeable void? We have a lot of good players returning but obviously, a lot of great players and leaders have graduated at all positions except goalie. I think all the players returning realize we need to work very hard in the off-season in an effort to keep raising the standard for Jesuit Lacrosse. Most of the experts in the area are already writing us off and we have taken note.  Jesuit Lacrosse is not satisfied with a single championship. We want to pursue excellence day in and day out on and off the field and we have more championships to win so the sense of urgency remains in all of us. 
TR: How has the landscape of Texas lacrosse changed over the past 5-10 years? 
CS: Texas lacrosse is exceedingly competitive and the level of play is extremely high amongst the best teams. The best teams in Texas can compete and win against the best high school teams in the country. We still do not have the depth of talent as the top 20 high school teams in the country because of participation levels back east are so high but Texas is catching up.  Now there are good teams all over the State and the growth of the game at the youth level is staggering.