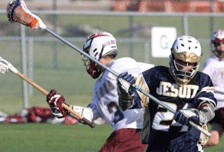 The 2011-12 lacrosse season has arrived sporting a distinctly different look from its past couple of seasons.  First, many of the players who led the Rangers to the state high school lacrosse championship game last May have graduated (including Sean Pollock '11, Nick McVay '11, and Jimmy Nawalaneic '11), and some of them are continuing their game in college programs as far flung as Providence College in Rhode Island (Buck McClure '11) and the Air Force Academy in Colorado Springs, CO (Richie Sapp '11).  Even without these players, however, the 2012 Rangers, led by seniors Matt Miller, Mac Maguire, Michael McCarney, and Rob Holland, are expected to compete again for the state title.
Second, in a change of pace from past seasons, Rangers coach Chris Surran decided to create a club, Iron Horse Lacrosse, to compete in the Fall season.  The aim of the Iron Horse Lacrosse is to expose its players to college lacrosse coaches from around the country.  The club is composed of some of the best players from the Dallas area and includes players who attend St. Marks, Episcopal School of Dallas, Highland Park, Rockwall, Southlake, and Jesuit.  The club will participate in two tournaments in Annapolis, MD this fall: UP Lax Fall Shootout and Navy National Shootout.
A majority of the Iron Horse roster comes from Jesuit, including All-State players McCarney '12 and Maryland-bound Dan Morris '13, along with Zach Coker '13, Carson Buell '13, Sam Rosengarden '13, Christian Banister '13, Jason Myers '14, Lee Belland '14, and Will Carney '14.  Although on the roster, defensemen Nico Esteve '12 and Hunter Hill '13 will miss the trip due to injuries, and Duke-bound Garrett Van de Ven '13 will miss the contests as he joins the Rangers in the state high school football playoffs.  The team also includes ESD lacrosse stars Barrett Anigian '13 and Jack Beare '14.
When asked about the tournaments, Coker and Buell said they were "excited about the challenge of playing against some great competition in the northeast."  One of the players helping to prepare the Iron Horse team for the tournaments is freshman Chris Surran '15.  When asked about what it is like to practice with the squad, he said, "It's exciting to be playing against all these great players.  But I have to admit, I didn't realize how big they were until I actually started playing with them." Iron Horse Coach Rashad Devoe had one thing to say regarding the fall season: "It's game time."