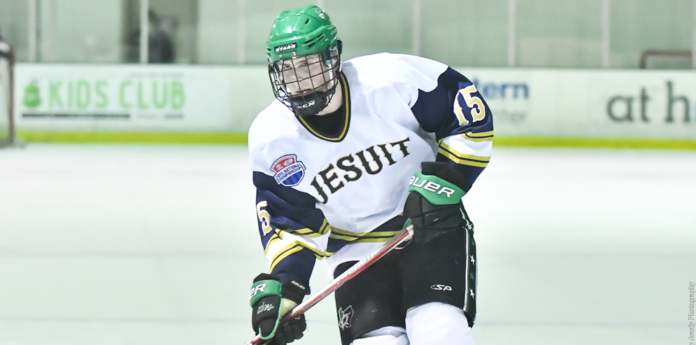 Two opposing players wait motionless, facing each other, anticipating the moment when the puck drops. As it hits the ice, the clashing and clanging of sticks can be heard across the rink. Shortly after, one team secures the rubber disk, signifying the start of the match.
This scene sums up the beginning of every game the Jesuit Hockey Team partook in
during their 2017-2018 season.  A few players from both JV and Varsity recounted their experiences to The Roundup.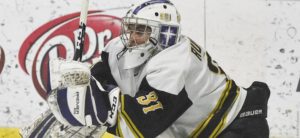 Junior Varsity
"We had an amazing season, winning every game by a large margin, " William Peppard '20 stated.
This success even carried into their championship game. "[It] was extremely close and tied 3-3 up until the last three minutes of the second period where we scored two short handed goals on the same penalty kill (when one team has a man-advantage due to an opposing player serving time in the penalty box)."
The team would go on to score two more goals, sealing the game at 7-3 and Jesuit another trophy.
Peppard finished with, "we never let down and we are extremely proud in our flawless season."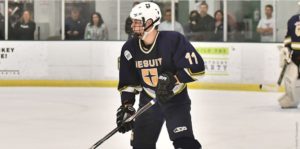 Clearly it is an accomplishment to be proud of, serving as arguably one of the most dominant seasons any Jesuit team has put on in recent memory.
Varsity
Unfortunately the Varsity Team did not meet the same level of success.
"Varsity had a very rocky start, " Nick Zang '19 stated, a result of many players leaving for college last year.
Things would eventually take a turn for the better though. "After losing in the state championships, the team found its rhythm and won their last two games of the season. "
"However, [this rhythm] was found too late and the team did not advance to the playoffs."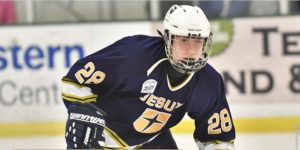 While their season ended in heartbreak, "there are high hopes for next year year as many of the JV players are moving up," goalie Caden Rupnow '19 stated.
Although not able to play Varsity yet, these great JV players indicate high hopes for the Varsity team in the next seasons to come. These players foreshadow an even better Varsity team in the making.
Conclusion
For all upcoming Freshmen reading this, do not hesitate to ask Jesuit Hockey coaches about the team sport. One player, had no prior hockey experience and is currently playing on the Varsity Team. For anyone else still interested in joining, contact the coaches during your free periods for more information!