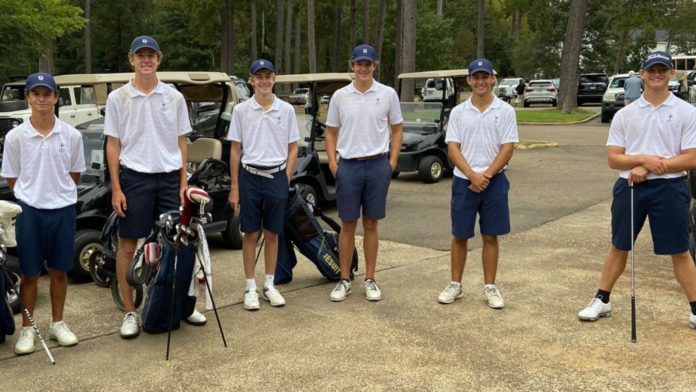 Players from left to right: Gordon Schmerbeck '21, Sean Mello '22, AJ Adams '23, Max Reimer '21, Oliver Naumann '22, and Hunter Pratt '22
"Success in golf depends less on strength of body more of strength of mind and character." -Arnold Palmer
Jesuit Golf just recently earned its best finish since 2017 at the Jay Brewer Tiger Classic. The Rangers placed fourth in this annual statewide showcase at the Texarkana Country Club. Three Ranger golfers placed in the prestigious top-20 in the three-round tournament that took place on October 11-12.
Senior Max Reimer '21 led the charge, tying for 12th place overall. Reimer scored a 224 overall. He scored back-to-back even par scorecards after shooting an 80 in the first round. Reimer holed six birdies in the second round. He carded a birdie in three of the last four holes of the tournament, making a final push up the standings.
Sophomore AJ Adams '23 tied for 18th place with a nine-over 225 following a round that saw the Jesuit second year card six birdies during the tournament. Adams hit birdies on the second and third hole in the third round and scored par on 12 of the 18 holes. Adams commented, "Although we could've done better, we still did pretty good. Overall this was a pretty good tournament."
Senior Gordon Schmerbeck '21 and junior Sean Mello '22 both tied for 20th with 227 final scores. Schmerbeck finished the second round at even par and finished the tournament with eight birdies. Next, Mello recorded a trio of birdies in the final round.
As Coach Cathy Marino reflected, "The team got off to a slow start in the first round, but we played great golf after that, especially at the end of the second round when we made a lot of birdies. Overall it was a good finish against a good field on a tough golf course."
Stay tuned to The Roundup for more on Jesuit golf!