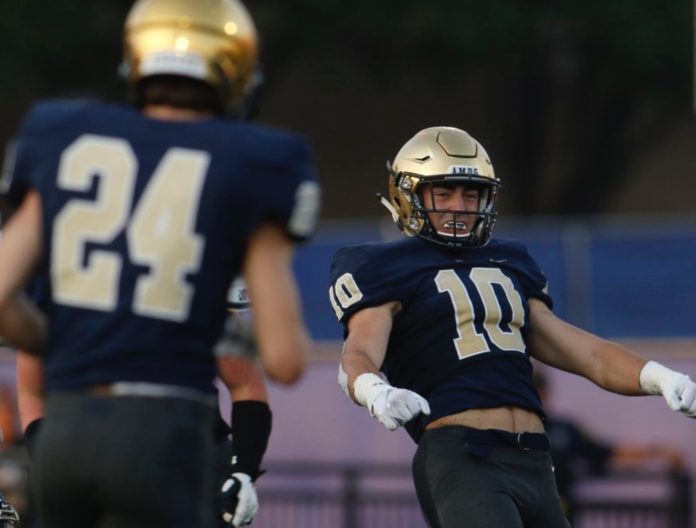 Coming off a dominating win last Friday against Wylie, Jesuit's very own varsity football team got to celebrate their first win of the season. And per tradition, the very famous "Party in the USA" was blaring throughout the locker room once the whole team got back to Jesuit. For three minutes, 70 boys sang there heart out to a song written for five year old girls, and from that chaos ensued.
      Hannah Montana turned to hype songs, which then took an interesting turn.  The song HBS, by Lil Keed, was turned on, immediately drawing the interest of the whole team. You see, HBS is no normal song, but is actually an extremely popular and catchy song with an accompanying dance that populates the For You Page on TikTok, a social media app. As many of y'all know, Jesuit already runs TikTok, so making a video with the whole team singing and dancing to the song just seemed natural.
     What made this video unique was an intricate blend of characteristics. One, having a group or a team perform a song highly increases the chance of it going viral. Two, while many yell to start the dance to the left, to the dismay of the audience, it appears the whole team goes to their right. However, because the video is reflected, left appears right and right appears left, sparking criticism and comments that made the video get further shared. To add onto that, confusion on which way the dance was suppose to be started still occurred, with cornerback Chase Walker '20 and linebacker Will Garoutte '20 drawing the most criticism from TikTok users. Ultimately, that blend mixed with the overall mosh pit mentality of the dance and loud singing lead to over 1.1 million views on TikTok alone. Over 220,000 people liked the video and another 1400 comments were dropped, mostly criticizing the team for its "cringe" dance moves.
       But that's not all. A few days later, a popular Instagram account called Overtimeszn, a sports account, randomly posted the video. And once again, the team went viral. Hundreds of thousands once more saw the video and commented, leading to Jesuit students flocking to the comments, displaying school pride and unity. And to add to this chaotic scene, Overtime, a separate Instagram account with 2.2 million followers reposted the video. We all know the story by know. It went famous.
     Ultimately, over 2 million people at least saw your Jesuit Rangers sing and dance their hearts out, celebrating a really solid win. And if anything was learned from that famed night, it was this. Jesuit does and will always run TikTok!
Here is a short clip of the beginning of the video.