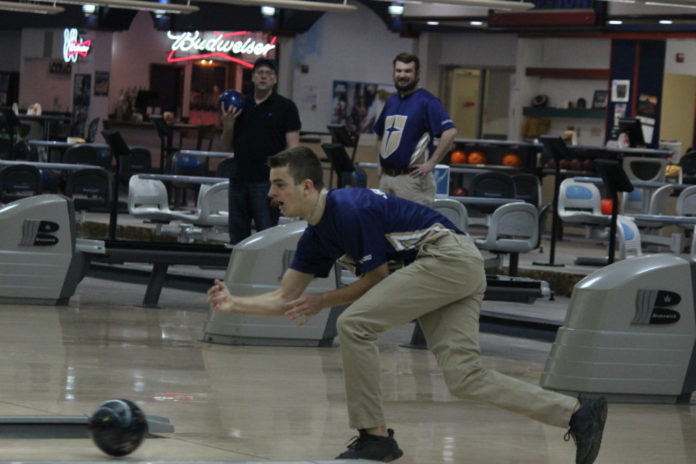 Traditionally in bowling, coaches position their lineups for the individual matches with the lowest average on the team first, then the highest average last, in the fifth spot. When making these lineups, the home team gets to make their lineup after seeing the already locked in visitor's lineup, so they can adjust off of that. Generally, the changes only come in first two or three spots, but this past Saturday the L.D. Bell team tried to play games with the Jesuit Varsity team by putting their better bowlers in the middle of the lineup to try and steal some points off of the stacked Jesuit lineup. Little did they know that the Jesuit bowling team doesn't play games.
Varsity Individual Matches
Despite this crafty move by L.D. Bell, Jesuit was still determined to beat the Blue Raiders as head coach Ken Howell said "Let's sweep them anyways." Jesuit started the individuals off well, as both Hayden and Austin Montpas bowled over 200, with a 235 and 207 respectively. Jack Corrales '20 wasn't far behind with a respectful 191, and Bryce Clark '19 along with Will Bradford '19 bowled 153 and 147, respectively. All the Rangers except Bradford were winning their match handily, and even Bradford was only losing by 6 pins.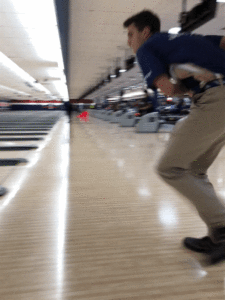 In the second match, the Rangers continued their bowling with Jack Corrales bowling a mind-boggling 247 in his second match, leading to an emphatic 438-224 victory. Austin Montpas wasn't far behind with a 187, winning his match 394-331. Hayden didn't do quite as well in his second game, with a 122, but he still handily won his match 357-264. Bryce Clark closed his match out with a 184, winning 337-237 against Phi from L.D. Bell, cementing the fourth point for the Rangers. Will Bradford, refusing to accept defeat, came back from his deficit with a 169, easily defeating his opponent 316-267. Jesuit captured the cumulative pin total 1842-1323, so they moved into the baker games with a 7-0 lead.
Varsity Baker Games
In the first baker game, Jesuit and L.D. Bell started off a little bit slow out of the gate, with some early open frames. However, down the stretch, the Blue Raiders got hot while the Rangers did not, so Bell won the first match 170-152. This made the score 7-2.
To explain these scores, there are 15 points in a bowling match to be won, and obviously, the team that gets more points will end up winning the match. Seven points are up for grabs in the individual matches, while 8 are available through the bakers. This means that if a team loses all the individual matches but wins all the baker games, they can narrowly win 8-7. So, in order for Jesuit to win the match they would need to win one baker game, but if they lost all three they would lose.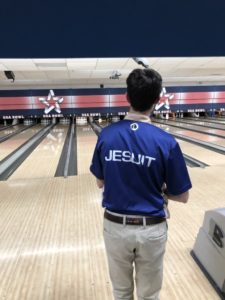 Despite this first loss, Jesuit came into the second game ready to play. Both teams struggled with spare conversions, leading to a six pin game in the 8th frame, with L.D. Bell winning. Senior captain Austin Montpas stepped up in the 9th, striking to set up fellow captain and anchor Jack Corrales in the 10th frame. Unfortunately for Jesuit, L.D. Bell also struck in the 9th frame and continued to have a six pin lead. In a face-off between Corrales and L.D. Bell's Leighton Scott, Jesuit really needed Scott to not strike on his first ball to give the Rangers a fighting chance to win. Unfortunately for the Rangers, Scott proceeded to roll three strikes in a row to finish out the game, and even though Corrales matched his efforts with three of his own, the Rangers still lost 152-146. The score was then 7-4.
Moving into the third game, Jesuit had to win the game or else they would lose the match, so Coach Howell changed the lineup up a little bit in order to try and gain some momentum. The Rangers started out strong, with five closed frames, and from then on they ran away with the match. The end score ended up being 208-138, so not only did the Rangers win the two points from the baker but an additional two from the cumulative point total. This cemented the Ranger's 11-4 victory, as the Rangers continued their 4-0 undefeated run.
JV Individual Games
While the varsity was competing in their match, the JV had an equally close match against L.D. Bell's JV team. Freshman Nico Boling and Connor Lester bowled a 68 and 135, respectively, while Weston Smith '22 bowled a 106. Junior Will Risinger '20 bowled a 97 while fellow junior Ethan Blum bowled a 112. Only Risinger and Smith led their matches, but all the other Ranges were within striking distance.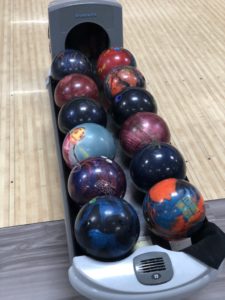 Will Mina '22 relieved Boling in the second game, and bowled an 88, leading their combined effort to a 156-147 win. Lester bowled a 116 his second game, losing his match 251-274. Smith continued his strong bowling in the second match with a 93, winning his match 199-180. Victor Martinez '22 subbed in to close out Will Risinger's game, handily winning 172-137. Then, Ethan Blum, even with an improved 120 in his second game, fell short 232-252 losing his individual game. This led to a 2-5 L.D. Bell advantage heading into the baker games.
JV Baker Games
Needing to win at least two baker games, Jesuit came into the first game ready to make the comeback. However, despite their efforts, they lost the first game 80-98. Recovering from this, Jesuit came back determined in the second game to put up a higher score and beat the Blue Raiders. The game was close until the final frames, where L.D. Bell won by 1 pin, 116-117. This ended the match for the Rangers as they could no longer win, but they won the third game 147 to 98. Jesuit captured the cumulative pin total, and the final score ended up being 6-9 in their narrow defeat.
Reflections
Hayden Montpas had a spectacular first individual game, but in his second game and the first two baker games the changing oil pattern messed up his excellent rhythm and led to some unlucky splits and missed spares. However, moving into the third baker game, Montpas stepped up with two crucial strikes in both of his frames, and he talked about this change saying "Before the third baker we knew we had to perform and I'm glad to help contribute to the win."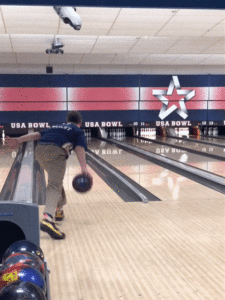 Austin Montpas had a solid day overall, both in the baker games and in his individual matches. In talking about the bakers, Montpas said "We started out a little slow in the first two, and let them back into it, but we realized that we needed one to close out the match and we went out and rolled the best baker game we've had all year."
Reflecting on their tough loss, JV coach Matt Shoemaker said "JV did well during a tough match today. Connor Lester was great in his season debut and we have to tip our caps to the LD Bell bowler that converted a big split in the baker games to win by 1 pin."
Summary
Both Jesuit teams performed well this weekend, and even though the influential baker games across the board need to be improved upon, there is plenty of time left in the season for those scores to increase, and the Rangers certainly have the drive and determination to do just that.
The Rangers play their next match on Tuesday, December 11th at 6:30 PM, at USA Bowl against 2nd ranked Lewisville. Come support your varsity Rangers as they look to stay undefeated and cement themselves at the top of the division at 5-0!