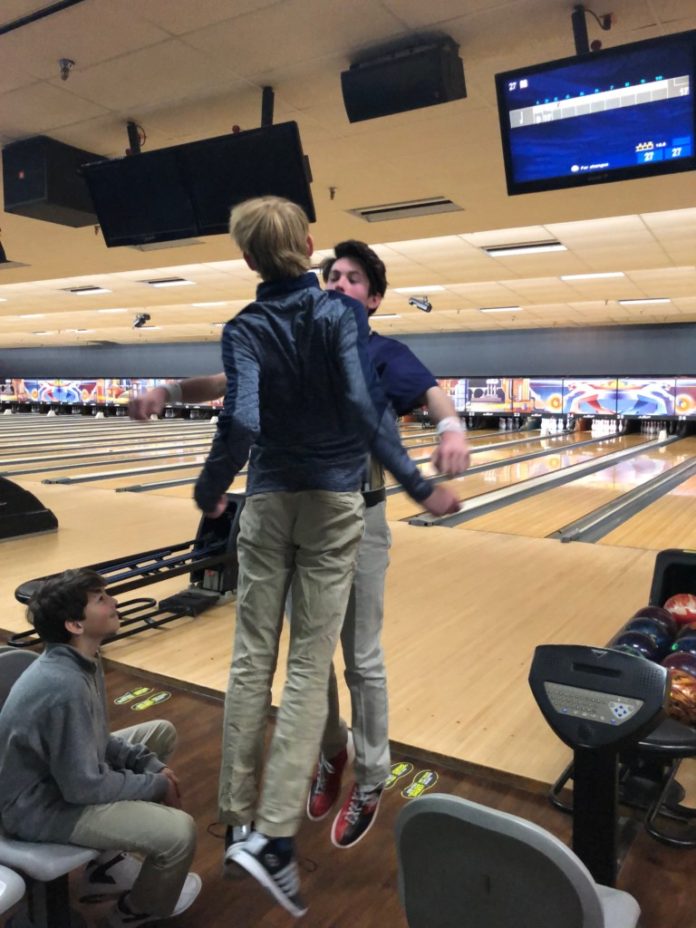 As of Saturday, January 12th, the Rangers varsity bowling team needed to win two matches to guarantee a spot at regionals. In typical Ranger fashion, the team proceeded to steamroll their next two opponents, winning against Flower Mound Marcus 12-3 and Nimitz 10-5.
Flower Mound Marcus
Jesuit squared off against 2nd ranked Marcus on January 12th, at AMF Sparetime in Arlington. Jesuit started off slow, losing three of the 5 individual matchups, with Bryce Clark '19 and Jack Corrales '20 winning their matches. Clark bowled a 381 over two games, including a season-high 211, while Corrales bowled 361 with a fiery 207 game to close out his match. Despite Jesuit losing the majority of their matches, they still captured the greater pin total, with a score of 1,648-1,517. The score then, leading into the baker team matches, was 4-3.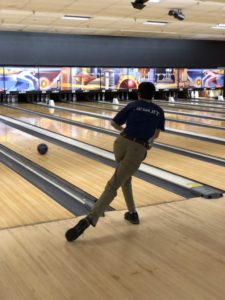 Jesuit won all three of the baker games, with the scores being 195-154, 162-143, and 185-130. The Rangers also captured the point for pin total with the score of that being 542-427. This victory, while not showcasing Jesuit's usual strong performance in the individual matches, displayed an excellent three-game baker series. This series was not just luck, but the product of a season of improvement, the extra practices and long sessions in the weight room paying off.
Nimitz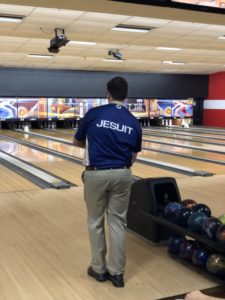 Jesuit played Nimitz just a few days after their win against Marcus on January 15th, 2019, at their home alley, USA Bowl. The Rangers won 4 of their 5 individual matches, Parker Leining '19 winning 369-248 with a season-high 202 game. The tag team of Silas Hartman '20 and Will Bradford '19 won their match with a score of 287-268, while the team of Bryce Clark '19 and Jack Holloran '20 won their match 326-177. The score moving into the baker games was 6-1, and Jesuit captured the aggregate pin total.
Jesuit lost the first baker game 148-133, with several missed spares giving Nimitz the opportunity they needed to try and sweep bakers to win the match. However, Jesuit quickly halted their momentum, winning the second match 189-135. The Rangers were able to capture the pin total despite losing the third baker, with the score being 490-458. The final score was 10-5, the Rangers securing a regional berth and extending their winning streak to 7.
After bowling a stellar 202 game, Parker Leining looked back on how he was able to bowl so well as he said: "For the first time in my bowling career, I was really just feeling good about everything."
Continuing, he said, "From the lane conditions to my swing and speed, I felt unstoppable out there which gave me the confidence I needed to break 200 in a match for the first time."
Reflections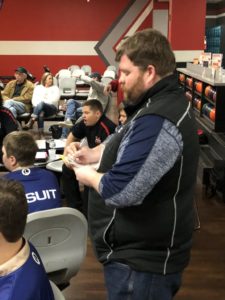 After seeing the excellent baker games from the past two weeks, Silas Hartman '20 said: "I'm proud of how serious we've been on our team when it comes to bakers, and we are consistently doing well on them."
On this same note, Jack Holloran '20 said: "Both games came down to bakers but with enough focus, we were able to pull out the DUBS."
With a regional spot locked up, Jesuit hopes to win their remaining three games to stay undefeated on the season, with their next game on Tuesday, January 22nd at USA Bowl at 6:30. Come support your undefeated Rangers!