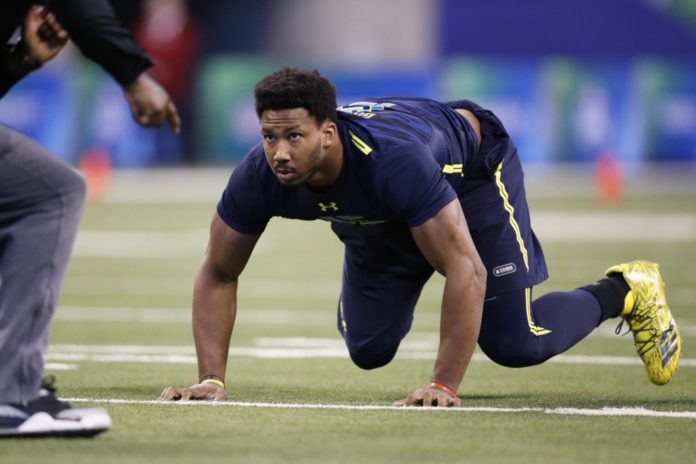 Foreword: I'm not going to make up fake trades for this draft based on "NFL Insider" rumors, which are really just reporters creating false buzz by creating "information" from "confidential sources." However, if you're interested in trade rumors, I've heard everything from the Patriots moving up to take Lamar Jackson to the Colt's trading down so the Bill's can select Josh Allen. The reality of the draft is no one really knows what will happen till draft day, and most NFL Front Offices are using the media to set smokescreens and obscure their actual intentions.
1. Cleveland Browns — Sam Darnold, QB, USC
Cleveland needs to make the safe choice here and draft Darnold, who is the arguably the most complete quarterback prospect in the draft. 
Darnold projects as the most pro-ready QB in the draft as he can competently work through progressions, read defenses, and stand tall in the pocket. Darnold has the desired size (6'3″, 230) and ample enough arm strength and accuracy to make all the necessary throws. Basically, Darnold possesses all the necessary traits and qualities that teams look for in an early 1st round quarterback. He's above average in almost every facet of the game and lacks any glaring weaknesses.
Bottom Line: The Browns cannot afford to miss on this pick and USC's Sam Darnold has the highest floor of any quarterback in the draft
2. New York Giants — Saquon Barkley, RB, Penn State
Saquon Barkley is an every down back who ran a 4.4 40 at 6'0″ 233 and put up 29 reps to go along with a 41-inch vert. He can catch the ball in the passing game, while still performing outstandingly as a runner. Giant's GM Dave Gettleman appears to be committed to longstanding QB Eli Manning for the near future. Barkley is with a doubt the best running back—and probably player—in the draft and will work wonders to open the passing game for Eli and OBJ. 
Bottom Line: Barkley is the complete package and probably the most highly regarded running back prospect of the last decade. The G-Men get Eli some much-needed help in the run game.
3. New York Jets (via IND) — Baker Mayfield, QB, Oklahoma
I have Mayfield as a better fit than Josh Rosen in Jeremy Bates' system, and I believe that, despite concerns about height and the spread scheme he played with in college, the Jets should draft him at 3.
While Mayfield's offensive undoubtedly had more talent, Baker completed 70.5% of his passes to the tune of a 43-6 touchdown to interception ratio in a more competitive conference (Big 12 > Pac 12) while Rosen completed only 62.6% of his passes with a 26-10 touchdown to interception ratio. Rosen has also been rumored to be considering stepping away from the game in the near future after multiple concussions last season.
Bottom Line: The Jets have been playing second fiddle to the Giants and receiving biannual beatings from division rival New England; they need a quarterback and player with attitude like Mayfield to generate buzz and create a winning culture.
4. Cleveland Browns (via HOU) — Bradley Chubb, Edge, NC State
With Barkley off the board, the Brown's select the consensus #1 edge to pair with previous #1 selection Myles Garrett, on a defense, that despite their 0-16 record, actually wasn't that bad (14 in total defense).
Bottom Line: The Browns pick the #1 Edge player in the draft to pair with last year's #1 Edge.
5. Denver Broncos — Denzel Ward, CB, Ohio State
After signing Case Keenum in the offseason, the Broncos don't find themselves in dire need for a QB, but with the departure of CB Aqib Talib, they may look to address their secondary. Denzel Ward is an ultra-athletic corner (4.32 speed 39-inch vert) who excels in coverage and has great playing ability to go along with sharp instincts. While he lacks the stature to press, Ward's natural ball-hawking ability and stickiness in coverage carry him to the title of best corner in the draft.
Bottom Line: The Broncos pick up the #1 corner in the draft in an attempt to reinstitute the 'No Fly Zone' of years past
6. Indianapolis Colts (via NYJ) — Quenton Nelson, Guard, Notre Dame
Quenton Nelson is far and away the safest pick in this draft. Offensive lineman rarely bust and often have some most consistent play from college to pro of any position.
Highly touted NFL Draft Analyst Mike Mayock said it best:  
"He is a [guy] who is going to knock people down in the run game. I call him a people mover. He opens holes. For 330 pounds, his feet are pretty good. I think he can plug-and-play there for the next 10 or 12 years."
I have also heard rumblings from "NFL Insiders" that Bills might trade up to get Josh Allen here, but I still have them getting him at 12.
Bottom Line: The Colts get an All-Pro level guard to protect (a hopefully healthy) Andrew Luck from further injury.
7. Tampa Bay Buccaneers — Derwin James, S, Florida State
It's no secret that the Bucs love FSU players and FSU's Derwin James is no exception. James checks all the boxes that you want in a first round safety: size (6'2″, 215, 33-inch arms), explosiveness, (4.47 40, 40-inch vertical) and strength (21 reps of 225). James has a rare combination of size, range, and instincts to go along with exceptional character and leadership in the locker room. He's the complete package.     
Bottom Line: The Bucs add a pro-bowl caliber safety to sure up a secondary that was last in the league in passing yards allowed (261 yds/game)
8. Chicago Bears — Tremaine Edmunds, LB, Virginia Tech
In terms of raw talent, Tremaine Edmunds has about as much as any LB prospect in the last decade. He's 6'5", 250 pounds and ran a 4.54 40. Oh and he turns 20 in two weeks: He will 19 on draft day. While still extremely raw in terms of instincts and Football IQ, under the careful development of Chicago DC Vic Fangio and LB coach Glenn Pires, Edmunds has the potential to be one of the NFL's best linebackers in the next few years. 
Bottom Line: Tremaine Edmunds is the most physically gifted linebacker prospect in the draft, and I think he edges out Georgia's Roquan Smith at this spot.  
9. San Francisco 49ers — Roquan Smith, LB, Georgia
Despite 49ers ILB Reuben Foster's girlfriend recanting her domestic violence case against him, (see: http://www.espn.com/nfl/story/_/id/23318549/ex-girlfriend-49ers-lb-reuben-foster-recants-domestic-violence-claims) I still have the 9ers taking Georgia's Roquan Smith at 9 due to their need for additional LB. Smith can run sideline to sideline and was the cornerstone of Georgia's defense during his Butkus Award-winning season. He's a sure tackler with a great nose for the ball, but gets often struggles to get off of blocks. If the 49ers DL can keep him from getting caught up in trash at the point of attack, Roquan will be a welcome addition to a unit that has lost considerable depth over the last few years.  
Bottom Line: Roquan Smith is undeniably one of the draft's best linebackers and has the necessary range and superior instincts to succeed at the next level
10. Oakland Raiders — Minkah Fitzpatrick, S, Alabama
Alabama Safety Minkah Fitzpatrick is one of the best safeties coming out this year and has the a rare combination of size (6'1″ 205), range (4.46 40), and football IQ to play in the secondary at the next level. Fitzpatrick has a nose for the ball and consistently attacks downhill in the run game.Well undersized at linebacker, Fitzpatrick can definitely play a role in the box as hybrid blitzing off the edge or playing nickel in sub packages.
Bottom Line: Minkah Fitzpatrick is a versatile player that projects as a lengthy and hard hitting safety at the next level.
11. Miami Dolphins — Josh Rosen, QB, UCLA
UCLA's Josh Rosen has the most sound mechanics and footwork of any QB in the draft. Rosen has the exceptional football IQ, accuracy, and pocket poise to excel as starter in NFL. Despite having one of the weaker arms in the draft, Rosen possesses the necessary traits to compensate for this and succeed in a west coast offense, short pass offense. Miami should be extremely excited to scoop a QB of his stature at 11, and I believe they will if he slides this far.
Bottom Line: With uncertainty surrounding the performance and cap-hit of Ryan Tannehill in near future, the Fins elect to take QB Josh Rosen in hopes of landing a franchise starter
12. Buffalo Bills (via CIN) — Josh Allen, QB, Wyoming
I'm going to come out and say it, I think Josh Allen is going to bust, and I think one of the main reasons for this is because he will be drafted by the Bills. Josh Allen is by far the least prepared of the top 5 QBs in this draft to start Day 1, and the Bills only have 2 QBs on their roster: career backup AJ Mccarron and interception chucker Nathan Peterman. So yeah, Allen will be starting within ~5 games, and I really don't think he's ready.
Yes, Josh Allen is 6'5″. Yes, has a cannon for an arm. Yes, he looks great in shorts, and yes, as Hue Jackson put it "This guy is what the quarterbacks look like when they get out of a truck." BUT, he completed 56.3% of his passes in the Mountain West, can't read a defense to save his life, and has the worst off-target throw rate of any top QB in the last 3 years at 16.3%. That's right, 1/6 of Allen's throws are inaccurate enough to be graded as off-target. Simply put, Allen is everything you want in a QB until he steps on the field.
I will say this, however, Allen's talent is undeniable, and I believe he has the highest ceiling of any QB in this draft by far. With the right development, Josh Allen could be a more athletic and bigger armed Carson Wentz, with the wrong development he's Brock Osweiler (and as a Texans fan I don't say this lightly).
Bottom Line: The Bills roll the dice with the biggest boom or bust prospect in the entire draft.
13. Washington Redskins — Vita Vea, DT, Washington
Vita Vea is a BIG BOY. Like 6'4 350 pounds big. Despite his extreme size, Vea has an exceptional ability to rush the passer from the interior and displays above average athleticism at his weight (5.1 40, 41 reps at the combine) While Vea definitely possesses technical flaws like a generally high pad level and inconsistent effort that will need to be corrected at the next level, his rare combination of size and speed make him too good a prospect to pass up on. If the Redskins can slim him down and shave a couple tenths of a second off his 40, I could see him as one of the NFL's best interior defenders in a few years time.
Bottom Line: Washington's defense was 29th in yards per carry and 27th in total points allowed; They need a run stuffer and get the best one in the draft.
14. Green Bay Packers — Jaire Alexander, CB, Louisville
Louisville's Jaire Alexander is an athletic (4.4 speed 35 inch vertical) corner with great  ability to anticipate routes and make plays on the ball. He projects as a nickel or #2 corner at the next level. While injuries and a slight frame may be a concern for potential suitors, Alexander's ability to stick in cover along with superior instincts make him to good to pass on after player's like Derwin James and Minkah Fitzpatrick are off the board.
Bottom Line: The Packers pick up a nickel corner to plug into a defense that was poor in passing coverage last year.
15. Arizona Cardinals — Lamar Jackson, QB, Lousiville
Louisville's Lamar Jackson is one of the most dynamic players in the draft, putting up 5261 total yards in his Junior Season.
Jackson has the legs to make plays in the run game and the arm strength and accuracy necessary at the next level. Jackson is also a gifted playermaker with a quick release and has experience playing under center. While his base and mechanics will have to be refined for success in the next level Jackson's dual threat and playmaking ability make him one of the
Bottom Line: The Cardinals pick up a talented dual threat quarterback and one the drafts most intriguing prospects.
16. Baltimore Ravens — DJ Moore, WR, Maryland
The Raven surprise many by selecting DJ Moore as the first WR off the board. While many would project consensus #1 WR Calvin Ridley for this spot, the two tested extremely similarly at the combine with both players having 4.4 speed to pair with above average agility, explosiveness and hands. Despite not being the route runner that Calvin Ridley is, Moore adds another dimension in his ability to return punts , and possesses much greater size (210 vs 190 for Ridley) which should aid his longevity in the NFL's dirtiest division, the AFC North.
Bottom Line: DJ Moore's versatility as a return man and larger size entices the Ravens to pick him over Calvin Ridley
17. Los Angeles Chargers — Da'Ron Payne, DT, Alabama
With Washington's Vita Vea already off the board at this point the Chargers elect to take Alabama DT Charger's players Joey Bosa and Melvin Ingram should have the Chargers defense among the NFL's most dominant units, but the team's paltry run defense (4.9 YPC in 2017) held it back.
Alabama's Da'Ron Payne possess the natural strength and quick first necessary to penetrate the interior of the offensive line as a pass rush, and has enough size and technique to fight through double teams at the point of attack. Look for him to be a vicious  1 technique at the next level.
Bottom Line: The Chargers pick up one of the scariest interior lineman in the draft to pair with exceptional DE Joey Bosa — watch for this Charger's unit to terrorize QB next year.
18. Seattle Seahawks — Marcus Davenport, DE, UTSA

While the Seahawk's offensive line last year was the equivalent of setting up 5 trash cans in front of the defense and telling Russell Wilson 'Good Luck,' I think the Hawks elect to take UTSA's extremely talented but raw Marcus Davenport. After an impressive showing at the combine (6'6″, 270, 4.58 40 yard dash), Davenport's draft stock shot up to that of a first rounder. While he is less refined than other edges and plays with an often elevated pad level, Davenport's raw talent and potential for growth will convince the Seahawk's to select him as Michael Bennett's replacement.
Bottom Line: Instead of addressing their offensive line, the Seahawks pick up a talented replacement for Michael Bennett on a cheap rookie contract.
19. Dallas Cowboys — Calvin Ridley, WR, Alabama
If the the consensus #1 receiver in the draft falls to 19 I can't see the cowboys passing up on the opportunity to draft him. Ridley is a by far the most polished receiver prospect in this class in terms of his route running and extensive route tree, to go along with 4.4 speed and great hands. I think the boys go for a WR in this draft with Maryland's DJ Moore and SMU's Courtland Sutton also in strong contention at this spot.
Bottom Line: The Cowboys address a Dez sized hole and lack of passing production last year with a shiny new #1 receiver for Dak Prescott.
20. Detroit Lions — Harold Landry, EDGE, Boston College
With new head coach (and former Patriots DC) Matt Patrica at the helm, the Lions will look build their defense from the inside and out. Detroit has had success in the past drafting raw edge prospects and developing them into successful players; Read: DE Ziggy Ansah who totaled 12 sacks last year. I think recency bias will play a role in this pick with Detroit hoping to hit on another Ansah.
Bottom Line: First year HC Matt Patrica will pick edge rusher Harold Landry pair with Ziggy Ansah and pressure the quarterback in 2018.
21. Cincinnati Bengals (via BUF) — Frank Ragnow, C, Arkansas
Arkansas' Frank Ragnow is one of the best centers in the draft and has the necessary size (6'5″, 310) and technique to play anywhere on the interior offensive line. While he doesn't wow with extreme athleticism or agility, Ragnow should provide consistent play on the interior while bringing a blue-collar mentality to the one of the NFL's roughest divisions.
Bottom Line: It's isn't sexy, but the Bengal's need to sure up an offensive line that allowed 40 sacks last year.
22. Buffalo Bills (via KC) — Isaiah Wynn, G, Georgia
The Bills will look to bolster their interior line to protect new QB Josh Allen. Allen will require a clean pocket to perform consistently and Georgia's Wynn has the agility, size, attitude, and technique to excel as a starter in the NFL.
Bottom Line: When it comes to offensive lineman, what you see, is generally what you get, and Georgia's Isaiah Wynn, is a solid pick to protect rookie Josh Allen in the future.
23. New England Patriots (via LAR) — Kolton Miller, OT, UCLA
The Patriots will look to fill the hole that longstanding tackle Nate Soldier left after his departure this off-season. UCLA's Kolton Miller is an athletic and long armed tackle that will help sure up a sub-par unit and protect an aging Tom Brady. If the Patriots have him graded high enough to take in the middle of the first i wouldn't bet against them.
Bottom Line: The Patriots are hoping to find Nate Soldier 2.0 in UCLA's Kolton Miller
24. Carolina Panthers — Courtland Sutton, WR, SMU
Courtland Sutton is a big bodied receiver from SMU that possess the necessary frame (6'3″, 220) to handle a heavy target load at the next level. Sutton has average speed at a 4.54 40 but has a wide catch radius and can fight through contact for catches. It's no secret that Cam Newton isnt the most accurate QB in the league and has a big target like Sutton will help to alleviate the Panthers struggles (28th ranked passing offense last season) in the passing game.
Bottom Line: The Panthers pick up a gifted possession receiver so that Cam has a big target in the passing game.
25. Tennessee Titans — Rashaan Evans, LB, Alabama
Alabama's Rashaan Evans is a 3 down linebacker who can cover the pass the rush the quarterback well. Well, some drafts project the Titans taking a pure edge like BC's Harold Landry, I think the Titans elect for a more versatile player that can aid a team with finished 4th in stopping the run but 25th in pass defense.
Bottom Line: Rashaan Evans possesses the necessary size (6'3″, 235) and range to become one of the NFL's new breed of linebackers that run sideline to sideline and rush the passer.
26. Atlanta Falcons — Taven Bryan, DT, Florida
A freakishly athletic one year starter, Florida's Taven Bryan checks all the boxes to plug in to New Orlean's gap and go scheme. He combines average size at the DT position with above average pursuit and motor. He gets skinny on double teams, and finishes plays with fantastic toughest and range.
Bottom Line: Florida's Taven Bryan is a great scheme fit for NO and should project as a 3 tec at the next level.
27. New Orleans Saints — Dallas Goedert, TE, South Dakota State University
Dallas Goedert has the size (6'5″, 260) and playmaking ability to succeed at the next level. While he will have to improve his route running and blocking at the next level, Goedert projects as one of the most pro-ready Tight Ends in the passing game and should be a in contention for the Saints Day 1 starter at TE.
Bottom Line: Drew Brees' picks up a shiny new TE to give him even more weapons in the passing game.
28. Pittsburgh Steelers —  Sony Michel, RB, Georgia
A physical and elusive runner, Sony Michel will a welcome addition split carries with Leveon Bell. Michel showed consistent poise, great lower body strength, and above average burst off the line. Dont be fooled by his 4.5 40, Michel displays faster game speed and can take it to the house given the opportunity. He's a well built runner and would do improving his vision under Leveon Bell.
Bottom Line: The Steelers make a surprising move here and add even more offensive talent to an already stacked roster.
29. Jacksonville Jaguars —  Hayden Hurst, TE, South Carolina
As a group last year, Jacksonville's Tight Ends produced something like 400 yards collectively on one of the league's worst passing teams. Simply put, the Jaguars need more weapons for QB Black Bortles to improve their passing game.  Hurst provides the necessary combination of size (6'5″ and speed 4.68 40) that teams look for in a tight end, to go along with a quick first step and reliable hands.
Bottom Line: Tight End is one of the weakest position on the Jags roster, and Hayden Hurst should prove to be the replacement for an aging Mercedes Lewis.
30. Minnesota Vikings — Will Hernandez, OG, UTEP
UTEP guard Will Hernandez exhibits a rare combination of power, balance, and athletic ability at guard position. He functions as an anchor at the point of attack and keeps his footwork light during pass blocking and pulls. Will Hernandez plays with an attitude and feeds off of finishing blocks and racking up pancakes. Minnesota needs help on the offensive line after a below average showing from nearly all its lineman in 2017 and Hernandez is that help.
Bottom Line: The Vikings look to strengthen one of their weakest units with a stout interior lineman.
31. New England Patriots —  Leighton Vander Esch, LB, Boise State
Boise State's Leighton Vander Esch has had an exceptional first season as a starter at Boise State totaling 141 tackles, 8.5 for loss, four sacks, four pass breakups, and four forced fumbles in his red shirt junior season. Vander Esch has fantastic instincts and has a frame primed for more size at the next level despite already being 6'4″, 260 and running a 4.65 40. Vander Esch is a top tier talent in coverage and run stopping as while as an above average pass rusher
Bottom Line: With the right guidance, and lets be honest the Patriots are about the best guidance one can get, Vander Esch has Top 5 MLB potential and its a wonder he'll fall this far.
32. Philadelphia Eagles — Derrius Guice – RB, LSU
Derrius Guice packs 4.5 speed in an 5'11" 225 frame. He extremely strong (reportedly squatting ~650 pounds) and runs downhill with extreme anger. He's a smash-mouth power back that will wear down defenses and make opposing players pay the price for tackling him.
Bottom Line: LSU's Derrius Guice is hard North/South runner who fills the hole that Legarrette Blount left.