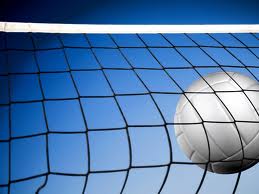 If I told you that a certain Jesuit sport's next game is between Midway Presents and Team Host, would you have any idea what I was talking about?
These two teams and many more play intramural indoor volleyball, one of Jesuit's hottest intramural sports. "Indoor volleyball at Jesuit could be compared to the finest of Olympic sports," reflects Joe Payne '13, an indoor and outdoor volleyball enthusiast and member of Midway Presents. Unfortunately for those still wanting to catch indoor volleyball fever, the signup deadline for both leagues was in late September, and both sports have started their seasons.
The cost to play intramural volleyball is $5 per person.  Outdoor volleyball teams have 2-3 players each, and indoor volleyball teams have 8 players on the roster. While all Jesuit students are allowed to play, don't let the term "intramural" fool you: the teams get quite competitive. The teams can also consist of Jesuit faculty members, creating a new opponent/teammate dynamic between teacher and student on the court.
The season usually lasts about a month. At the end of the season, there is a tournament style playoff with the seeding decided by regular season team records.  Winning the tournament gets you a championship t-shirt and the possibility of other prizes being added this year. New prizes include: iTunes gift cards, cafeteria credit, and 2011 AL Champion Texas Rangers tickets.
The 2011-2012 director of intramural volleyball and all other intramurals is Coach Jonathan Alexander. His role consists of promoting all intramurals, setting the schedules, and a plethora of other administrative duties relating to the sports. Coach Alexander also invites students to help operate the many intramural sports Jesuit offers. "An intramurals executive advisory committee comprised of Jesuit students meets once a month and helps run the intramurals program," said Alexander. "[The committee] provides an insight into the 'pulse' of Jesuit…it makes [intramurals] a more enjoyable experience for all involved."
If you are interested in joining an intramural sport, you can find forms on the Jesuit website or contact Coach Alexander in his new athletic building office.