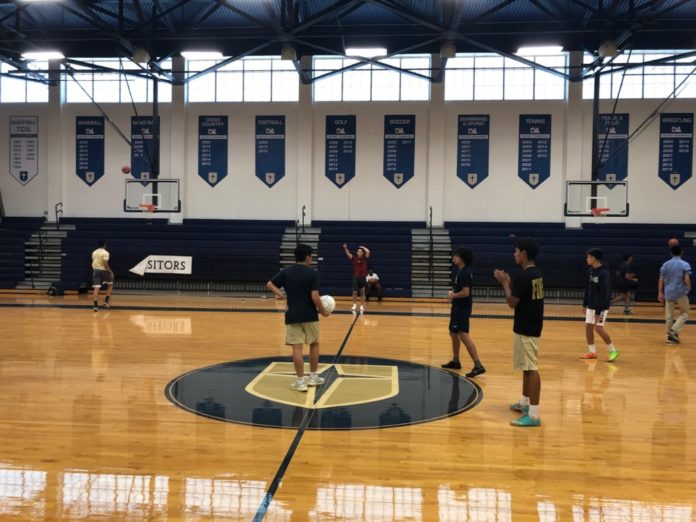 Are you an insane athlete? Do you have what it takes to play at the top level and compete against the best of the best? Are you fearless in the face of pressure? Well, varsity sports are definitely not for you. However, intramurals here at Jesuit take the heat of competition and elevate it to the next level.
This past week of September 30, the three intramural soccer teams have started their season with fast-paced and intense games. Starting at 4 P.M. on Mondays and Wednesdays, these games, located in the famous multitiered stadium of Walsh Gym, are exciting and fun to watch. I highly suggest you come out to these sporting events.
As the short week comes to a close, standings are closer than ever and every point matters. Before I get into this week's results, let's take a look at the composition of each team.
Team Preview:
Patrick Lee's Team (Los Gueyes)
Patrick Lee's team has a couple of key stars that can determine the outcome of the season. Club soccer player Alex Santoni '21 has proven himself to be a robust defender in soccer tryouts. He looks to be a standout player for his team. In goal, Juan Esquivel '21, a retired club soccer player for Solar SC, looks to be the real deal. He is continuously blocking shots.
Furthermore, Captain Patrick Lee '21 has brought all his friends to play. It seems like there's a real camaraderie within the squad. Diego Elizondo '21, a reliable player, can easily find space in a tight midfield to make things happen on offense. With the help of Peter Nguyen '21, Ben Levis '21, Sam Levis '21, and Brian George '21, this team looks to be real title contenders.
Santi Segura's Team (Young Boys)
Santi Segura's team seems to be talented in all aspects of the game. Segura '21 himself always has tricks up his sleeve and can make the game turn in an instant. Another selection of friends will make it easier to play together as a team.
While these players have less soccer experience, they make up for it in effort and enjoyment. The Young Boys, with the help of Darryl Bagayna '21, Michael Loving '21, Eli Gan-dy '21, Ethan Malanazen '21, look to be a real competitor this year.
Fernando Perez's Team (Fernando Perez)
Former freshman soccer player Fernando Perez '22 is ready to take his team of sophomores to a title against these primarily junior teams, a remarkable accomplishment. His skill and electrifying pace make him a real threat on offense. I could easily see him as a top scorer.
Also, JV kicker Lorenzo Martinez '22 will certainly help the team out with his soccer experience. Working hard for his team, Martinez '22 looks to be instrumental for success this season. With help from Nico Cuestas '22, this team has lots of potential to compete this season.
Big Matchups of the Week:

Young Boys 2-1 Los Gueyes (Monday, September 30)
In this first meeting between Los Gueyes and Young Boys, the game turned out to be a real thriller. Up 1-0 for most of the game, Los Gueyes appeared to have the game in the bag. However, a sudden comeback of 2 goals in the last 4 minutes led Santi's team to take a crucial 3 points.
Los Gueyes 1-1 Fernando Perez (Wednesday, October 2)
Coming off a close defeat to Young Boys, Los Gueyes were looking to immediately rebound. Toward the end of a long first half, Fernando Perez '22 scored to give a close 1-0 lead into halftime. However, once the second half rolled around, Alex Santoni'21 quickly equalized for Los Gueyes. With solid performances from goalkeepers on both sides, the game went into OT, ending in a 1-1 tie.
Season Look-Ahead:
After a brief international break, the teams head back to action on Wednesday in two weeks. All three teams look very competitive, ready to challenge for the ultimate prize: T-shirts. Alex Santoni '21 notes, "We play each team a lot more times, so we are eager to beat them." This intramural season looks to be full of upsets and big games, trials and tribulations, so let's see where it takes us. Bo Jewett '23, a spectator at Wednesday's game, states, "I am so psyched to watch [the games] because I've never watched on before. It looks like it's gonna be fun. People are going all out [to win]."
So, Jesuit students come out to enjoy these exciting matches!
Check back to The Roundup for more coverage on intramurals!