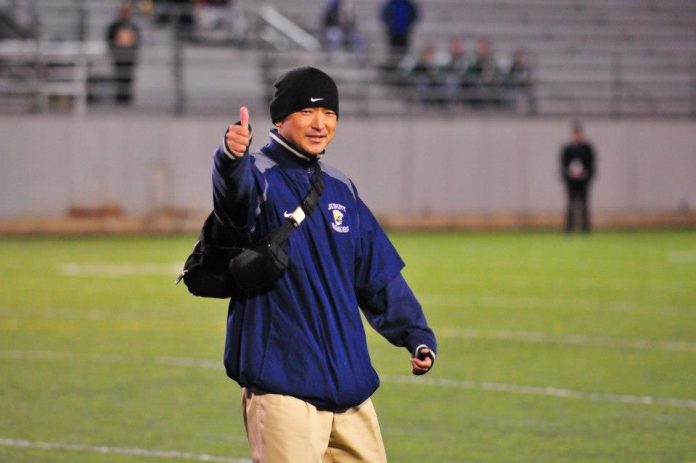 Many high schools, including Jesuit, are well known for their athletics; however, Jesuit is one step ahead of most high schools in an area often forgotten, the training staff.
Led by Mr. Rick Martin, in his 17th year at Jesuit, the Jesuit athletic training staff has always been critical in providing the athletes the opportunity to stay healthy and recover strongly after a serious injury. Assisting Coach Martin in the training offices are Dr. Joseph Ryan, a history teacher at Jesuit, Mr. TJ Howard '08, a former Jesuit football player and a member of the ASC program, and of course head assistant trainer Mr. Osamu Moro. Coach Moro has been always been a favorite of Jesuit athletes and any athlete who has every suffered an injury or need to visit the training room understands why Coach Moro is such an effective trainer.
Coach Moro grew up in Osaka, Japan, nearly 9,300 miles away from Jesuit. After graduating from Osaka Gakuin University with a bachelor's degree, Moro decided to pursue his love of basketball and successfully tried out for a local semi-pro basketball team, the Hitachi Osaka Helios. Moro only played for the Helios one season; however, he stayed with the organization for 2 more years serving as their athletic trainer.
While serving as athletic trainer for the Helios, Moro continued to play basketball with a team from a company he was working for at the time. Four teammates on the company team were American and Moro grew close with them and after learning of Moro's strong interest in athletic training two of the men, who were SMU grads, got in contact with the head trainer at SMU, who offered Moro the opportunity to study at SMU.
On May 17, 1998 Coach Moro came to the United States, where he first enrolled in classes at the University of Texas at Arlington. Moro served as a student trainer for UTA for four years before going on to become a graduate assistant at SMU. Moro studied and worked as a trainer at SMU for 3 years and eventually earned a Master's degree in Liberal Arts.
After his time as SMU concluded, Moro was prepared to head back home to Japan because he would no longer legally be allowed in the country, as he was only in America on a student visa. However, at the last moment, Moro was made aware of a possible job opportunity from a fellow graduate Assistant, Warren Young. Young '95 told Moro he may be able to get him a job as an athletic trainer at his old high school, Jesuit College Prep.
Young called Coach Martin and after interviewing with Coach Martin, Athletic Director Mr. Steve Koch, and Principal Mr. Mike Earsing, Coach Moro was officially hired by Jesuit on May 17, 2005; the same date he had first come to the United States seven years earlier.
The legal battle, however, was not yet over, as Moro had to apply for a work visa with Mr. Earsing and Jesuit as his sponsor. The paper work eventually went through and Moro began working on the Jesuit training staff in October of 2005.
The job was an excellent opportunity for Coach Moro; however, he was nervous at first and the cultural differences proved to be an obstacle.
"I was a little bit nervous about it because I didn't have any high school experience in the U.S. Warren told me there were 5 football games a week and I thought, how am I going to handle it?" Moro explains.
"My first 2-3 years were hard for me because I didn't quite understand how to work at a high school, but my fourth year, once my first class of freshmen graduated, I began to feel more confident."
However, dealing with American high school students wasn't the only culture shock. Moro spoke very little English when he first came to America, but eventually learned "bad English and good English," through ESL programs and from working with other student trainers at SMU. It is a whole new system according to Moro, from the food to social aspects; possibly the hardest part of living in America was leaving his family.  Coach Moro travels back to Japan every July, but otherwise never gets to see his family besides occasional facetime sessions.
While Moro devotes all his time to the Jesuit Rangers during the school year,  in the summer he interns with the Dallas Cowboys.
Starting in 2004, Moro helps the training staff during rookie camps, mini camps, and training camps. Moro was even in the Cowboy's practice facility on May 2, 2009 when the building collapsed due to a huge storm, hospitalizing 12 people.
"We were having practice and then all of a sudden something, like a monster, was grabbing the whole building and everyone stopped and looked up at the ceiling. The lights were shaking so much I tried to stand in between them because I was worried they would fall and then I heard a big collapsing noise and saw the lights falling. I just kept running until I got outside."
The situation scared Coach Martin, who saw Moro on the news walking into the facilities right before the collapse, and texted him right away to make sure he was alright. To this day Coach Moro claims he still doesn't like that type of loud noise or big thunderstorms.
The athletic staff at Jesuit would not be the same without Coach Moro, as he has taught his fellow trainers and the students so much.
Coach Martin cites Moro's strong work ethic and open mind as to why he is such an effective trainer.
"He is more open minded than most American athletic trainers in that he is willing to incorporate Eastern cultural methods for treatments. He is continually going to conferences and seminars and learning new information that will help him expand his skill set."
Moro is also a student favorite, due to his great catch phrases, like his trade mark "C'mon man!" and fun personality. "He is just a hard worker and a genuinely nice guy and I think the students and athletes relate to him well," adds Martin.
Fellow trainer, Dr. Ryan agrees, and expanded on how much he has learned from Coach Moro. "He is highly qualified and highly experienced. I have learned a lot from him, both technically and on how he does business. He has taught me a lot about anatomy and how injuries manifest themselves. He is a pleasure to work with."
As for the future, Coach Moro plans to remain at Jesuit as he applies for his green card. He has no plans to leave; however, if he were to go back home he would love to be the head trainer for a basketball team.
"The reason I love Jesuit is because I can learn so much from high school kids and the students remind me of myself. I used to be like [the students] and it's fun to almost look back at myself." Jesuit would not be the same without Coach Moro as he is a leader and an example of all that the Jesuit culture embodies.
In fact, Coach Martin describes him best as "an international Man for Others."