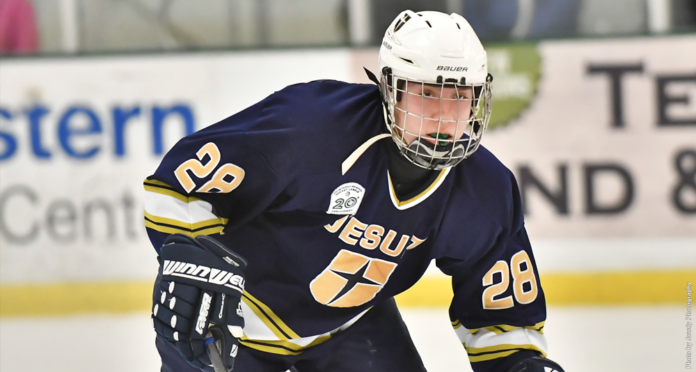 The frigid air rushes against player's face he stickhandles the puck back and forth, skating along the ice. The players pass to each other, rushing towards the opposing goal.  The crowd erupts in a roar, seeing the team skate down the rink and sensing a possible goal.  A goalie tenses, waiting for the shot.  In a flash, the shooter launches the puck, nearly faster than the eye can follow, towards the goal. The goalie, with lightning reflexes, blocks the puck with his stick. The crowd deflates, seeing the puck go into the hands of the other team and Jesuit go on the defense once again.
Following a disappointing loss against Plano West, Jesuit hockey fans hoped for a victory against their next opponent, Frisco, on October 19. But Jesuit's only goal that game was to be made by junior Joseph van Beek assisted by Matthew Wrobel '19 and Jonmichael Dragojevic '19 in a power play during the second period.  Instead, the team faced a disheartening 1-7 defeat at the hands of Frisco.  Some of the players felt they needed to do more to achieve victory.
"We didn't produce much offensively and I felt as a team we didn't do as much as we could," says Dragojevec, a center. "I just thought that we all could've done more."
"For the next game, I'm just looking to prevent them from scoring," says another defender.
But not all is lost for Jesuit Hockey fans.  Indeed, we have reason to believe that things may be looking up because Jesuit won against Keller with a score of 3-1 just a week later.  Alexander Luff '21 scored the first goal of the game with a minute and a half left in the 1st period at equal strength.  Next, in the 2nd period with 12:50 on the clock, Seth Dragojevic '21 made a power-play goal with an assist from Luff. Finally, Anthony Calabrese '18 scored Jesuit's third goal with less than 30 seconds on the clock, bringing the game to a 3-1 Jesuit victory.
This much better performance by the team hopefully points to a brighter future. "The team played solid and everything worked out nicely," says freshman Alexander Luff, a defender that has been playing hockey for 9 years.  "I am looking forward to another hard-fought win like that in my next varsity game," he says.
When asked about the future, junior Jonmichael Dragojevec responds, "I'm looking forward to going out and get a win for the team, let's get out of the losing column!"