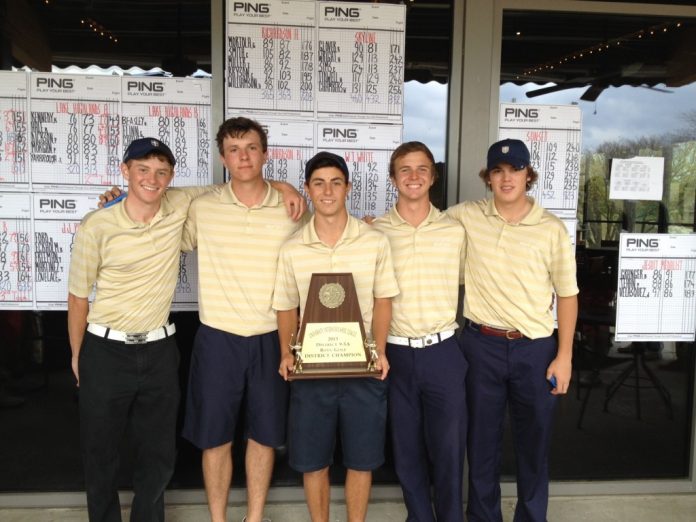 Over the past month, Jesuit's varsity golf team competed in the UIL state golf tournament's district and regional rounds. Varsity was split into two five-man teams, an "A" team consisting of Jesuit's top quintet of golfers, as well as a "B" team of the next five best.
The varsity "A" team cruised to the 2013 District 9-5A Championship, held March 27-28 at Firewheel Bridges Golf Club. The team of Will Strong '13, Josh Radcliff '13, Moose Valletti '13, Grant Luisi '13 and Mac Corbin '14 carded a two-day total of 619 (308/311), winning the tournament by 14 shots over Lake Highlands.
On day one, the "A" team was about five strokes ahead of the "B" team of Sean Lyden '14, Thomas Allen '13, Sean Badger '14, Sam Rosenberg '14, and JC Campbell '15. Mac Corbin thought "that [he] and the "A" team played well, but not to [their] fullest." On the second day they "all shot a little bit better and . . . kept the lead." Everyone on the top five qualified for All-District honors.
At one point, Lake Highlands was one stroke over the "B" team on the final hole. Their star player Kyle Kennedy had a fifty foot putt for par, a putt that he "easily could have three-putted," according to Jesuit Coach Cathy Marino. In that case, Jesuit's "B" team would have come in second place for districts which would have earned a trip to regionals. Instead, Kennedy sunk the long putt to secure an individual win and a spot in the regional round for his team. Jesuit's "B" team finished just one stroke behind second place.
Coach Marino commented that the "B" team might have taken second place had Lake Highlands not been "at their home course." She said that their district "was a lot better this year," because of the addition of Richardson Pearce to the district, District 9-5A.
Though Jesuit's "A" team earned a place in the regional tournament, none of them were pleased with their performance as a team. Grant Luisi said that he "[feels] like [his] team as well as [himself] did not play to the best of [their] ability, but still managed to make it to regionals," adding that it "could have been a lot better." Coach Marino repeated the sentiment, explaining that "the scores were not as good as usual."
However, the team still had high hopes for the tournament. According to Corbin, "after we won we had a team meeting and everyone said, 'we've made it this far so let's go try and win state.'"
Jesuit sent seven golfers to play at UIL regionals in Waco (instead of the typical five-man roster), due to the fact that they had a team win districts and two players with top scores. Two teams and a few top scorers are allowed to come from each district in the tournament. The "A" team that had won districts went along with two "B" team players taking the "top scorers" positions. Corbin was taken off the team in favor of Thomas Allen, because Coach Marino took the top seven Jesuit scorers from districts. Thomas had a lower score, so he took Corbin's spot in the regional tournament. The seven guys included five seniors, a junior, and a sophomore.
The Rangers competed in regionals from April 15th to the 16th at Twin Rivers Golf Club.  They shot 323-307 as a team and placed 6th. The Rangers' top individual score, Josh Radcliff, shot 76-75 and placed 7th. He was selected as the first alternate for the state tournament, and would have played at state if one of the individuals dropped out; however, none did, so Jesuit did not send any players to state, which was played on Morris Williams Golf Course from April 29-30.
Moose Valletti '13 described the competition at the regional round, saying that "Texas, California, and Florida are the most competitive states for golf so the competition is extremely good in UIL."
It did not help that Jesuit had their worst round in two years. The five-man teams take the best four scores, but even Jesuit's best four scores were not good enough. In addition, the greens were in bad condition because of the freeze that had passed over the area just a few days before. On the first day, they "didn't do a good job . . . putting [themselves] into position;" however, they "played well the second day," explained coach Marino.
The Woodlands, Austin Westlake, Kingwood, and Lake Travis were some teams from Jesuit's region that made state.
Josh Radcliff '13 described the experience of the trip, explaining that "he [did] not think the team did the best that [they] could. All of [them] did not play as well as [they] could have." He went on to say that it "was pretty disappointing."
However, his "favorite part would have to be just hanging out with the team before and after the tournament rounds. [They] would go out to eat as a team, then go back to the hotel and hangout in rooms and the hot tub. [They] all had a really good time. All 5 of the seniors went on the trip, so it was really fun to go on one last trip with all the guys before [they] all head out to college."
All five Jesuit seniors have signed to play college golf, which is a Jesuit record. Some of these colleges include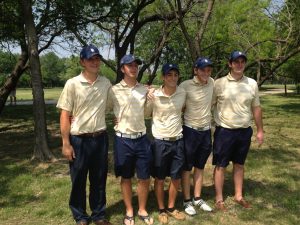 Spring Hill College and Loyola University-Chicago.  Coach Marino emphasized that they "left a really good legacy," calling them a "really great group of guys" who will be "missed greatly. She said the fact that they are all going on to play college golf "inspires the younger guys."
Though it was "disappointing not to make state," Coach Marino assured the golf team that they "played really well," and "had a really good year." At one point, Jesuit was ranked eighth in the state and was expected by many to make it to state; unfortunately, however, they could not. Since Jesuit "played better at the beginning of the year" but faltered later, many of the golfers just focus on the early exit from the playoffs," says Coach Marino. However, Marino "[does not] want [their] play at regionals to diminish" their play earlier in the season and wants to "get everybody to appreciate how well [they] played throughout the year."
The players all appreciated their coach, who was once an LPGA Professional. Moose Valletti '13 explained that "with her experience as a coach she [was always] giving [the team] great advice and guidance." Grant Luisi similarly praised her coaching, emphasizing that "Coach Marino has a lot of experience in the game, and is knowledgeable about high school golf. She helped [the team] a lot this year."
Even though Valletti, Luisi, and the other three Jesuit golf seniors will never again golf for Jesuit, there is still plenty of young talent which provides hope for the future of the program. Coach Marino recalled that she "had a lot of freshmen on JV" who will be able to lead varsity in a few years. JV won seven of eight tournaments this year, so Marino has high expectations for next year's JV and Varsity squads.
Though Jesuit could not make the UIL state finals in 2013, the season was definitely not a failure. The difficult loss at regionals will motivate the younger members on the team, and they will work even harder to prepare for 2014, when they hopefully will be able to reach state and possibly even take home a championship trophy.