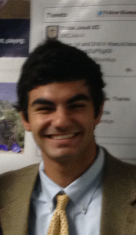 The month of October- for most it is filled with Halloween, homecoming, colder weather, and college applications, but for golfer Sam Rosenberg '14 it has been much, much more.  In this month, Rosenberg was named to the HP Scholastic Junior All-America Team and also committed to play golf at the highly prestigious University of Pennsylvania in Philadelphia.  Sam began playing at the age of five and has not stopped progressing since; for him, these two achievements have been long overdue.
On October 7, the American Junior Golf Association released its list of the 2013 Junior All-Americans.  Unlike most sports, golf has an all-America team that consists of only twelve (that's right TWELVE) male athletes as well as twelve female athletes.  To even be considered for one of these twelve positions, golfers had to log at least one top ten finish in an AJGA tournament (Rosenberg had two this summer, finishing in second place in one of them).
Along with this requirement, golfers were considered based on their GPAs, class ranks, standardized testing scores and community service involvement.  Being the senior class salutatorian with an astronomically high GPA and impressive SAT scores, Rosenberg clearly fit the mold for the academic considerations of the award.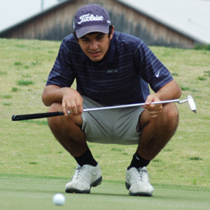 The committee required an additional 500 word essay about a topic relating to golf, which Rosenberg wrote as a hypothetical acceptance speech for this award.  In the essay he thanked his family and friends as well as professed his love for the game of golf itself.
Rosenberg will be honored on November 24 at the PGA National Resort and Spa in Palm Beach Gardens, Florida.  "It means a lot to be honored alongside some of the best players in the world and I can't express how humbling of an experience that will be," Rosenberg said.  Being named to this team also allows Rosenberg to compete in the Polo Golf Junior Classic during that same week in Palm Beach Gardens.  For those who do not know, this tournament has probably the highest level of competition of any other junior golf tournament in the nation.
Less than two weeks after he was given this honor, Rosenberg fulfilled another life-long dream of his- committing to Penn to play golf.  He explained that he chose Penn "because of its academic reputation" as well as his "good personal connection with the coach and players."  He believes that "Penn will be the best place to foster both [my] athletic and academic goals."
Golf coach, Cathy Marino described Rosenberg's play, "Sam has great concentration on the course and plays with a lot of passion and determinism."  As for his standing on the team, Marino elaborated, "Sam is a great teammate who brings a lot of personality to the team; that's why he is [the] team captain."
His fellow-golfers agree with their coach and are not surprised that Sam received such an honor; teammate, Sean Badger '14 explained: "Sam is a very dedicated, efficient, talented and natural golfer [whose] ability comes from his work ethic and desire to be the best; [Badger also] looks forward to watching his success in college golf."
Badger was right to anticipate future success for Sam, and many compare him to the iconic alumnus, Jordan Spieth '11 who now consistently makes headlines for his performance on the PGA Tour.