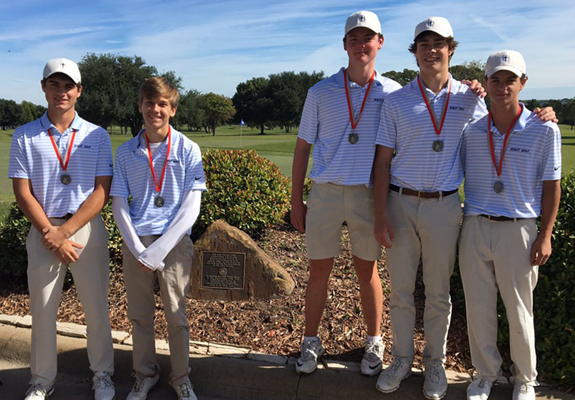 "The most important shot in golf is the next one." – Ben Hogan
This quote exemplifies the Rangers' performance in the Plano and Midlothian golf tournaments, as despite having a few bad shots throughout the day, they were always able to bounce back on their next stroke.
The Jesuit varsity and junior varsity golf teams competed in a two day tournament in Plano and Midlothian on October 22nd and 23rd. The Rangers fought very hard and deservedly finished in first and second place during the two days.
Plano tournament 
The varsity B team played at Midlothian where they finished in second place. The golfers were led by Senior Kevin Currier, who led the team with an even-par 72 and finished fourth place overall. Right behind Currier was Sophomore Gordon Schmerbeck, who finished one-over with a 73. This gave the Rangers two of the seven golfers in the tournament that finished with 75 strokes or fewer. Sophomore James Farmer shot a 79, followed by Junior Jack Wright getting an 81 and Senior Eric Pask shooting an 86. Jesuit concluded the two-round tournament with a total score of 623.
Junior Jack Wright summed up the tournament, stating that "we played our hearts out and did pretty well but we still have room to improve."
Wright '20 continued, saying "our ultimate goal is to get first place in tournaments, so we will keep working hard."
Midlothian tournament
The junior varsity got first place in the Plano Invitational on October 22nd. Junior George Sweda, who shot a four-over 78, led the JV team, and was followed by freshmen Sean Mello, Jack Sweda, Oliver Neumann and Junior Will Eades. The Rangers' total score was 313, which earned them a first place finish.
The golf team's next challenge will be the Fall Dragon Cup Tournament on November 11th.
Check back to the Roundup for more golf and other sport news!