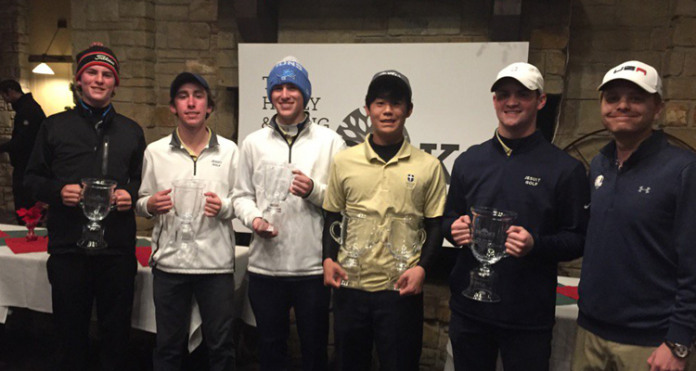 Since November 1, Jesuit varsity golf has played in two tournaments, finishing top 5 in both. The first tournament was an individual tournament, to which Jesuit sent 3 golfers. The second tournament was the NTPGA Tour High School Invitational where Jesuit sent both the blue and the gold teams.
Ridgeview Highschool Tournament
On a warm sunny November 15th, 3 Jesuit golfers played at the Tribute golf course in The Colony. It was an individual tournament where no team scores would be taken for overall play from schools. Griffin Till '18, finished 2nd in the tournament.
When asked about his performance, Griffin said "I was happy with my individual performance. Since I didn't get 1st place, I hope that I will be able to play better in the upcoming tournaments." Griffin was one of the members of the gold team at the Holly and Doug Brooks Invitational on December 6th.
NTPGA Tour High School Invitational
Jesuit varsity golf closed the fall season with a bang after a strong win at the NTPGA Tour High School Invitational on a chilly Tuesday, December 6th, at Stonebridge Hills Golf Course. The Jesuit varsity Blue team finished in 1st place at the tournament with a commanding lead over the other teams, finishing 11 holes ahead of the second place team, Trinity Christian Academy. The varsity Gold team finished in 5th place behind Highland Park.
The Blue team consisted of Sophomore Forrest Park, Senior Cole Morin, and Juniors Jake O'Gara, Luke Harrison, and Andrew Buckley. The team finished with an overall score of 458 strokes. Sophomore Forrest Park led the team to victory, finishing in 2nd place individually with 113 strokes. All of the members of the blue team finished within the top 7 individual players.
Andrew Buckley, '18, noted that "It was a great way to end our fall season. Hopefully it will give us some momentum going into the spring season." With such a strong finish, the team can certainly look forward to a strong start to 2017.
Having a young team, primarily consisting of Juniors and Sophomores, the Jesuit golf team looks to continue its hot streak into the new year when the season picks back up. Stay tuned for more golf coverage.