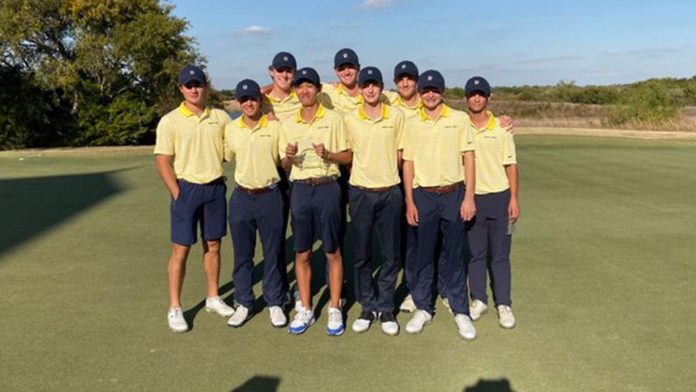 "My main focus is on my game." – Tiger Woods
Tournament:
On January 20th and 21st, the Jesuit Golf team attended the second annual Flower Mound Jaguar Classic Invitational at Las Colinas Country Club and TPC Four Seasons.
A really cool note was that since the Jaguar Invitational's final round was set up similar to the PGA Byron Nelson Event, the golfers got to walk the same steps the pros did when they played.
Interview:
Next, I took some time to interview one of the Varsity Golfers, Gordon Schmerbeck '21, to get some insight into the game.
What's your favorite thing about both golf in general and the Jesuit team?
1. "I have been playing for my whole life and I have fallen in love with the sport. I love the rewards it comes with when you play well. I love the community of the Jesuit team and the people on the team that I share the experiences with."
What was your best experience at the last tournament?
2. "At the last tournament I always remember the time after the tournament where we all sit as a team and talk about our rounds with each other."
How do you deal with the pressure and the days you miss school?
3. "When I miss school I do my absolute best to talk to my teacher and try to get something worked out with them when I have to miss. I try to get ahead when I know I'm going to miss golf. It is very stressful but I do my best."
Any other important things to you about this tournament?
4. "This tournament was special because it shows what we are capable of with this being the first tournament of the year and starting with a win."
Results:
Jesuit Top 6:
2nd Place: Matthew Forester '23

5th Place: Tyler Lee '23

6th Place: Ben DeLaRosa '23

13th Place: Gordon Schmerbeck '21

17th Place: James Farmer '21

22nd Place: Max Reimer '21
Upcoming Events:
Jesuit Golf's next big tournament will be on Monday, February 10, hosted by Byron Nelson at the Trophy Club Course.
To hear more about Jesuit Golf and their upcoming events stay tuned to The Roundup for more news!