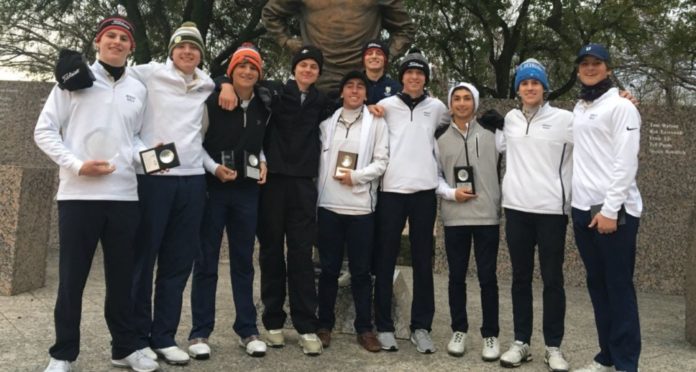 George Sweda '20 stands anxiously in the tee box, staring at the small white ball teed perfectly in front of him. He takes three deep breaths and prepares his driver for action. His slow pace prompts his hitting partner Carson Cusick '20 to taunt, 'Well, we're waiting.' Sweda hastens his ritual, aligning his feet perpendicular to the ball. Someone in the audience sneezes as he prepares his backswing, causing the ball to soar into the water hazard directly to his right. Cusick sarcastically comments, 'That's a peach, hun,' and George starts to laugh with him.
This scene captivates one of the defining characteristics of the Jesuit golf team: chemistry. The athletes get along great on and off the course, as Sweda describes:
"We have a really great group of guys on the team this year. We have a great time in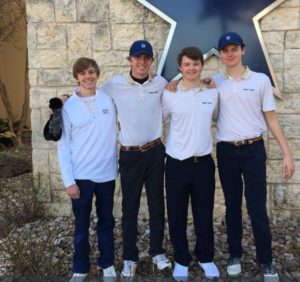 practice while still pushing ourselves and our teammates. I feel like that really helps us in tournaments, too. When it comes down to the wire, I would trust any of the guys to deliver."
The Jesuit Golf team started the year off on a tremendous note, sending both their gold and blue varsity teams to the TPC Four Seasons H.S. Challenge tournament on January 15. The Jesuit Gold team took home 2nd place with a combined score of 313, and the Jesuit Blue placed 5th with a 322.
Brian Jennings '19 lead the Gold Team hitting 74, individually placing 2nd in the tournament. Cusick followed Jennings closely with a 77 and earned a 5th place finish overall.
In regard to their performance in the TPC tournament, Sweda continued, "We all played together in these tough conditions and fought it out on the course. Against the wind and 21-degree wind-chill, the traverse conditions didn't stop us from getting the job done. The seniors showed great leadership and perseverance, a great model for the underclassmen to follow."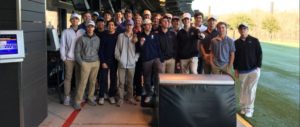 The Jesuit Golf team raised the bar even higher with their performance in the Trinity Forest tournament two weeks later. The Gold Team of Brian Jennings, Forest Park '19, Jake O'Gara '18, Luke Harrison '18, and Carson Cusick took home the first win of the season with a score of 469. The Blue team of Mateo Trevino '19, John Stollenwerk '19, Brendan Nelligan '18, Andrew Buckley '18, and Griffin Till '18 took home 5th with a combined score of 484. Trevino anchored the Blue Team with the highest overall individual score, Jennings trailing a few strokes behind and placing 6th.
Head Coach Kathy Marino has nothing but positive to say of the team's performance and looks forward to another great season of Jesuit golf:
"In the FM Jaguar Trinity Forest Classic, (a 27 hole tournament) the Jesuit Gold team played great on the 9 holes after the field was cut to 12 teams and ended up one shot ahead of Byron Nelson.  The key to the win and better play on the additional 9 holes was the fact that the Blue team beat them by 6 shots in the first round.  This got everyone on the Gold team's attention and they played fired up golf at the end of the tournament.  It was really great to win the first ever high school golf tournament at Trinity Forest, a very tricky course that is the new home of the Byron Nelson."