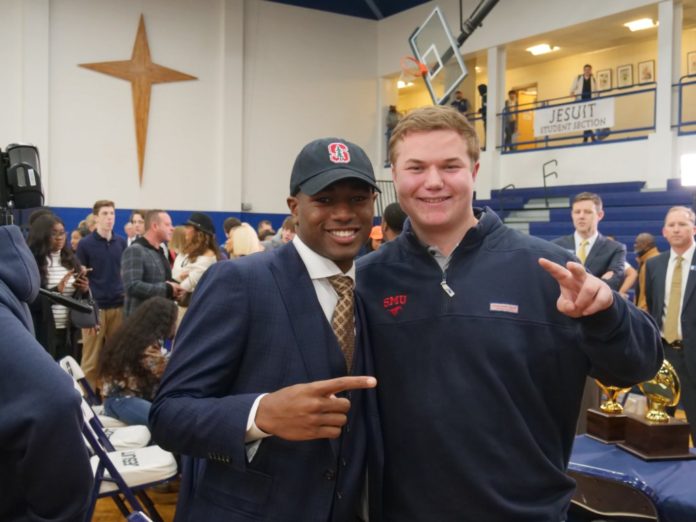 Stands packed to the brim, clapping and cheering resound from Walsh Gym. Every eye gazed toward center court, not for a basketball game but rather national signing day.
This past Wednesday, December 18, Branson Hickman '20 signed his letter of intent to SMU, and EJ Smith '20 signed his to Stanford.
Branson Hickman '20
Hickman has been part of the Jesuit's football program every since birth. He started going to games in fifth grade and planned on playing for the Rangers in high school. During his career at Jesuit, Hickman received numerous awards and helped lead a dominant offensive line at the Center position. To start everything off, Hickman started in all 36 games while playing at Jesuit. He accumulated an insane amount of pancake blocks throughout those games. For his senior season, Hickman was voted to be one of the four captains on the team. Hickman was also named the unanimous First Team All-District Center. By doing so, he became the first offensive lineman at Jesuit to be recognized by the UIL all three years at the varsity level. Hickman said that "[the ceremony] was a cool experience especially with the whole community coming out to support." He signed to Southern Methodist University also known as SMU. He plans on studying sports management while also playing football. The Mustangs are currently 10-2 this year and play in the American Athletic Conference. SMU is also located right here in Dallas, so Hickman won't have to go far to continue his football career. This will also allow his dad and former coach, Hickman, to watch him play every Saturday. It will be very exciting to see what Hickman will do in the future at SMU. Pony up!
Here's a link to Branson's senior season highlights 
EJ Smith was a crucial part of the Jesuit Ranger football team. EJ produced a substantial amount of offense against some of the best teams in the state of Texas. Smith rushed for 3082 total yards over the course of his three year varsity career. That's like running back and forth on the football field 30 times. Except there's gigantic defenders trying to stop you. EJ also played wide receiver and racked up a total of 1650 receiving yards. He also managed to throw the ball for 43 yards. All of this offense can be topped off with 79 touchdowns. 12 of those were scored in the Rangers' historic playoff run this year. He came back from hand surgery to do so. EJ did it all. Because of his performance, EJ received many awards. During his sophomore season, EJ was named the Newcomer of the Year in the district. For his junior year, he was named the All District Second Team running back. This year, EJ was unanimously named the First Team All District running back and the Offensive Player of the Year. He was also invited to the Under Armour All American game. EJ is ranked #96 in the ESPN 300 and ranked #13 out of all the wide receivers. ESPN was present for the signing and broadcasted it on live television. EJ had not told anyone what school he would be going to until the actual signing. He chose to sign with Stanford University over University of A&M, University of Florida, University of Georgia, Ohio State University, and many other universities. Before announcing his decision, EJ stated a couple words of gratitude, "First and foremost want to thank my family and God for putting me in this position. I want to thank Jesuit, my coaches, my teachers, and everybody for helping me through my journey. I also want to thank Shelton for all of the things that they've done for me in order for me to be in this position." Stanford is currently 4-8 and plays in the Pac 12 conference. Stanford is also one of the top universities in the country. EJ will be getting a remarkable education while also balling out on the football field. Good luck to EJ and his future in California.
Here's a link to the ESPN broadcast
https://www.youtube.com/watch?v=8lkbjQIw5O4 
Both of these athletes have touched many lives during their four years at Jesuit, both on and off the field. The numbers may show the successes of both Branson and EJ, but they do not show how they formed special bonds with their teammates and classmates. Senior Matt Noble, who was present at the signing, said that "[He] is very proud of his classmates and he can't wait to see what they do in college." They have left their legacy for the Jesuit Ranger football program, and they made school history by going to the Regional finals. Congratulations to both of them for their hard work and dedication. Go Cardinals and go Mustangs!
Stay tuned to The Roundup for more Ranger commits!